Typhoon Haiyan's Path
Typhoon Haiyan Devastates the Philippines: How to Help
Super Typhoon Haiyan, which swept huge swells of seawater across the Philippines, has devastated the Southeast Asian islands and left many parts of the country without utilities or communication. Haiyan (also known as Yolanda) has already reached Vietnam as a Category One storm and is moving quickly toward Southern China.
While the death toll has not been officially confirmed, Associated Press reports that 10,000 people may have been killed in Tacloban alone, the city hit hardest by the storm surge. The Philippine government, however, counts 255 casualties, 71 injured, and 38 missing. Stay up-to-date on reports from Southeast Asia, track down loved ones, follow the storm's path, and find out how to donate to victims online below.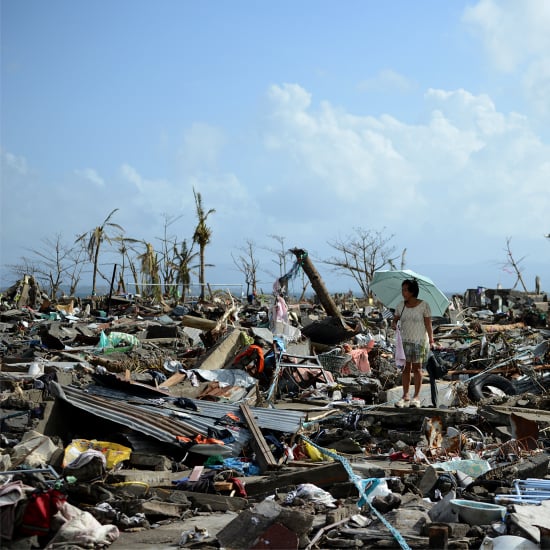 Missing Persons Queries
Google has launched a Crisis Response Website for people to connect with their loved ones in the Philippines. From this page, users can search for missing persons by name or submit information about someone.
Relief Map and Storm Path
Embedded below is Google's relief map, which shows evacuation centers, medical facilities, command posts, police stations, and areas of calamity. View the full map, and select "Typhoon Haiyan/Yolanda Path" on the right side to see where the storm is predicted to go.
The New York Times also has a graphic of the typhoon's projected path as well as time stamps of when Haiyan hit the Philippines on Saturday.
Follow Updates
The Philippine Red Cross on Twitter (@philredcross) has the most current information about relief on the ground.
Follow the Official Gazette of the Republic of the Philippines on Twitter (@govph) for official head counts and information on flights in and out of the devastated areas. The Official Gazette's Typhoon Yolanda hub is also an excellent resource for reports on exactly who is affected and the cost of the storm's damage.
Donate