US Capitol on Lockdown
Shooting Puts the Capitol on Lockdown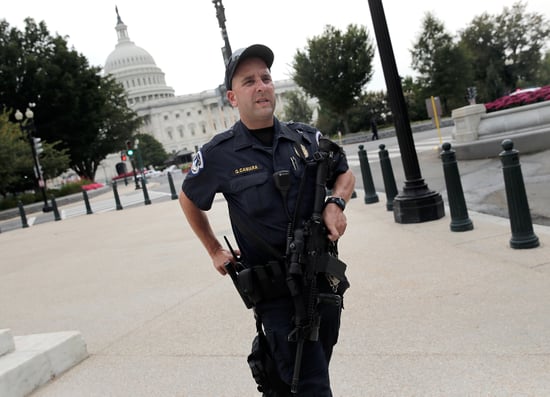 Update: According to ABC, the woman did not have a weapon on her and shots were only fired by police when she fled. She has been identified as 34-year-old Miriam Carey and reportedly had a history of mental illness.
In the midst of a government shutdown, the US Capitol went on lockdown today after a woman tried to ram her car into a security barrier at the White House. The police chase led to the Capitol, where lawmakers and staffers were on lockdown for about an hour. Police issued this order:
"SHELTER IN PLACE. Gunshots have been reported on Capitol Hill requiring all occupants in all House Office Buildings to shelter in place. Close, lock and stay away from external doors and windows."
There were conflicting reports about the suspect, who was reportedly a woman with a child in her car. Multiple outlets are reporting that she was killed in the incident, and it appears an officer was wounded as well. The child has apparently been taken to the hospital without serious injuries. US Capitol Police Chief Kim Dine has said: "This appears to be an isolated incident with just one vehicle involved." Meanwhile, as more details come in, people in the area have been sharing photos on social media.
No joke on Capitol Hill as Cops are running with machine guns as reports of shots being fired at Capitol pic.twitter.com/vdjAKkLP4y

— Marc Schloss (@marcschloss) October 3, 2013
Helicopter outside the Capitol pic.twitter.com/B0zDujqWHQ

— Lucia Graves (@lucia_graves) October 3, 2013