Up in the Air and Glee Lead the Pack at the 2010 Golden Globe Nominations!
Up in the Air and Glee Lead the Pack at the 2010 Golden Globe Awards Nominations!
Justin Timberlake, Diane Kruger, and John Krasinski were on hand this morning to announce the 2010 Golden Globe Awards nominations in LA. Three actors woke up to the particularly good news that they're up for multiple awards, as Meryl Streep, Matt Damon, and Sandra Bullock are all nominated twice. Things are also looking good for Up in the Air — both Vera Farmiga and Anna Kendrick are nominated in the category of Best Supporting Actress with George Clooney as Best Actor! That film is also up for Best Motion Picture Drama, along with Avatar, The Hurt Locker, Inglorious Basterds, and Precious.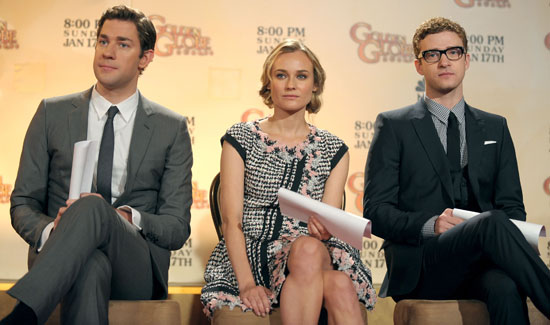 On the TV end, old favorites like Mad Men and 30 Rock got some competition from new show Glee — Glee took home the most nominations of any television program, including Best Actor for Matthew Morrison, Best Actress for Lea Michele, Best Supporting Actress for Jane Lynch, and Best TV Program, Musical or Comedy. We'll get to see who takes home the gold when the awards show is broadcast on Jan. 17, with Ricky Gervais as host. Make sure to check out the full list of nominees over at Buzz!
To see more of Justin, Diane, and John, just
.