Usher Celebrates His Current & Future Namesakes
Usher Celebrates His Current & Future Namesakes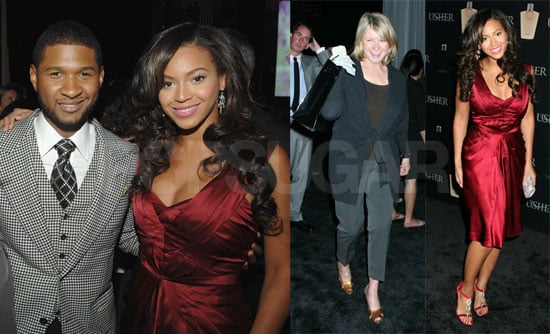 0
Usher Celebrates His Current & Future Namesakes
Beyonce and Martha Stewart came out last night to help Usher celebrate the launch of his new fragrances, USHER for Men and USHER for Women. While it was clearly a big night for him, Usher was more interested in talking about his baby than about his scents. He even revealed that he and Tameka will be having a boy, saying, "I've found that it is a step-by-step process. You can wish for a million and one things. But I hope that my son has the same energy I had as a child, Hopefully, he won't be as bad as me. I hope that he's just a healthy son." Usher may not want to raise a little bad boy, but he's already said that he wants to pass on his name. Looks like we should expect a cute mini-me soon.
Lots more pics including Ludacris, Jermaine Dupri and Gayle King so just
Images include Usher, Beyonce, Martha Stewart, Nelly, Jermaine Dupri, Chris "Ludacris" Bridges, Gayle King and Jonetta Patton.