Valentine's Day Premiere Photos Including Jennifer Garner, Jessica Alba, Jessica Biel, Julia Roberts and More 2010-02-09 06:00:00
Valentine's Day Arrives Early With Star-Studded LA Premiere
The ensemble cast of Valentine's Day hit the red carpet in LA last night for the premiere. Jessica Biel wins the award for getting in the spirit of the holiday in her festively colored Oscar de la Renta gown while Jennifer Garner and Anne Hathaway both went short, sexy and dark. Jessica Alba returned from her weekend trip to the Super Bowl in time to slip into her unique dress, though this hair length isn't your favorite on the actress. Julia Roberts and her niece Emma both looked stunning — though they don't actually share any screen time in the movie. The film hits theaters this Friday, just in time for a V Day girls' night or date, and apparently a New Year's Eve based sequel is already in the works.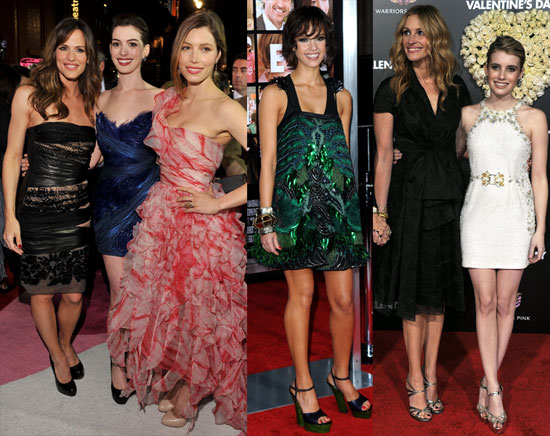 Taylor Lautner also spent his weekend in Miami for the big game, even playing a bit himself amid rumors that his newest role might be a stretch. He didn't have to worry about any awkward run-ins with his real life ex and onscreen girlfriend, Taylor Swift, since she's in Australia on tour at the moment. Bradley Cooper was sporting a not great fake tan, though he smiled through the night with Grey's Anatomy boys Patrick Dempsey and Eric Dane, who was accompanied by his very pregnant wife Rebecca Gayheart. Newly 32-year-old Ashton Kutcher and his Valentine Demi Moore rounded out the crew, and he kept things cute by pointing himself out on the poster to his wife.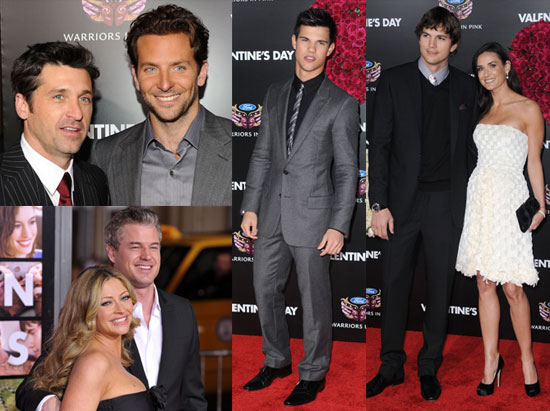 To see more from the premiere including Cash Warren, Shirley MacLaine, Garcelle Beauvais, Topher Grace and others just read more.
Images include: Julia Roberts, Anne Hathaway, Bradley Cooper, Jennifer Garner, Jessica Alba, Jessica Biel, Jewel, Rebecca Gayheart, Taylor Lautner, Ashton Kutcher, Cash Warren, Demi Moore, Emma Roberts, Eric Dane, Jillian Dempsey, Patrick Dempsey, Shirley MacLaine, Barbara Eden, Garcelle Beauvais, Topher Grace, Garry Marshall, George Lopez, Jamie Foxx, Hector Elizondo