Victoria's Secret Gets Its SexyBack
Victoria's Secret Gets Its SexyBack
The Victoria's Secret models sure do look excited. It must be because they just learned that Justin Timberlake is going to be performing at their December show. Talk about Sexy - JT and a bunch of gorgeous models like Gisele and Karolina. We don't think Heidi Klum is going to make it this year like she did when she showed us why they call her a supermodel by bouncing back post baby Henry. At least with JT we now have something to ogle at while our men enjoy the ladies. Here's more: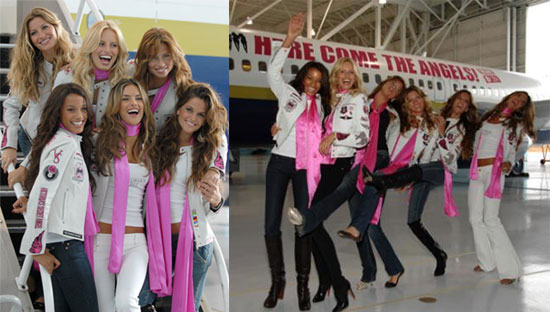 As if it needed to get any sexier, "The Victoria's Secret Fashion Show," airing Tuesday, Dec. 5 at 10 p.m. on CBS, has landed Grammy® Award winner JUSTIN TIMBERLAKE to provide musical entertainment for the hourlong look at the holiday line of lingerie. Timberlake will perform songs form his new album, FutureSex/LoveSounds. Also making a special appearance will be "Project Runway" creator/host HEIDI KLUM.

Hitting the catwalk in the company's barely there fashions will be GISELE BUNDCHEN, ADRIANA LIMA, KAROLINA KURKOVA, ALESSANDRA AMBROSIO, SELITA EBANKS and IZABEL GOULART.

The special will also include red-carpet interviews, model profiles and a behind-the-scenes look at the making of the scantily clad fashion show.
As you can see, JT will have lots of help getting his sexy on at the show. For more pics of Selita Ebanks, Karolina Kurkova, Adriana Lima, Gisele Bundchen, Izabel Goulart and Alessandra Ambrosio just read more