Vince Vaughn at the Fred Claus Premiere in London
Vince Gets Back Into the Holiday Spirit
Start Slideshow
ADVERTISEMENT ()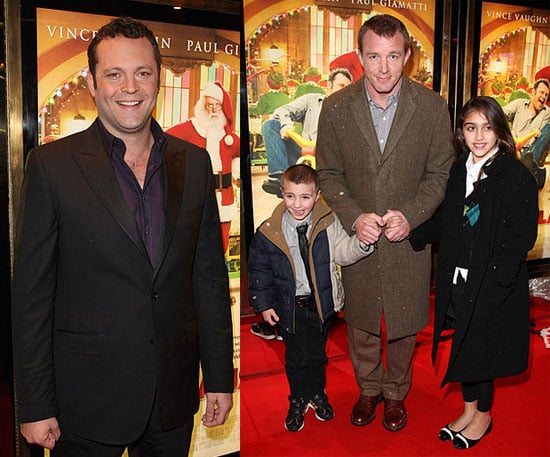 0
Vince Gets Back Into the Holiday Spirit
Vince Vaughn took his Fred Claus for a sleigh ride overseas to London last night. Guy Ritchie, Rocco and Lourdes came out to catch the new film, but Madonna sat this one out. Vince doesn't have any kids of his own, but he's been getting lots of experience with them thanks to his nieces and nephew. Beyond giving him an appreciation for Supernanny, they help get him into the Christmas spirit. He told InTouch:
On Christmases in the Vaughn household::
"They were all good. The only thing is that when you were younger, you'd get toys, but then you'd get to a certain age and all you'd get were clothes. I'd be like, 'This isn't fun, I don't want socks!' Then I'd feel the next gift and it would be jeans. I was painfully skinny then, so clothes were just a reminder of how awkward I was. But now that I have a nephew and nieces, the fun is back in it."
On what his nieces and nephew think of his new movie:
"My nephew saw the Fred Claus poster and goes 'Uncle Vince! That's you and Santa Claus!' He was upset, thinking, 'How come he hasn't introduced me? Doesn't he know I'd like to meet Santa?'"
Aww — we love hearing more about the sweeter side of Vince. Even though he plays his usual wisecracking self in the film, we bet he used his experience as an uncle to win over lots of parents and kids.
Lots more pics on the London red carpet so just
Images include Guy Ritchie, Oswald Boateng, Johnny Borrell, Hofit Golan, John Michael Higgins, Liz Fuller, Michael Higgins, Miranda Richardson, Paul Giamatti and Vince Vaughn.