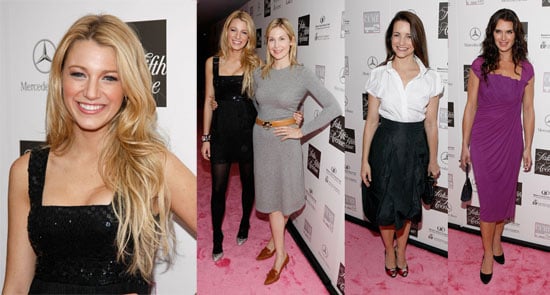 Blake Lively and her on-screen mom Kelly Rowland hit the pink carpet at the Viva La Cure Benefit for Women's Cancer Research last night in NYC with other stars like Amanda Peet and Brooke Shields. Gossip Girl may be just getting started, but Blake is already feeling the effects of her newfound celebrity. As the November cover girl for CosmoGirl, Blake talked about getting up close and personal with some of Hollywood's finest. She said,
"It is a crazy and completely insane business. I'll go to an event wearing some designer gown and tens of thousands of dollars in jewels that were lent to me for the night, and I'll walk around and meet people who I always thought were such a big deal."
She even talks about Brad Pitt's poo. I can't wait to read the rest of the interview and see where it goes. As for getting to wear all those fabulous clothes on and off the set — sounds rough . Speaking of which, Fab's got a fun fashion quiz and info on all the clothes you saw on last night's episode, including Serena's gorgeous date night dress! If you were more enthralled with the kids' fancy gadgets, Geek challenges you to test your knowledge with her Gossip Girl tech quiz.
Lots more pics from the event including Jane Krakowski and Kristin Davis so just
Images include Blake Lively, Kelly Rutherford, Jane Krakowski, Brooke Shields, Kristin Davis, Gretchen Mol, Beth Ostrosky, Amanda Peet, Joely Fisher, Michael Lombardi.