Warrant Issued for Lindsay Lohan's Arrest 2010-05-20 10:45:00
Warrant Issued For Lindsay Lohan's Arrest — Think She Deserves Jail Time?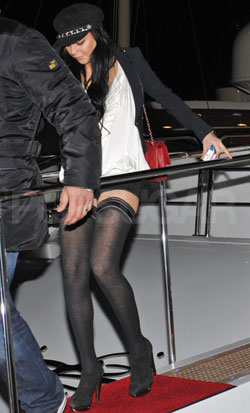 Lindsay Lohan has been partying it up at the Cannes Film Festival this week, under the guise of promoting her new Linda Lovelace movie. She's continued the good times with new guy friends like Dominic Cooper despite needing to be back in LA this morning for a court date. Lindsay claimed to not be able to make it to California in time since her passport was stolen, though she never reported the theft to the French police. She did, though, send a seemingly desperate email to friends hoping for a ride home on someone's private plane. Regardless, she was out last night until 4 a.m. and completely missed today's hearing — the judge in the case subsequently issued a warrant for her arrest. She's now facing a possible 180-day stay in jail upon her return to LA, unless she posts $100,000 bail. It's a severe punishment for not obeying the law, but it might be the eye-opener LL needs. So, tell us what you think — does Lindsay deserve jail time?