The Weekend Was Lucky for Valentino Too!
Start Slideshow
ADVERTISEMENT ()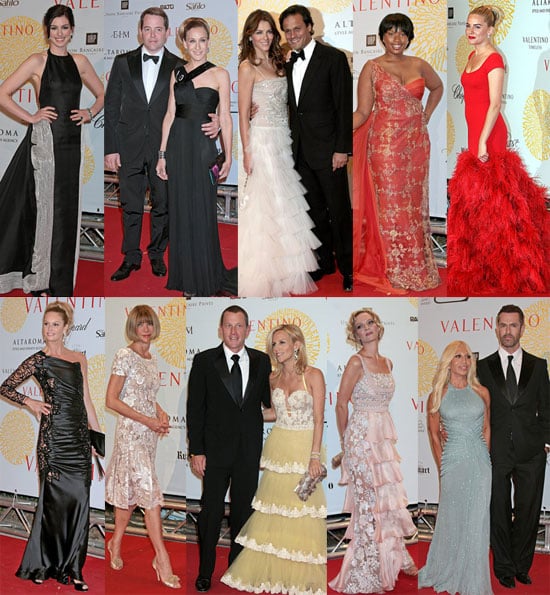 0
The Weekend Was Lucky for Valentino Too!
7/7/07 wasn't just about weddings and Live Earth. There was the lucky group in Rome this weekend that dedicated their time to Valentino. Stars stepped out to celebrate the fashion icon's 45th anniversary in fashion. Everyone from Mick Jagger to Anna Wintour was there. Other VIPs included Elle Macpherson, Tom Ford, SJP and Anne Hathaway who all walked the red carpet at the Villa Borghese. What did you think about all the red carpet looks? Jennifer Hudson went for the faux short hair but we're not loving it. And Sienna - WOW, are you into her bold look? Even the men like the adorable Rupert Everett and Lance Armstrong were excited to share in the festivities.
Lots more pics from the red carpet in Italy including Eva Mendes, Claudia Schiffer, Claire Danes and Margherita Missoni so
Images include Anna Wintour, Anne Hathaway, Arun Nayar, Claire Danes, Claudia Schiffer, Elizabeth Hurley, Elle Macpherson, Eva Mendes, Hugh Dancy, Jennifer Hudson, Joan Collins, Lance Armstrong, Margherita Missoni, Matthew Broderick, Mick Jagger, Natasha Richardson, Rupert Everett, Sarah Jessica Parker, Sienna Miller, Uma Thurman