Welcome to the New PopSugar!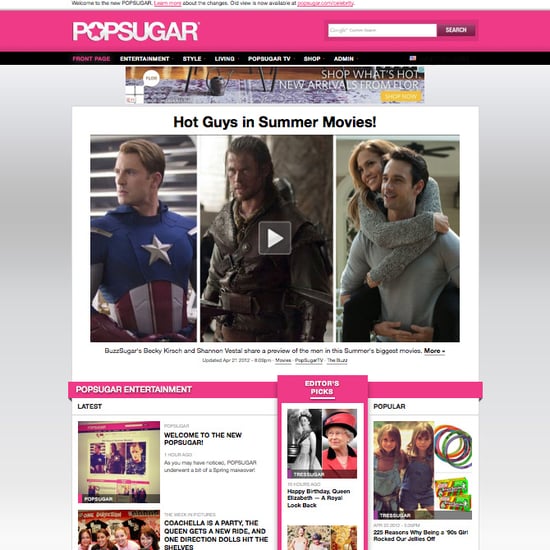 As you may have noticed, POPSUGAR underwent a bit of a Spring makeover! Wait, wait, don't panic — while it may look different, we're so excited to get even more of our awesome content to you every hour, second, and minute as it happens. This new look will get the best and most exciting stories you care about to you even faster. Over the past five years we've grown so much, and we want to show you everything that is happening — whether you're loving fashion, food, family, or just want to know what to watch on TV tonight, we have what you're looking for. Here are a few of our favorite features:
Front page! Every day we'll be constantly updating the first thing you see with our very best, latest, and most gorgeous story. It may showcase the fashion news of the day in Fab Flash or the best gallery from last night's celebrity event. Watch this space for what's hot right now!
Video! POPSUGAR TV has some of the most gorgeous, informative, and fun video content every day, and we want to share it with you. Plus, when we're live at the biggest events from the Oscars red carpet to Fashion Week, you can tune in, chat with us as it happens, and share in the experience like you're front row.
POPSUGAR Celebrity is still cranking away, of course! If you're looking for the hottest, latest celebrity photos and news, click to popsugar.com/celebrity to get everything you know and love.
Channel it in! Just like your favorite newspaper, we've got sections. So if it's celebrity, entertainment, pop culture, and women's news that you love, check out POPSUGAR Entertainment. If you want all things fashion and beauty, see POPSUGAR Style. And if you're after home, family, fitness, decor, and tech (to name a few), enjoy POPSUGAR Living.
We'd love to hear your thoughts on the new look, and we hope you love seeing all of the amazing content our editors are creating every day, bubbling up what's hot, what's trending, and what everyone loves to share. Thank you for reading, watching, and living the Sugar life with us!