We've Got Our Favorite Heroes Covered
We've Got Our Favorite Heroes Covered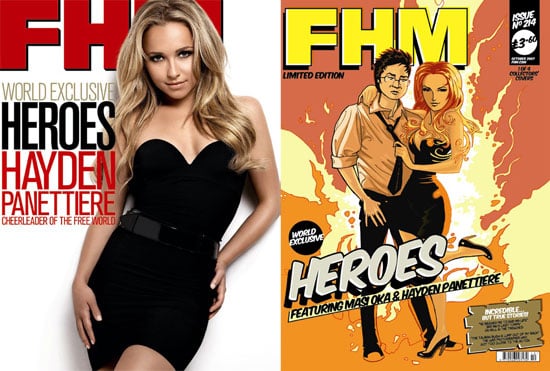 0
We've Got Our Favorite Heroes Covered
Hayden Panettiere is looking super sexy on the special edition of FHM, but we're much more excited about the awesome cartoonified versions of our favorite heroes! Masi even got to go a little risque, ditching the glasses and teasing his hair - love it. In the issue, our Hiro gets real about working with Hayden and how he gets around without teleporting. Here are highlights:
On Hayden:
She's brilliant. I've hung out with her the most as she lives in New York too. She was born in 1989. My God! I remember 1989 - I was in high school. And yet I heard she reached number six in your 100 Sexiest poll. What are you guys in the UK? A bunch of perverts or something?
On driving his old 2000 Honda Civic:
I think there's a superstition to changing anything in your life when everything's going well. But I'll have to get a new car soon - it's really shaking at the moment. I can't be on Heroes, and then be seen sat at the side of a freeway next to a smoking wreck. With people driving past shouting, "Hey d*ckhead - why don't you teleport outta here!" That would not be good.
Aww, we love that Masi is so funny and down to earth in real life - not to mention a pretty brilliant geek. We really wish September 24th would hurry up and get here so we can see what happened to everyone and what's new for us in the season ahead.
More of Hayden and Masi if you