What Is Thanksgivukkah?
All Your Thanksgivukkah Questions Answered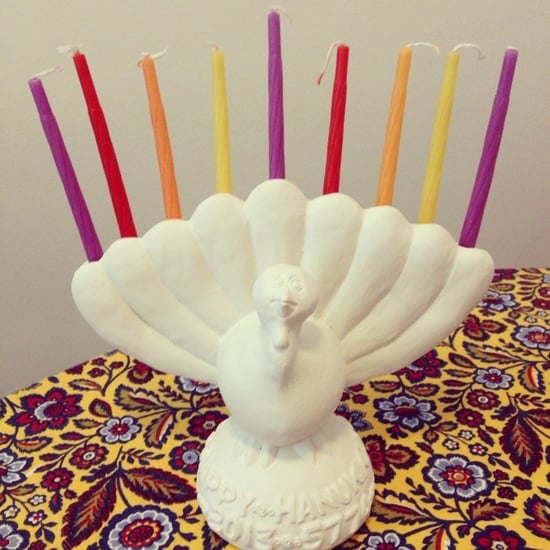 Move over Chrismukkah. There's a new hybrid holiday in town, and this one is a once-in-a-lifetime event! For the first time in a century, Thanksgiving and the first day of Hanukkah fall on the same day, giving Jewish-Americans a reason to start their holiday shopping even earlier and test out new recipes. To get you ready for this double celebration, we have the answers to all your Thanksgiving-meets-Hanukkah questions before it all goes down on Thursday.
Q: When is the last time Thanksgiving and Hanukkah collided?
A: This holiday convergence last happened 125 years ago in 1888. Keep in mind that was only 25 years after President Abraham Lincoln declared Thanksgiving a holiday.
Q: When will it happen again?
A: Apparently not for 77,798 years!
Q: How will America mark the occasion?
A: For the first time, there will be a massive three-story dreidel balloon during the Macy's Thanksgiving Day Parade!
Q: And what about the other great Thanksgiving tradition: Black Friday?
A: Don't expect to wait until Black Friday or Cyber Monday for holiday deals. Retailers, who don't want Hanukkah observers to miss out, are starting promotions well before Thanksgiving this year. Not that brands mind the excuse. Since Thanksgiving is so late this year, it cuts into typical holiday shopping time.
Q: Is there special lingo?
A: Yes! Remember when Seth Cohen from The OC popularized Chrismukkah, as seen in this clip below? Well sorry, Seth — this year it's all about Thanksgivukkah. Also prepare yourself for tons of people hashtaging their Instagrams #GobbleTov.
Q: How can I prepare?
A: Get your hands on a turkey-shaped menorah, also known as a menurkey. According to The Jewish Museum, "Menurkeys are flying out the door!" Well, they do have wings. Also, track down a good pumpkin latkes recipe. Unlike the menurkey, you may be able to use that recipe again in your lifetime. Pumpkin comfort food and Fall always go together, regardless of how the Hebrew and Gregorian calendars sync up.