The sun rose today and that means Pete Doherty was back in court. This time he was fined $1,400 for physically assaulting a journalist earlier in the year. No, it wasn't for the bloody paparazzi brawl from last month. That's a separate incident. Don't the press know by now to leave Pete Doherty alone? He only attacks when provoked! Here's more: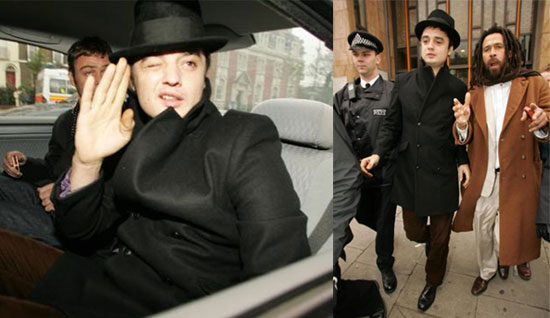 Doherty admitted that he kicked BBC reporter Trudi Barber and knocked a microphone out of her hand before he sprinted away from reporters, jumped into his Jaguar and sped away.

The singer had pleaded innocent to assault, but changed his plea after watching television footage of the incident, his lawyer, Sean Curran, said.

Justice Helen Skinner also ordered Doherty to pay $475 in compensation and $380 in court costs.

Doherty, the on-off boyfriend of supermodel Kate Moss, appeared in court wearing a black coat and clutching a black trilby hat. He told the court he could not pay the fine Wednesday because he had only 50 cents with him.

He apologized for the incident, but called Barber part of the "harassing scum of press."
Pete left the courthouse looking more sober then we have ever seen him and he was even friendly to the paparazzi. For more pics of Pete peacefully leaving the courthouse just read more