Where In The World Is Nicole Richie?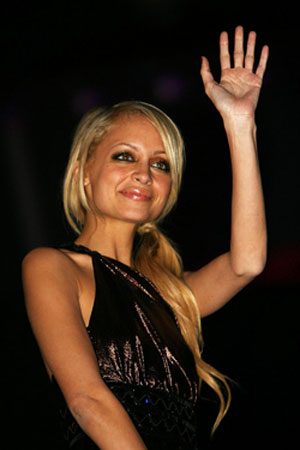 Last night, a rumor surfaced that Nicole Richie, who has been noticeably absent from the starlet scene over the past few weeks, hasn't been traipsing around behind her boyfriend Joel on his tour, but instead had entered rehab. The National Enquirer and Star Magazines, which hit stands, tomorrow, claim that Nicole entered the treatment center on May 11 to deal with her "anorexia and addiction to pills." The stories say she was there until the 19th, at which point she started outpatient treatment.
Just hours after the rumor started circulating, her rep issued this statement: "She is not in rehab. She is at home in Glendale. Sobriety is an ongoing process but she is sober."
While it's good to hear that Nicole is just laying low, it's definitely unlike her to stay out of the press for even a few weeks. The last we saw Nicole, other than some pictures we saw whose real date was unknown which accompanied an unsubstantiated rumor that she and Joel had broken up, was back at the end of April in Australia with Joel. Hopefully her rep's statement is true and Nicole really is taking some healthy time for herself.
That being said, I'm sure Nicole will be out for a photo op soon. Plus, it's not like Paris is going to be able to pull her weight promoting The Simple Life when she's locked up.