White House Christmas Decorations 2013 | Pictures
Sunny Obama Got a Little Too Excited
Holiday cheer made its way to Washington DC on Wednesday, where First Lady Michelle Obama welcomed kids to see the White House Christmas decorations. The little ones spent some time crafting and hanging out with Michelle, but one girl seemed to have mixed feelings about Bo and Sunny, the Obama family dogs. Two-year-old Ashtyn kissed Sunny before taking a tumble, but Michelle was on hand to help her out. Below are our top reasons why the White House is a go-to holiday spot.
The First Lady Gives Hugs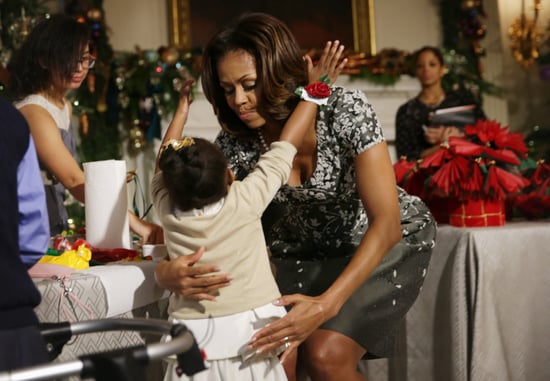 And More Hugs!
Sunny Obama Gives Kisses
But Be Careful!
Don't Worry, Sunny Apologized
Keep reading for more festive pictures from the White House.
The Rooms Have More than One Christmas Tree!
And Superfancy Hallway Decorations
There's a Gingerbread White House
Plus Crafting For the Kids
And Did We Mention the Hugs?