Who Is To Blame For Britney's VMA Debacle?
Who Is To Blame For Britney's VMA Debacle?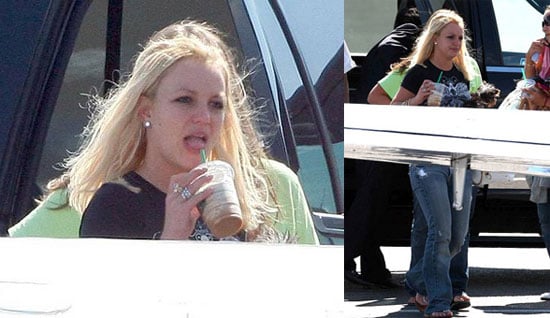 0
Who Is To Blame For Britney's VMA Debacle?
Britney didn't look too happy climbing onto her private jet yesterday afternoon getting out of Vegas following her disastrous VMA performance. Brit was universally torn apart by the press yesterday (to put it lightly), but mostly it seems like everyone was searching for the answer to one question - why? A million reasons have been thrown out there (Criss Angel with another woman? The heels on those boots? Should we blame her new manager, Jeff Kwatinetz?), but today Page Six boiled it down to good old fashioned laziness and disrespect on her part. Oh, and a penchant for frozen margaritas during rehearsal.
They say she showed up hours late for rehearsal and couldn't hack it with her talented group of backup dancers, refused to wear the corseted outfit they chose for her (instead opting for her own ill conceived sparkly underwear set), and arrived for the big show drink in hand. Plus, despite reports that she was distraught after, it wasn't enough to keep her from partying (without underwear) 'til 3 am. Oh, Brit. With so many fans just waiting for your comeback, the least you could do is not rub it in their faces that you just don't care.