Who Is Julian Assange?
6 Things Benedict Cumberbatch Will Teach You About Julian Assange in The Fifth Estate
Benedict Cumberbatch did more than just bleach his eyebrows and perfect an Australian lilt to play WikiLeaks founder Julian Assange in The Fifth Estate. The actor also dug deep into Assange's personal history and even emailed with the mercurial and controversial publisher in the hopes of forging a relationship — hopes that were quickly dashed by Assange himself.
The Fifth Estate is based on two books about WikiLeaks: Inside WikiLeaks: My Time With Julian Assange and the World's Most Dangerous Website by former WikiLeaks collaborator Daniel Domscheit-Berg and WikiLeaks: Inside Julian Assange's War on Secrecy by journalists David Leigh and Luke Harding. The movie cleaves closely to the real-life story brought to light by both books, giving a revealing look at the man behind the information-leaking Goliath. Here are six things — both serious and superficial — we learned from Cumberbatch's take on one of the world's most famous yet enigmatic men: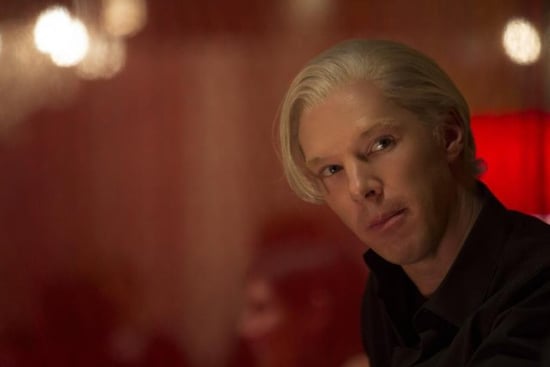 Assange got his start as a notorious teen hacker.
Long before founding WikiLeaks, a 16-year-old Assange began hacking under the name Mendax, a nom de plume meaning "nobly untruthful," which he borrowed from the writings of ancient Roman poet Horace. Along with a small group of other young hackers, he broke into sites including the US Department of Defense's, gaining a reputation for being able to crack even the most secure of networks. After some of his trespasses were discovered, his home was raided by police, though he wasn't charged with any crime for those early hacks. His online activity later got him into legal trouble, of course, beginning in 1991. That year, he was charged by Australian authorities with more than 30 counts of hacking-related crimes. Assange faced up to 10 years in jail, but a judge later sentenced him to simply pay a fine, explaining, "There is just no evidence that there was anything other than sort of intelligent inquisitiveness and the pleasure of being able to — what's the expression — 'surf' through these various computers."
He helped bolster WikiLeaks' early reputation by falsely claiming he had hundreds of volunteers.
After defecting from WikiLeaks, Daniel Domscheit-Berg revealed that although Assange claimed to have hundreds of volunteers at his disposal, the operation was run almost entirely by Assange in its early years. Domscheit-Berg and Assange often posed as other "employees" of the organization, he alleged in his tell-all book, setting up fake names and email accounts to correspond with reporters and information sources.
He has a connection to the infamous cult The Family.
By all accounts, Assange had an untraditional upbringing. In the late '70s, when he was a child, his mother began dating a musician with ties to The Family. The cult was run by yoga teacher Anne Hamilton-Byrne, and children in the group were homeschooled, wore identical clothes, and had their hair dyed light blonde. The use of hallucinogenic drugs like LSD was common among its adult members. Assange and his mother spent several years on the run after her breakup with a domineering boyfriend; in a 2010 interview with The New Yorker, Assange said he believed the cult had moles in the Australian government that helped the ex keep tabs on his mother for years after the split.
He (might) dye his hair.
In The Fifth Estate, Assange tells several conflicting, provocative stories to people he meets that suggest his hair's startling shade of white is somehow the result of trauma. Later in the film, however, his collaborator Domscheit-Berg reveals that he once caught Assange bleaching his hair in a bathroom. The movie also shows a scene of a young Assange with The Family, loosely suggesting that the habit is a holdover from his childhood in the cult. In a memo WikiLeaks released — along with a leaked version of The Fifth Estate's script — last month, Assange himself denied that he was ever a member of The Family or that his hair color is unnatural: "Julian Assange does not dye or bleach his hair white as claimed in the film."
See what else we know about Assange after the jump.
He is a weird dancer.
In 2009, while in Reykjavík, Iceland, Assange was captured on camera in a rare, unguarded moment, letting loose and dancing at a club to techno music. The video leaked in 2011 and is re-created with amusing effect in The Fifth Estate by Cumberbatch. Another character in the scene compares his moves to those of an octopus.
He doesn't approve of this movie.
Cumberbatch naturally tried to establish a correspondence with Assange after signing on for The Fifth Estate. During our interview with Cumberbatch at the Toronto International Film Festival, he told us that Assange wrote him an impassioned email telling him he shouldn't do the film; Assange publicly released his letter to Cumberbatch. The writers of the film chose to acknowledge Assange's opposition to the project on screen. In one of the film's final scenes, Assange speaks directly to the camera and expresses his distaste over the film, over which he has raised dozens of concerns, particularly the film's portrayal of WikiLeaks, including Domscheit-Berg's level of involvement in the organization, the intimation that WikiLeaks ever endangered the lives of US personnel abroad, and its overall ideological stance.