Who Is Lupita Nyong'o?
Who Is Lupita Nyong'o? Get to Know This Stunning New Star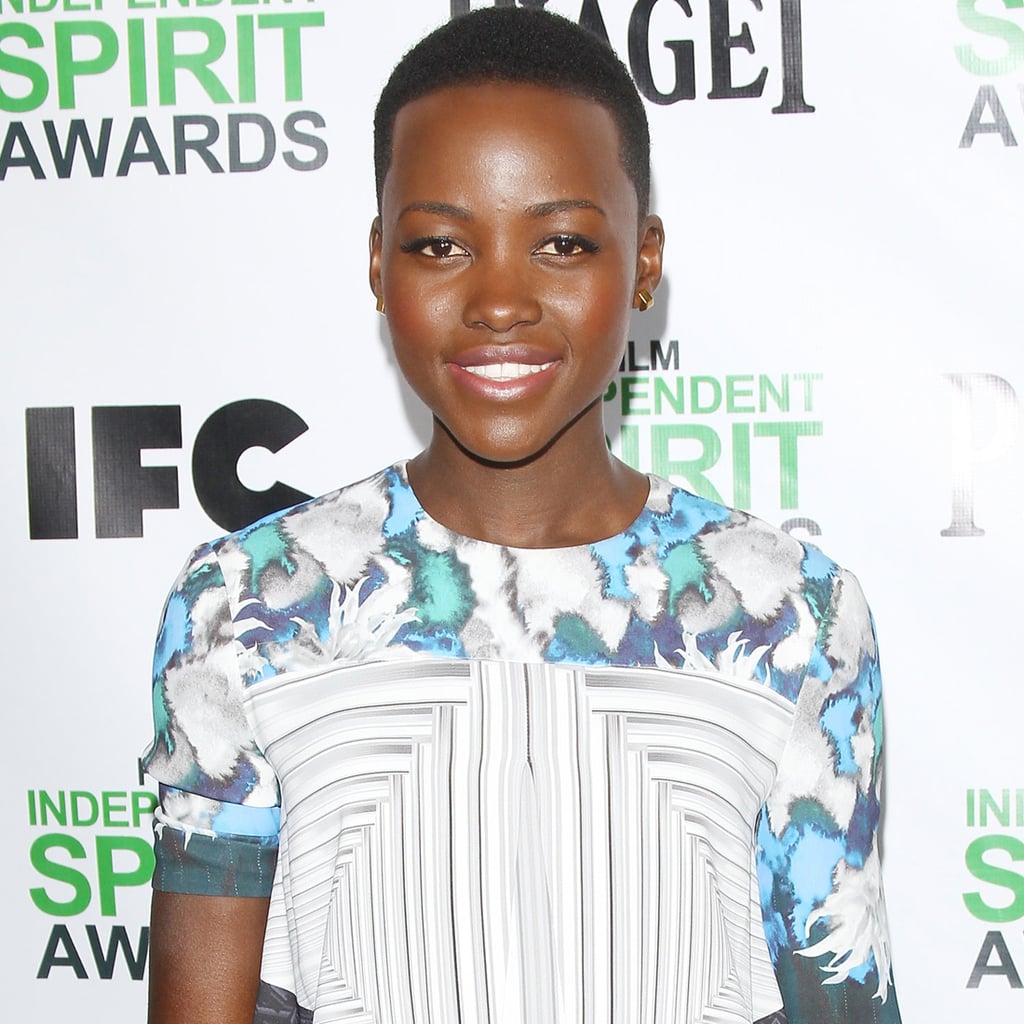 This award season, Lupita Nyong'o's name is on everyone's lips, and for good reason — the stunning Kenyan actress has taken the film world by storm with her gripping performance in 12 Years a Slave, and the role has garnered her best supporting actress nominations at the Golden Globes and Oscars. Most recently, she took home an NAACP Image award in the category and was also honored at the SAGs and Critics' Choice Awards, where she was welcomed to the stage with a standing ovation by her idols and peers before giving an emotional, heartfelt acceptance speech (it was one for the books; if you haven't seen it yet, we suggest you grab a tissue and watch). While there's a lot to love about Lupita — her raw talent, wide-eyed ingenuity, and incredible sense of style included — there is also so much more that we didn't know about her! Keep reading to find out just who Lupita Nyong'o is and why you should be rooting for her this award season.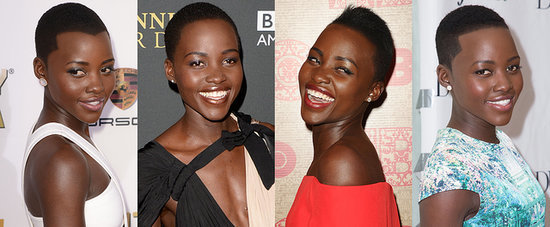 Lupita was born in Mexico City, where she and her family were political refugees. Her parents decided to adhere to Kenyan tradition — naming your child after the events of the day — and give her a Mexican first name.
Her father, Peter Anyang' Nyong'o, is a former minister and current member of Kenya's parliament. Thanks to his notoriety there, Lupita has a realistic view of fame, telling the LA Times, "I grew up in the limelight and being the child of someone famous, so my relationship with fame is not bedazzled."
But Lupita's still not quite used to her growing stardom; as she told The Huffington Post, "I'm trying to get over the fact that my name is being mentioned with freakin' Brad Pitt! It's a lot. My name is coming up alongside people that I have grown up watching and who I respect so deeply. That is incredible and unbelievable."
Lupita graduated from Hampshire College with a degree in film and theater studies. She went on to earn a master's degree from Yale's School of Drama in 2012, just months before landing the role of Patsey in Steve McQueen's 12 Years a Slave.
She speaks Spanish! Lupita's parents sent her back to Mexico at age 16 to learn the language, and she showed off her bilingual skills recently by answering interview questions in both English and Spanish.
Her cousin Isis Nyong'o Madison was on Forbes's list of Africa's Top 20 Youngest Power Women.
Lupita brought her brother, Peter Jr., as her date to the Palm Springs Film Festival and thanked Julia Roberts for "making him the coolest kid in school" by taking a photo with him that night.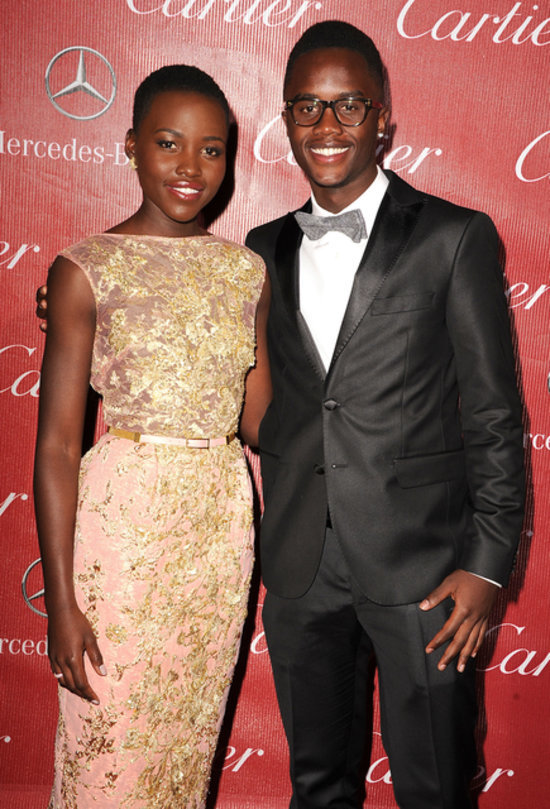 Lupita landed a job as a production assistant in 2005 when The Constant Gardener was being filmed in her Kenyan neighborhood. She spent some of her time helping the film's star Ralph Fiennes.
In 2009, she wrote, directed, and produced the documentary In My Genes, which explores the treatment of Kenyans with albinism.
She credits Whoopi Goldberg in The Color Purple as inspiration for her performance in 12 Years a Slave. Lupita told the Independent, "Whoopi looked like me, she had hair like mine, she was dark like me. I'd been starved for images of myself. I'd grown up watching a lot of American TV. There was very little Kenyan material, because we had an autocratic ruler who stifled our creative expression."
Lupita also drew inspiration from Michael Jackson: "There's something very Michael Jackson-like about Patsey, the childlike quality he always had."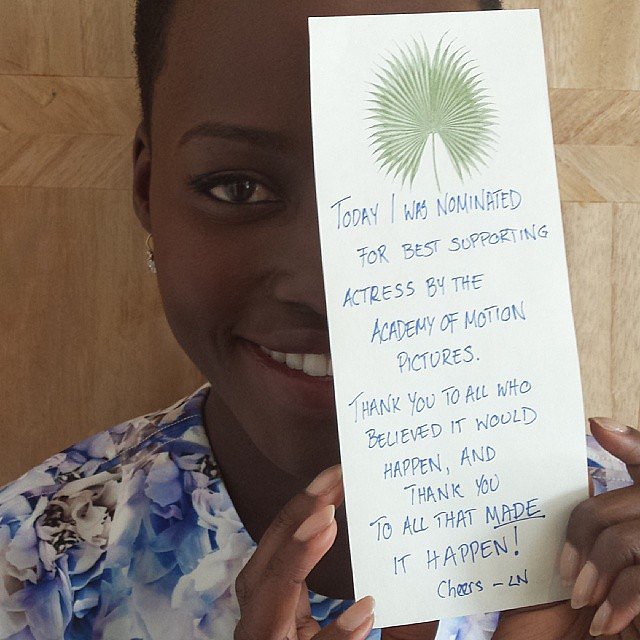 For her first-ever time at the Golden Globes, Lupita had an adorable "checklist" of stars she wanted to meet and take photos with. She nailed it!
The red-caped Ralph Lauren gown she wore that night turned lots of heads and landed Lupita on many a best-dressed list.
Lupita told the LA Times that she's also been keeping a journal to track her journey through award season.
Prior to starring in 12 Years a Slave, Lupita appeared in a short film called East River, as well as an African MTV miniseries called Shuga.
We'll next see Lupita in the upcoming action film Non-Stop with Liam Neeson, Michelle Dockery, and Julianne Moore. Not too shabby!
She's a fashion-industry darling! Lupita covers the February issues of W Magazine and Dazed and Confused and has already landed a gig as one of the new faces of Miu Miu's Spring campaign. She recently made her Fashion Week debut and sat front-row with Anna Wintour.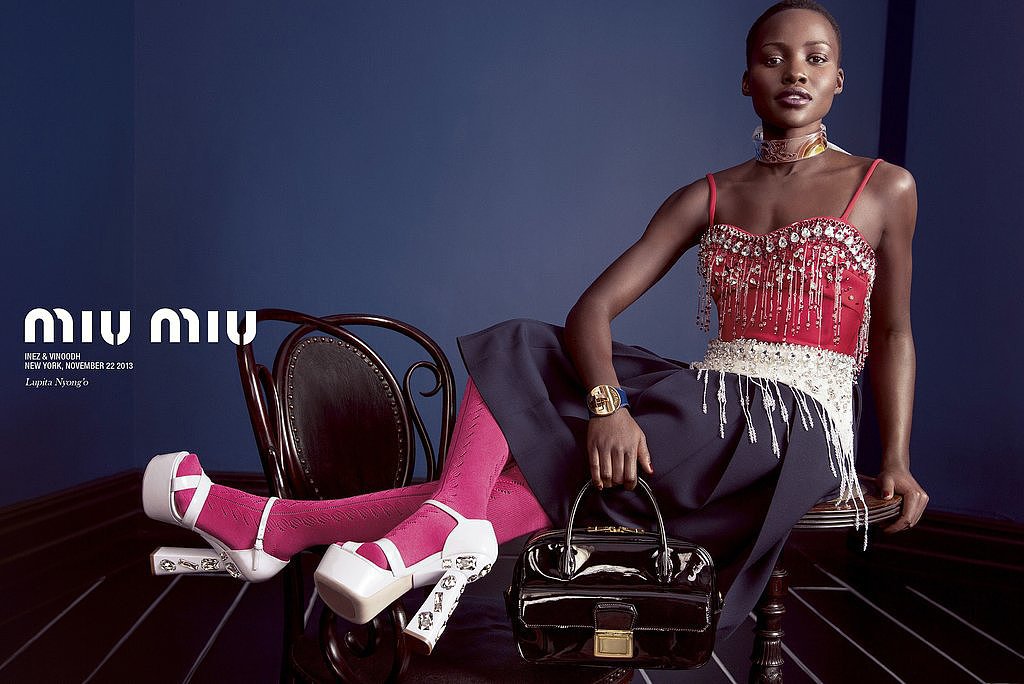 Are you loving Lupita Nyong'o? Let us know in the comments.