Who Is Wendy Davis?
Wendy Davis Announces Governor Run: What You Should Know About Her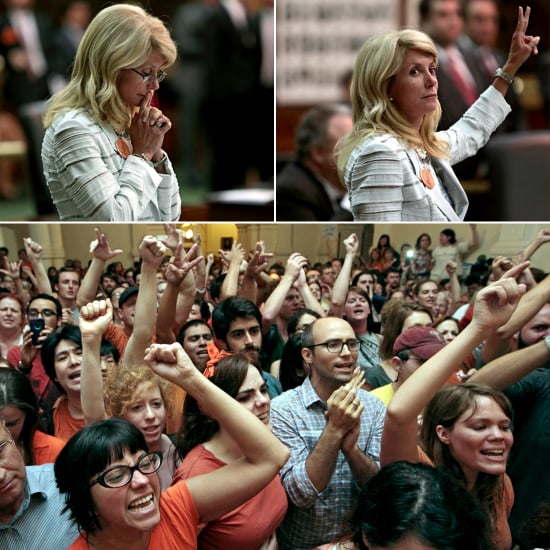 Today, Texas Senator Wendy Davis took to Twitter to announce she's running for governor, just months after the phrase "Stand With Wendy" became the pro-choice motto against an anti-abortion bill. So who exactly is Wendy Davis? She's a 50-year-old state senator who began working as a preteen to support her single mom and three siblings. Davis was also a teen mom, giving birth to her first daughter at age 19 and working two jobs to make ends meet. She pursued community college, and, with the help of loans and scholarships, she was able to graduate with honors from Harvard Law School at age 33. Now, she hopes to be the next governor of Texas.
Today, I'm proud to announce my candidacy to be the 48th governor of the this great state of Texas! #TeamWendy

— Wendy Davis (@wendydavis) October 3, 2013
You probably best remember Davis from the Summer headlines. On June 25, she achieved an amazing feat with her 10-hour filibuster in order to block a restrictive abortion bill that banned most abortions after 20 weeks and tightened the standards on abortion clinics and their doctors. Although the bill was eventually signed into law, she managed to block it that night with her filibuster. Clad in a suit and hot-pink running shoes, Davis declared she was speaking for those whose "personal relationships with their doctor and their creator" would be violated by the bill. She stood unaided until midnight and was not allowed to lean or take a bathroom break, though later in the evening, a fellow senator helped her put on a back brace. It also wasn't Davis's first filibuster: she took on Texas Governor Rick Perry and the Republican majority by forcing a special session in order to stop public school cuts in 2012.
Find out more about her filibuster and see the incredible video when you keep reading.
This Summer's filibuster proved inspirational not only for Davis's fellow Texans — who packed the Austin statehouse, erupting in applause and chanting her name — but also for abortion rights advocates around the country. The hashtag #standwithwendy trended quickly on Twitter, and Cecile Richards, president of the Planned Parenthood Action Fund, said of the event, "This fight showed once again that we are all better off when women and their doctors are the ones making medical decisions. We made history tonight, but we know this isn't the end of the fight to protect women's access to health care in Texas."