Who Are Your Top 10 Favorite Celebrity Imports in the PopSugar 100
Who Are Your Top 10 Favorite Celebrity Imports?
The 2011 PopSugar 100 is off to a rocking start, and this year we want your help selecting the winner by filling out 12 top 10 lists! One of the categories getting tons of action is favorite import, and with so many hot stars to choose from, including Twilight's Robert Pattinson, Harry Potter's Daniel Radcliffe, and Oscar winner Kate Winslet, it's tough to pick just 10. Emma Watson's currently in the top spot with Robert, Helena Bonham Carter, and Colin Firth right on her heels. There's still plenty of time to make sure your favorites jump into the lead; all you have to do is vote. Click below and follow the simple directions to get playing and share with your friends on Facebook to compare all your lists!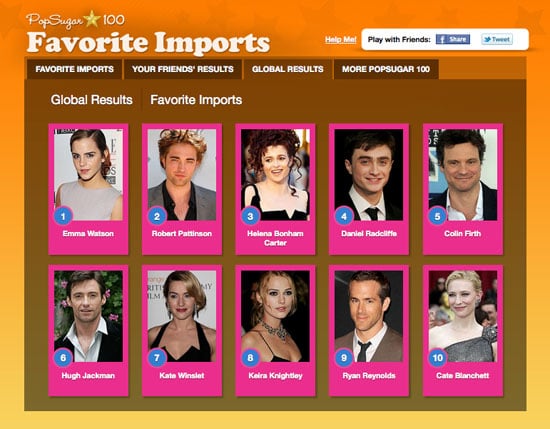 Of course, the PopSugar 100 is also your chance to win prizes, and in partnership with Portero.com, we're offering up four luxurious items! Winners are eligible to win one of the following: a Chanel bag, an Hermès Kelly bag, an Hermès CdC cuff bracelet, and a vintage Rolex watch! The more lists you complete and share, the more times you are entered — check out the official rules here.