Why Did Solange Knowles Attack Jay Z?
We Still Don't Know Exactly Why Solange Attacked JAY-Z in That Elevator, but Here Are the Theories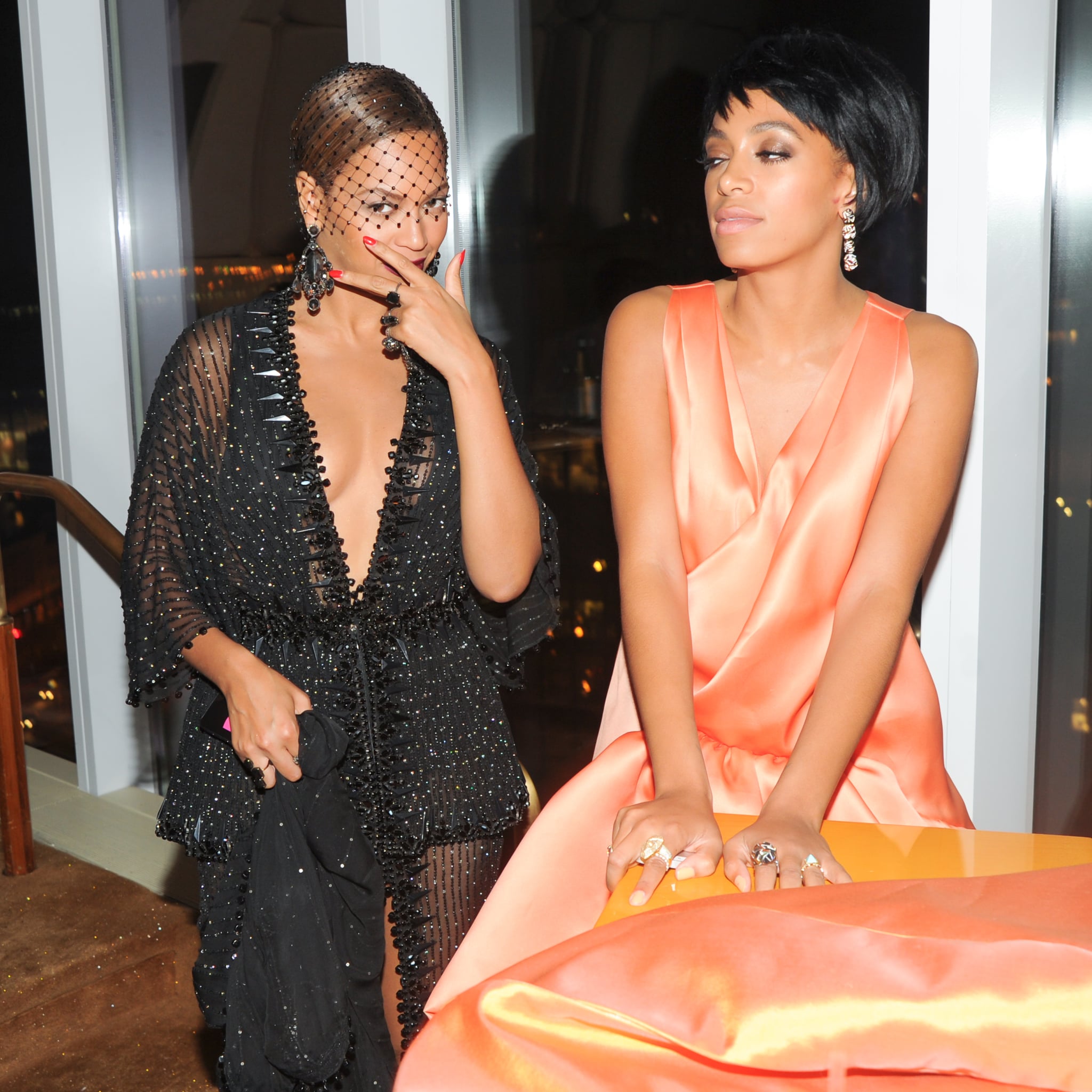 After the Met Gala in May 2014, a video showing Solange Knowles beating up Jay Z, her brother-in-law, in an elevator quickly went viral. Solange and Jay were joined in the elevator by Beyoncé and the couple's bodyguard, who had to physically restrain Solange at multiple points during their elevator ride. Since the video had no sound (it was taken from a security camera), there is little insight into what was said and why Beyoncé's sister reacted so violently. Of course, that hasn't stopped just about every person on the Internet from speculating about what went down. Theories range from Solange getting sparked by an argument with Rachel Roy to Solange acting out after Jay dissed her friends and tried to leave for a different afterparty without his wife. We've gathered up the top explanations below and decided which is most likely the closest we'll ever get to the truth.
Solange Is Just Prone to Outbursts
According to Us Weekly, Jay Z's and Beyoncé's calm demeanors during Solange's outburst were because they are used to her violent reactions. "Solange has flipped her lid like that before," a source said. "She is genuinely a sweet and nice person, but she also keeps sh*t real. She can take a small thing, and it triggers her." The source added, "That's why Bey and Jay were so calm. They are used to this from Solange. It has definitely happened before." There's still no word on what set Solange off, but it sounds like the insider was setting it up as an overreaction on Solange's part.
If Solange's temporary temper tantrum is to blame, it might explain why the day after the Met Gala, she was all smiles when she attended a party for artist Kara Walker in Brooklyn.
Solange Has Long-Standing Issues With Jay Z
Although Jay is married to Beyoncé, there are reports that the two have a somewhat testy relationship. Back in 2008, Solange snapped at a reporter who asked her about Jay's 40/40 Club in NYC. She said, "Please don't tie me in to family and my brother-in-law's establishment." The two also rarely pose for photos together despite attending many of the same events, including Coachella back in April. Solange and Jay didn't pose for snaps while inside the Met Gala, with Beyoncé reportedly staying close to Solange during the event and Jay choosing to hang out with his friend Kanye West and Vogue's Anna Wintour.
Jay Said Something Inappropriate to the Sisters
According to one report, Jay allegedly said something "inappropriate" to both Beyoncé and Solange, which set Solange off. The source said, "When they got in the elevator, it escalated quickly, the way family tensions can. It got exceptionally heated, the way family moments can." They added that Solange is protective of Beyoncé. This might explain why Bey didn't appear to initially defend Jay during the altercation.
Solange Was Mad at Rachel Roy
According to a source from E! Online, JAY-Z and Rachel were uncomfortably flirty at a Met Gala afterparty. The source revealed that the flirting was a thread through the night, but it elevated during the afterparty at the Boom Boom Room, a rooftop bar at the Standard Highline Hotel. According to the source, "Beyoncé approached Rachel to let her know the behavior was disrespectful and she wanted her out of their lives for good. . . . Solange came over to have her sister's back, and things got heated. . . . Jay said some disrespectful things to Beyoncé and Solange as the confrontation was going down." The argument with Rachel eventually ended, and Beyoncé, JAY-Z, and Solange left. That's when the elevator attack happened.
Two years later, Jay's relationship with Rachel was brought to the forefront with the release of Beyoncé's hit visual album Lemonade. On the track "Sorry," Beyoncé sings, "he better call Becky with the good hair." After Lemonade's release, Rachel Instagrammed a snap with the caption, "Good hair don't care." The use of the word "good" was enough to make Rachel the main target of Beyoncé fans and a slew of new rumors.
While it's never been confirmed that Jay and Rachel had some sort of sexual relationship, Jay apologized to his wife on his 4:44 album's title track in June 2017, saying, "I apologize often womanize / Took for my child to be born / See through a woman's eyes." He also brought up Beyoncé's infamous "Becky with the good hair" lyric on another song, "Family Feud": "Yeah, I'll f*ck up a good thing if you let me / Let me alone, Becky."
Jay Wanted to Head to
Rihanna

's Afterparty

The New York Daily News reports that the fight started when a few of Solange's "not famous" friends tried to use Jay's name to get into the Met Gala afterparty at The Standard, despite not being dressed appropriately. Apparently, the group was causing a scene at the door, which prompted the hotel's security to contact the couple's bodyguard. Jay was upset that Solange's friends were dropping his name, at which point the "drunk and irritated" Solange said she wanted to leave. As the group headed out, Jay said he was heading to Rihanna's private afterparty without Beyoncé, which set Solange off on a tirade against Jay for going out without his wife. Jay snapped back, "You're one to talk," which sparked Solange's violent rage.
So, Which Theory Is Probably True?
If we had to guess, probably a combination of the Rachel Roy theory, the party-crashing friends, and Rihanna's afterparty. Jay's response to Solange's friends may have set a sour mood on the afterparty, which may have led Solange to lash out at Rachel, a story that has been reported by multiple sources. A source also said that Solange's anger was sparked when Jay said he was going to Rihanna's party because she thought Rachel would be there. If Solange was already irritated about Jay's relationship with Rachel, it would explain why Rihanna's party would set her off. In June 2017, Jay made a statement of his own on "Kill Jay Z" from his 4:44 album. "You egged Solange on / Knowin' all along, all you had to say you was wrong," he raps.
Two days after the incident in 2014, Beyoncé flooded her Instagram account with pictures of Solange, a sign that many took to be a show of support for the superstar's younger sister. Tellingly, after sharing so much of Solange, Beyoncé shared a snap of herself at the Met Gala with Rihanna. Since it came after the Solange flood, this may have been Beyoncé's way of saying she's still on good terms with Rihanna, despite the argument that popped up as a result of Jay heading to her bash solo. Since Rihanna's Instagram account is still deactivated (come on, Instagram!), there was no response from the outspoken singer on her notorious social media account. All this leads us to believe that the fight probably had something to do with Jay going to Rihanna's afterparty but had nothing to do with Rihanna herself.
And Then There Are Twitter's Thoughts . . .
Digs on Solange Not Being as Famous as Beyoncé
She said, "This elevator is going nowhere" and he said, "Just like your career." AND THE FIGHT WAS ON! #WhatJayZSaidToSolange

— ً (@AdoringXtina) May 13, 2014
"You should be grateful for your sixteen fans" #WhatJayZSaidToSolange #WhatJayZsaid ##JayzSaidToSolange

— Sam Kalidi (@samkalidi) May 13, 2014
Are you the nanny? #WhatJayZSaidToSolange

— C.Jayy Maurice!!! (@CHMALL) May 13, 2014
I bet Solange asked to be in the On the Run your and Jay said no.

— YRN (@quadre_) May 12, 2014
"oh hey an elevator! We might hear some of your music on here" #WhatJayZSaidToSolange

— Southside Vic (@SouthsideVic) May 12, 2014
The Just Plain Silly Stuff
I think Jay-Z farted in an elevator and blamed it on Solange. #WhatJayZSaidToSolange

— LEFT UNATTENDED With (@iDstroy) May 12, 2014
Solage was clearly behind on Game Of Thrones and Jay-z blurted out some spoilers in the elevator #WhatJayZSaidToSolange

— Mwangala Ilukena (@Muscular_Monkey) May 13, 2014
"Solange, all he said that was that he preferred 'Bring It On: In It to Win It' to 'Bring It On: All or Nothing'" -Beyoncé

— Sam Lansky (@samlansky) May 12, 2014