Why Josh Missed Katie on Broadway and When to Hit on Girls
The stars of Fox celebrated their shows last night at LA club My House as part of the TCAs. The Osbournes mingled to support their new reality show while the young and adorable cast of the new show Glee were happy to chat. Joshua Jackson looked fantastic right down to his Adidas shoes and beyond just chatting about the future of Fringe, Josh joked around a little about when it's appropriate to hit on girls, and how he always stars in shows that are set in Massachusetts but never shoot there (Dawson's was in NC, Fringe in NYC). Here's some highlights from Josh: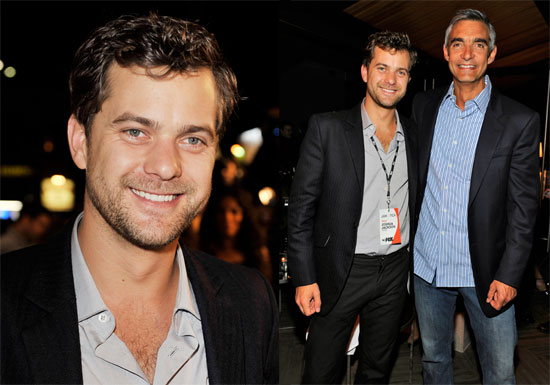 On seeing Katie Holmes on Broadway: "No. I was going to go and then someone published this fake story about how I went and took her roses so I was like, well, I guess that's out."
On women: "A funeral is a bad time to hit on a woman. I don't care what any guy says."
On Boston vs. NYC: "Apparently I only do shows on television where my character name starts with a P, I've got some father issues, and they're set in Massachusetts. I thought there would be more grumbling amongst the crew. But I think the whole Boston — New York thing is vastly overblown unless they're playing a baseball game against each other. I was expecting riots in the streets but our dolly grip is from Boston and he seems to survive."
To see what he has to say about Dawson's vs Fringe and working with JJ plus more from the party including Keifer, Will Arnett, Eliza Dushku, Brian Austin Green and others just read more.
On working with JJ Abrams: "He drives you crazy, and that's why you watch his shows. I say you, but I mean us, because I'm the same way. . . I am a big Lost fan, and how sick is this? I don't even get any inside information on Lost. You think you'd get inside the family and you'd be like, 'OK, so what'd they do?' No idea."
On Dawsons vs. Fringe: "It's designed so that you live in a heightened universe in which anything is possible and the stakes are always literally like -- I would say, actually, that Dawson's Creek was a less melodramatic show. That was just teenagers being teenagers. This is like every day 'Oh my god, if we don't do this, it's the end of the world. No, not kidding, the end of the world!'"
Images include: Kiefer Sutherland, David Boreanaz, Kara Dioguardi, Kristin Chenoweth, Olivia Wilde, Sharon Osbourne, Kelly Osbourne, Jack Osbourne, Denis Leary, Emily Deschanel, Will Arnett, Eliza Dushku, Kevin Reilly, Seth MacFarlane, Ozzy Osbourne, Jon Voight, Paula Abdul, Brian Austin Green