Win Chanel, Hermes, and Rolex From PopSugar 100
Our Biggest Giveaway Ever — Enter to Win a Rolex, Hermès Kelly, Chanel, and More For PopSugar 100!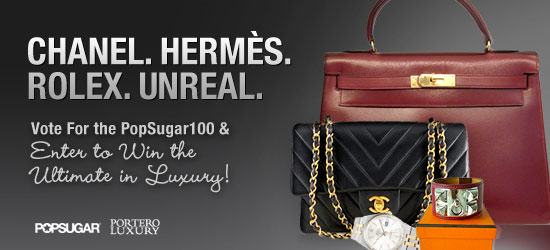 We have partnered with our friends at Portero.com for the giveaway of all giveaways! We are giving away not just one but four gorgeous, luxury prizes. Enter to win a beautiful vintage wine-colored Hermès Kelly, a vintage Rolex watch, a limited-production Hermès Collier de Chien cuff bracelet, and a classic Chanel Chevron flap bag! We are giving each of these unreal prizes in celebration of the launch of our fifth annual PopSugar 100! Entering is easy, just enter your email below and then play the PopSugar 100 and create all 12 lists for 12 additional entries. To get started for the chance to win one of these amazing prizes, just:
1. Like PopSugar on Facebook
2. Enter your email address and zip code below!
3. Play the PopSugar 100 for additional entries! PLAY NOW