The Winners Get Giddy and Glowing in the Press Room
After taking the stage to accept their awards, the night's big winners — and some of the exciting presenters — walked backstage to pose for photos and talk to the press. Jennifer Aniston and Sarah Jessica Parker skipped the interview aspect of things instead posing pretty in front of the big gold men before running off to the after parties. The big award winners were still glowing from their wins when they stepped in front of the mics to talk about what brought them there. Penelope was first up and she was happy to answer questions in her native Spanish before gushing about Woody Allen.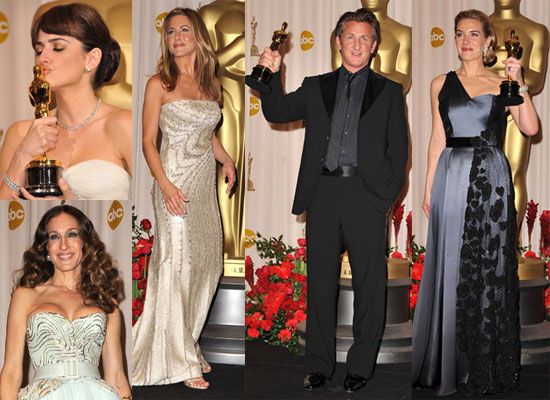 Heath's family did an incredible job honoring their son who took home the well deserved Best Supporting Actor award. Nothing was stopping Kate Winslet who joked about just how much better winning is than losing. Sean Penn made things a bit more serious talking about the political importance of Milk before continuing to rave about Mickey Rourke. Check out all Buzz's press room coverage and all the Oscars madness on all the Sugar sites!
To see more from the press room including the Ledgers, Adrien Brody, Tina Fey, Whoopi Goldberg, and many, many others just read more.
Images include: Adrien Brody, Alan Arkin, Andrew Stanton, Anthony Dod Mantle, Anjelica Huston, Anthony Hopkins, Ben Kingsley, Bill Maher, Christopher Walken, Cuba Gooding Jr., Daniel Craig, Dustin Lance Black, Goldie Hawn, Jack Black, Jennifer Aniston, Kate Winslet, Kevin Kline, Liam Neeson, Marion Cotillard, Michael Douglas, Natalie Portman, Penelope Cruz, Robert De Niro, Sarah Jessica Parker, Sean Penn, Seth Rogen, Steve Martin, Tilda Swinton, Tina Fey, Whoopi Goldberg, Sally Ledger, Kate Ledger, Kim Ledger, Eva Marie Saint