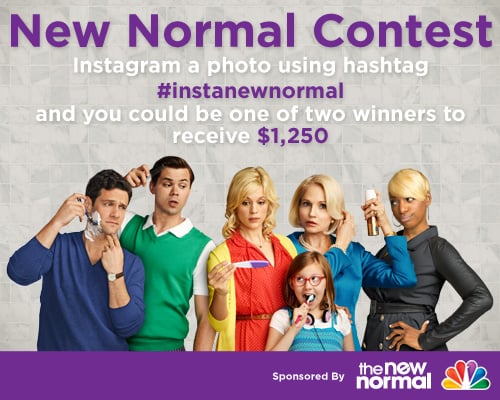 Old-school or home school? Trash or compost? Newspaper or news feed? These days, for every conventional option, there seems to be a fresh way to explore something different and break away from the ordinary. As a result, the concept of "normal" is constantly being redefined — if it even exists at all anymore!
That's the idea behind The New Normal, premiering Sept. 11 on NBC. From the creator of Glee and starring Justin Bartha (The Hangover) and Emmy and Tony Award-winner Ellen Barkin, it's the story of how a family is a family and love is love — even if the brood includes two committed dads, their starry-eyed surrogate, her opinionated 8-year-old, and her overbearing Nana. Visit the show's Facebook page for inspiration and learn more about one of this Fall's most anticipated new comedies.
Then, show us an Instagram of how you redefine convention. Enter our "New Normal" Instagram contest and you could be one of two grand prize winners to receive $1,250.
How to enter:
Take an Instagram photo of your "new normal." It could be a funky outfit, an edgy workout idea, an innovative decorating trick, or a fun day with friends. Just be yourself and be extraordinary!
Hashtag #instanewnormal on your photo for a chance to win.
This giveaway has been extended through Tuesday, 9/11!