Zach Braff Tweets About TLC Song
The Funniest Celebrity Tweets of the Week
In this week's funniest celebrity tweets, everything is just falling apart. Zach Braff did the one thing TLC warned us not to, while Kat Denning scratched her eye in the strangest way possible. Also, find out who's giving us plenty of nightmares with her own version of American Horror Story, and who might be losing her hair today. It's all in our roundup of the most hilarious tweets of the week!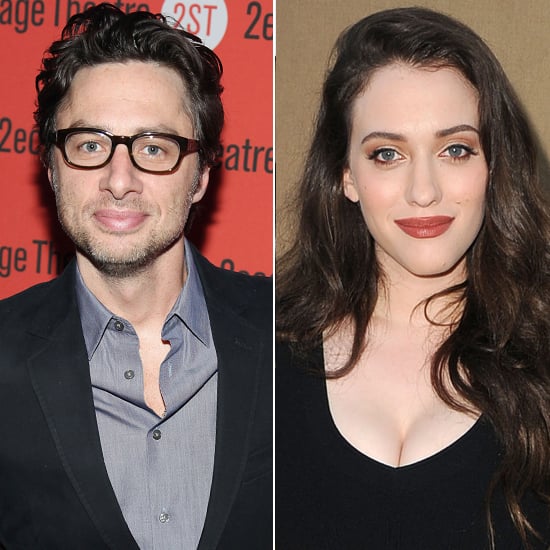 TLC warned you, Zach, but you just had to do it, didn't you?!
You guys, I just chased a waterfall. Don't do it.

— Zach Braff (@zachbraff) October 9, 2013


Sounds like Kat Dennings's cornea is having a rough (yet satisfying) week.
Trader Joe's roasted coconut chips are the number one most delicious thing you can scratch your cornea with

— Kat Dennings (@OfficialKat) October 7, 2013


Imagine the turmoil LA would be in after the closure of all gyms. Just think about it.
Wife not buying that government shutdown includes all gyms.

— Conan O'Brien (@ConanOBrien) October 10, 2013


Sounds like Mindy Kaling's being tortured in the worst and most unique way possible.
Chris Messina is making me listen to bee gees songs on his iphone while he studies my face to make sure I'm concentrating on the song

— Mindy Kaling (@mindykaling) October 10, 2013
Check out the rest of our favorite funny tweets when you read on!


Anna Kendrick definitely knows a humblebrag when she sees one.
"It's an inherently British thing to not boast" - something almost every Brit has said to me. (And, the ultimate humblebrag.)

— Anna Kendrick (@AnnaKendrick47) October 10, 2013


Thanks a lot, Julie. Here come weeks and weeks of horrific nightmares.
American Horror Story: A Whole Treat Bag Filled Only With Fun Size Butterfingers And That's It

— Julie Klausner (@julieklausner) October 10, 2013


File under: most appropriate moment to use the phrase "doggone it!"
This is the third shower in a row that I've used dog shampoo. If it's all gonna fall out, today is the day!

— Lena Dunham (@lenadunham) October 9, 2013


No wonder so many children have been bursting into flames lately!
People say don't take candy from strangers but nobody EVER said anything about taking fire from strangers and fire is so dangerous.

— Chris D'Elia (@chrisdelia) October 8, 2013


In other news, Kristen Bell's skirts continue to weep quietly and inconsolably in their drawer.
The older I get, the more I'm like "Skirts? Yeah right."

— Kristen Bell (@IMKristenBell) October 9, 2013


Oh, totally. Have you ever been to that club called the Louvre? It's insane.
I like how Britney says "party in France" as if all of France is a party destination.

— Diablo Cody (@diablocody) October 9, 2013


Close enough, right?
@mindykaling "they didn't have ice cream, so I got sour cream."

— Anders Holm (@ders808) October 9, 2013


Is it more or less embarrassing to order so much food that they just assume it's for two people?
Just asked the woman at the deli where I bought a pint of ice cream for "a couple of spoons" so she wouldn't know I am going to eat it alone

— Michael Ian Black (@michaelianblack) October 8, 2013


You might want to work in some violent sobbing to burn a few extra calories.
Is it cardio if you try on a bikini and have a panic attack for 20 minutes?

— kelly oxford (@kellyoxford) October 8, 2013


Wait, but this is a valid point. Motion to outlaw pants on TV!
Why do people at home on TV have their pants on?

— Jim Gaffigan (@JimGaffigan) October 8, 2013