Zooey D Is Following the Yellow Brick Road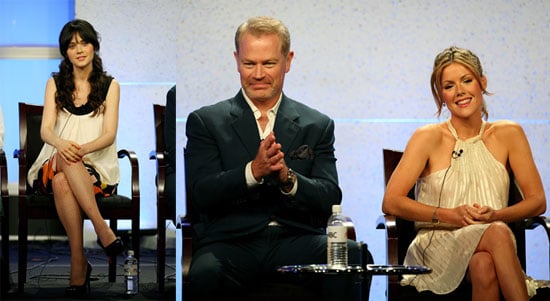 0
Zooey D Is Following the Yellow Brick Road
Who knew I would be interested in watching yet another remake of The Wizard of Oz? At NBC's TCAs, the SciFi network was allowed to crash the party with what is bound to be their biggest hit of the season, Tin Man. The adorable Zooey Deschanel will star as Dorothy in the six hour miniseries which had amazing special effects and an updated look and feel. The cast also includes Richard Dreyfuss (who was not there), Alan Cummings as the scarecrow who graciously attended via satellite - so Alan of him, and Kathleen Robertson as the wicked witch (you know, Clare Arnold from Beverly Hills 90210). This show is for someone who enjoys a great classic with a modern twist and excellent production value. Here are a few highlights from the panel:
When Zooey was asked about playing two iconic characters like Dorothy and the upcoming (if it ever really happens) Janis Joplin movie. Her response was, "Well, that's a stretch... I mean they're both women. They have brown hair."
Alan Cummings was asked, Which is the hotter babe? The Wicked Witch or Dorothy?" His response that made the filled room laugh, "It's like a psychological thing. I think Dorothy and the witch represent the good and the bad and, you know, the darkness and the light. And so actually, it would be a good thing would be to have a combo."
I really had no idea about this show until today but it's definitely worth watching out for. As for Zooey, well we will always have her recent duet.
For more pics of the cast of Tin Man just
Images include Zooey Deschanel, Kathleen Robertson, Neal McDonough, Craig W. Van Sickle, Steven Long Mitchell and Nick Willing.