Ariana Grande and Mac Miller's Love Story Can Be Traced Back to 1 Tweet
Ariana Grande and Mac Miller are known for keeping their romance pretty private. Aside from a few Instagram pictures here and there, the two rarely talk about their relationship, though Ariana recently sparked engagement rumors when she wore a diamond sparkler on her ring finger. While nothing has been officially confirmed yet, it's also worth pointing out that Ariana and Mac never actually confirmed their relationship, either (sensing a pattern?). Let's take a walk down memory lane and see how their love story really began.
How They Met
Before anything romantic began, Ariana and Mac started off as just friends. In fact, their first meeting stemmed from a November 2012 conversation on Twitter. Ariana tweeted that she was watching the Thanksgiving parade and Mac replied to her tweet, saying, "Happy thanksgiving to you too. the homie larry lovestein wants to do a duet." "@MacMiller tell Larry I'd love to!" Ariana wrote back. Fast forward to a few weeks later and they made it happen. "Studio. Working extra late tonight w @MacMiller :)," Ariana tweeted.
Ariana later posted their duet, which was a cover of "Baby It's Cold Outside," on her YouTube page, and in March 2013, Ariana debuted her single "The Way" featuring none other than Mac. In an interview with MTV News the following month, the rapper cleared up any relationship rumors, saying, "That's the homey. She's got a boyfriend and everything." He also addressed their kiss in her music video, adding, "Obviously, that [kiss] made everyone talk. I didn't even know that was going to happen and then we were shooting and the director was like 'This should happen' and I'm like 'Alright.' When I went back to my old school, elementary, middle school, the other day when I was in Pittsburgh, and everyone was freaking out like 'You kissed Ariana Grande.' I was like 'Yeah, you know how I do.'"
Their Music
In addition to their cover of "Baby It's Cold Outside" and their hit song "The Way," Ariana and Mac also teamed up for the remix of Ariana's "Into You" and "My Favorite Part" from Mac's 2016 The Divine Feminine album.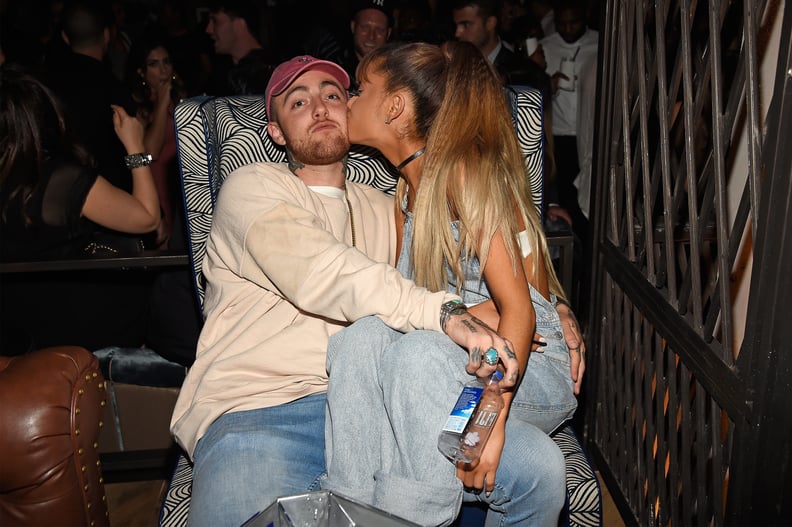 The Beginning
Ariana and Mac first sparked dating rumors when they were spotted kissing during a romantic dinner date in Encino, CA, back in August 2016. While the pair never publicly announced that they were dating, they seemingly confirmed their romance when they attended the MTV Video Music Awards in NYC together that same month. Ariana sat with the rapper in the audience, and the two were seen smooching at an afterparty as well.
Instagram Official
A little over a week after the VMAs, Ariana made their relationship Instagram official when she posted a black and white photo of the pair hugging on Instagram and captioned it, "baabyyy."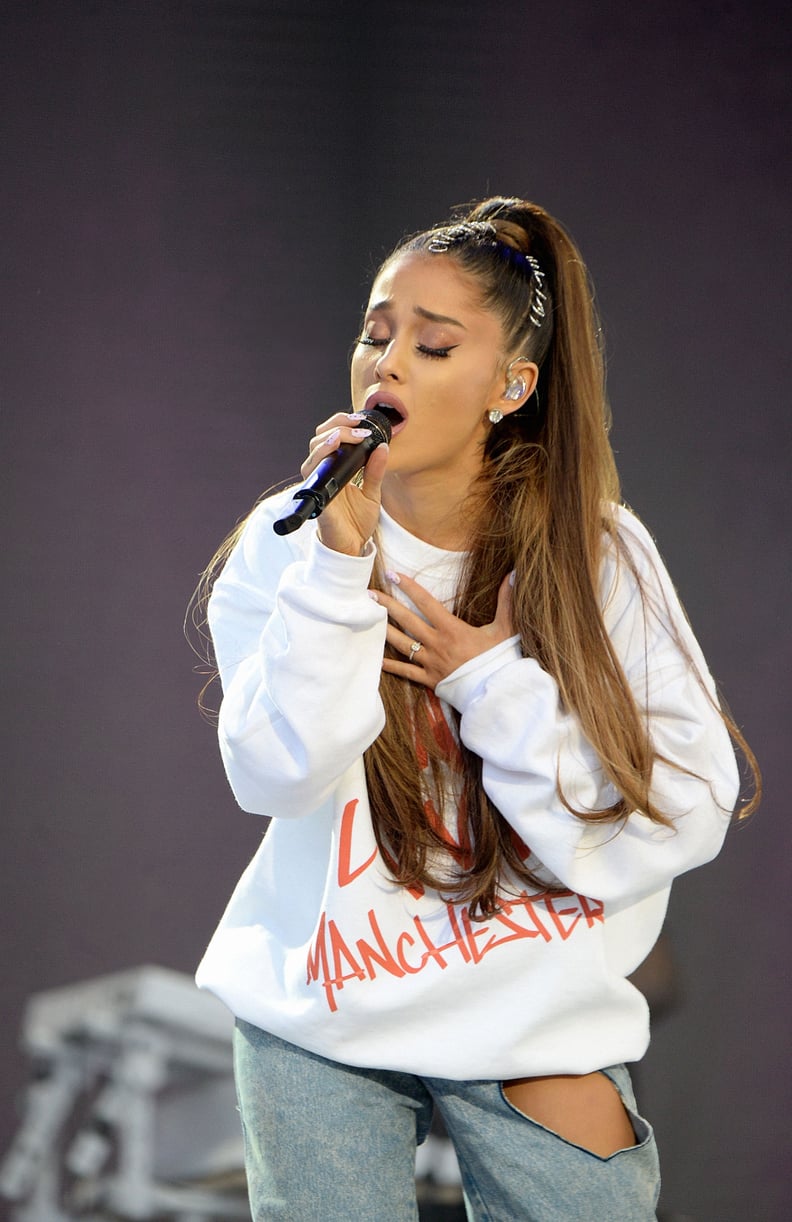 Engaged?
Following the horrific Manchester attack at her concert in May, Ariana returned to the States, where she had an emotional reunion with Mac in Florida. Nearly two weeks later, Ariana held a star-studded benefit concert to honor the victims of the bombing and raise money for them and their families. In addition to bringing out Katy Perry, Justin Bieber, and Coldplay, Ariana and Mac surprised fans with a performance. "Tonight is all about love," she told the crowd.
She wore a sweatshirt that read "One Love Manchester" and a diamond sparkler on her ring finger, leading fans to believe that the two are engaged. While Ariana and Mac have yet to confirm any engagement rumors, it's also worth noting that Ariana has been wearing the sparkler on her Dangerous Woman tour since February. Guess we'll just have to wait and see.