This Year, We're Grateful For These 10 Celebrity Highlights
What are you most thankful for this year? Obviously our friends, family, and good health are at the top of the list, but there are also a handful of exciting pop culture moments that are making us feel extra grateful. Between two little royals, a major Oscars moment, and celebrity crushes come to life, there was a lot to be grateful for. Scroll through to see the 10 celebrity highlights that we're most thankful for this year.
01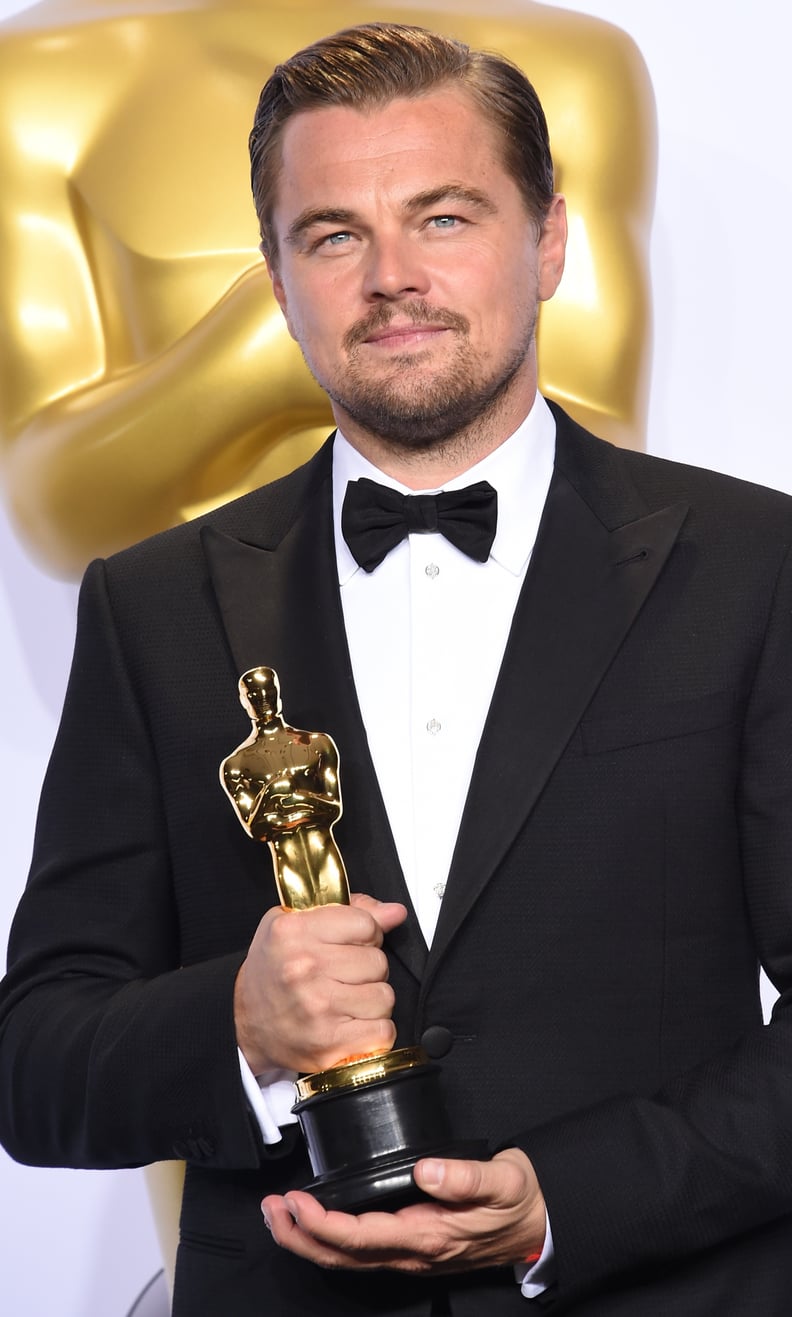 Leonardo DiCaprio's Very First, Very Well-Deserved Oscar Win
02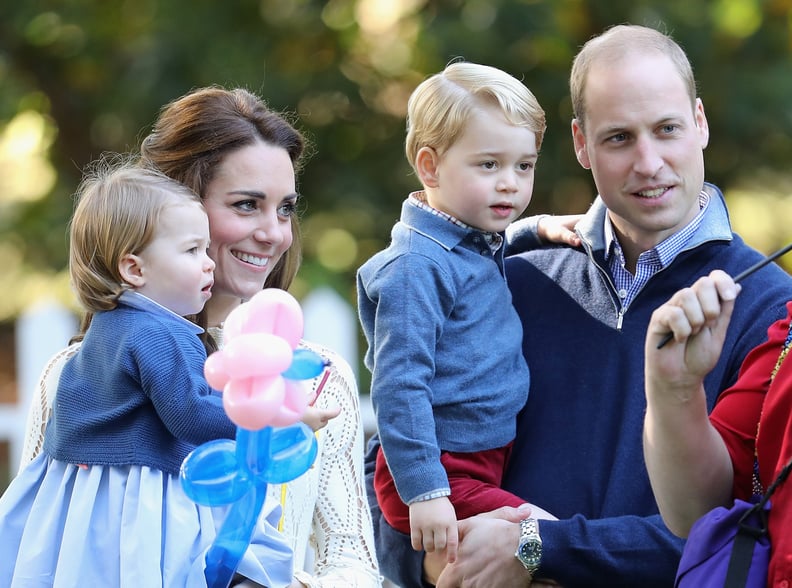 Getting to See the Littlest Royals Grow Up
We're so grateful that we got to see even more of Prince George and Princess Charlotte this year, and their official appearances were nothing short of adorable. In the past 11 months, George started preschool, met President Obama, and smushed his face against an airplane window. Charlotte celebrated her first birthday, made her first Trooping the Colour balcony appearance, and got a whiff of some beautiful roses.
The most recent glimpses we got of George and Charlotte were during a royal tour around Canada with their parents, Kate and William. The trip was full of sweet, funny moments from the pair, who waved to fans and well-wishers while both arriving and leaving the country and enjoyed a play date in British Columbia complete with balloon animals, toy drums, and a rogue blue cardigan.
03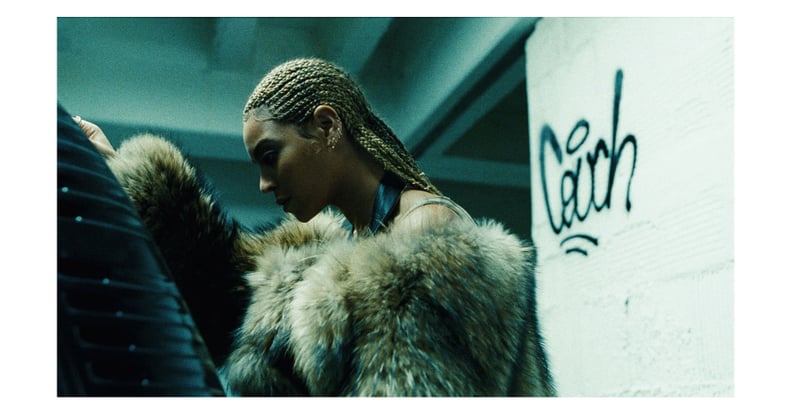 Beyoncé Turning Lemons Into Lemonade
In April, the world was blessed with a beautiful gift in the form of Beyoncé's sixth studio album, Lemonade. The project, which included a powerful, impactful film, was jam-packed with badass lyrics, plenty of profound details, and a veritable gold mine of artistic references. Easily her most personal album to date, Lemonade captured the essence, beauty, and struggle of being a black woman, while also spoon-feeding hope and promise to her loyal Beyhive — yes, the cultural impact was almost immediate. We swiveled our hips to "Hold Up," threw our middle fingers up to "Sorry," cried our eyes out to "Sandcastles," and were reminded that winners "don't quit on themselves."
04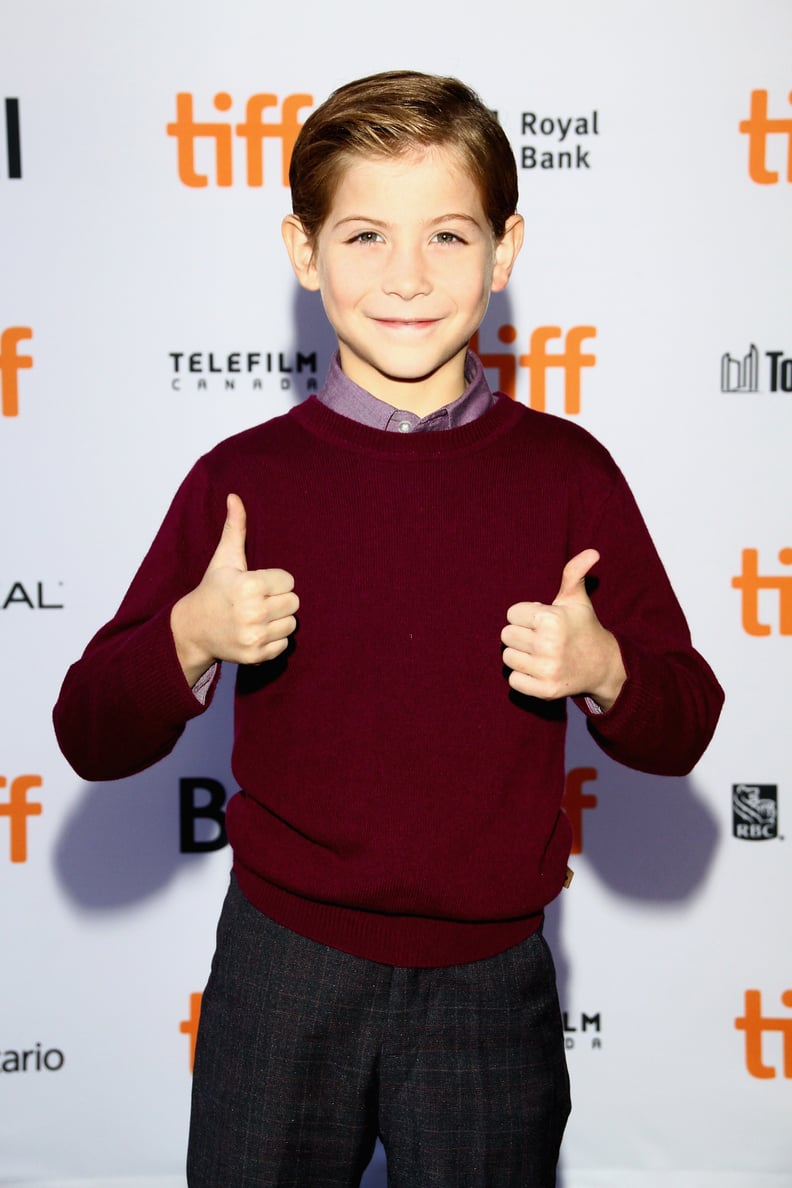 The Way Jacob Tremblay Took Over Award Season With His Cuteness
Jacob Tremblay starred in the critically acclaimed Room with Brie Larson and won a Critics' Choice Award for best young actor for his tear-jearking performance in the film. In addition to taking multiple events with his cuteness, charm, and killer dance moves, the 10-year-old also stole the spotlight on late-night talk shows and gave even the most seasoned Hollywood stars a run for their money in red carpet interviews. We can't wait to see even more of Jacob in 2017.
05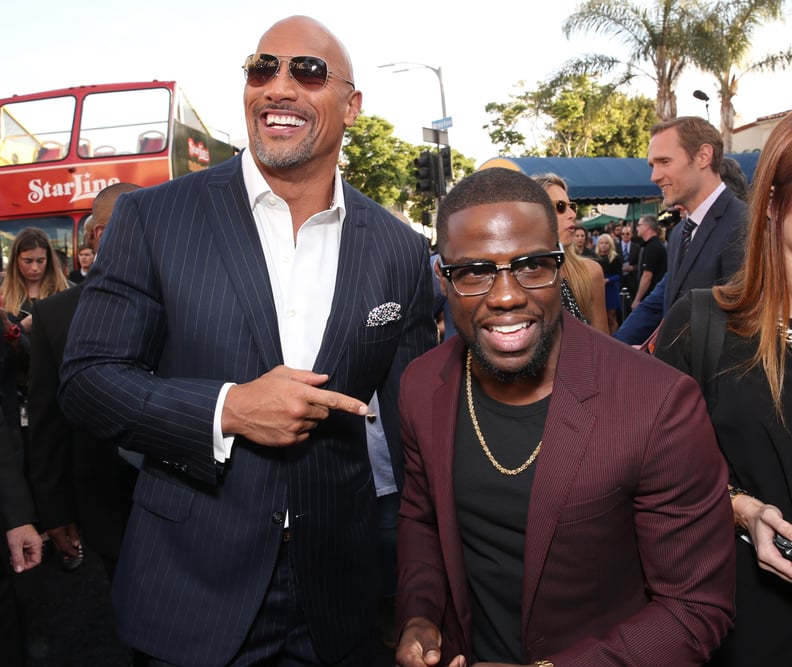 Dwayne Johnson and Kevin Hart's Budding Bromance
Dwayne Johnson and Kevin Hart may seem like polar opposites, but there is one thing they definitely have in common: they're both freaking hilarious. Ever since costarring in the action comedy Central Intelligence in June, the actors have developed quite the bromance — and it's really made our year. They've poked fun at each other on set and practically left us in tears with their entertaining press interviews, and thankfully, the fun isn't over. The two are currently filming their new movie, Jumanji, and have already graced us with a handful of comedic moments on social media. We know they'll keep us cracking up through 2017.
06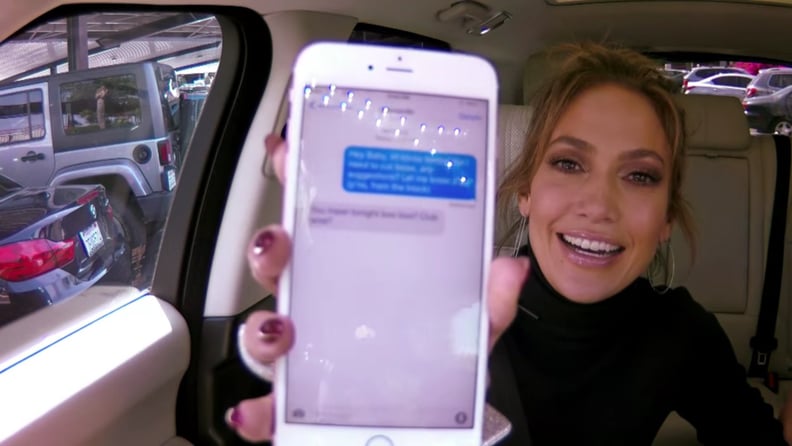 Jennifer Lopez Sharing That Iconic Text Message From Leonardo DiCaprio
During Jennifer Lopez's appearance on Carpool Karaoke with James Corden in March, the host stole her phone and sent a flirty text to Leonardo DiCaprio. "Hey baby, I'm kinda feeling like I need to cut loose. Any suggestions? Let me know. JLo (you know, from the block)," James sent to the Oscar winner. After a few minutes of silence, Leo finally responded, "You mean tonight, boo boo? Club-wise?" We're still a mess over it.
07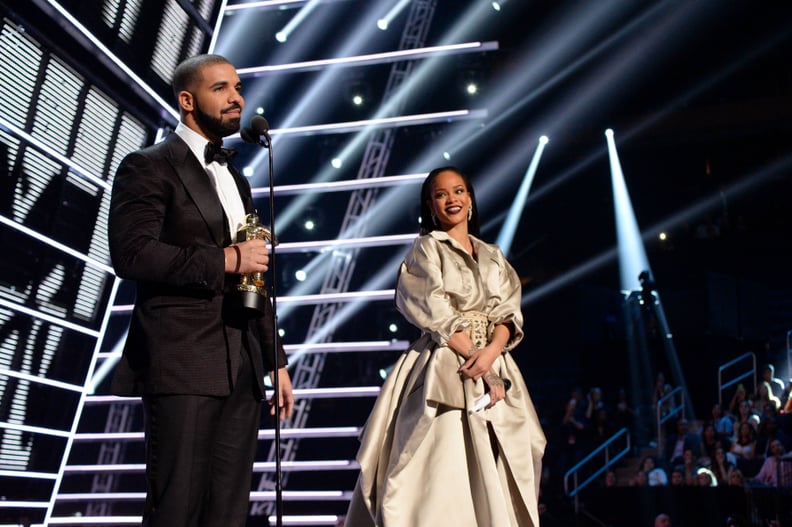 Drake Finally Professing His Love For Rihanna, to Rihanna
After buying Rihanna a billboard in LA to congratulate her on receiving the Michael Jackson Video Vanguard Award at the MTV VMAs, Drake hopped on stage to present the singer with her Moonman. During his speech (which may as well have been a marriage proposal), Drake admitted that he's "been in love with" Rihanna since he was 22 years old, adding, "She's one of my best friends in the world." He went in for a kiss before the two left the stage holding hands. Later that night, Drake posted a snap of him smooching the singer via Instagram, writing, "You have affected so many of our lives in the best way possible. Tonight we celebrate you!" It was another chapter in the never-ending saga that is Drake and Rihanna's "friendship," and one that we completely ate up.
08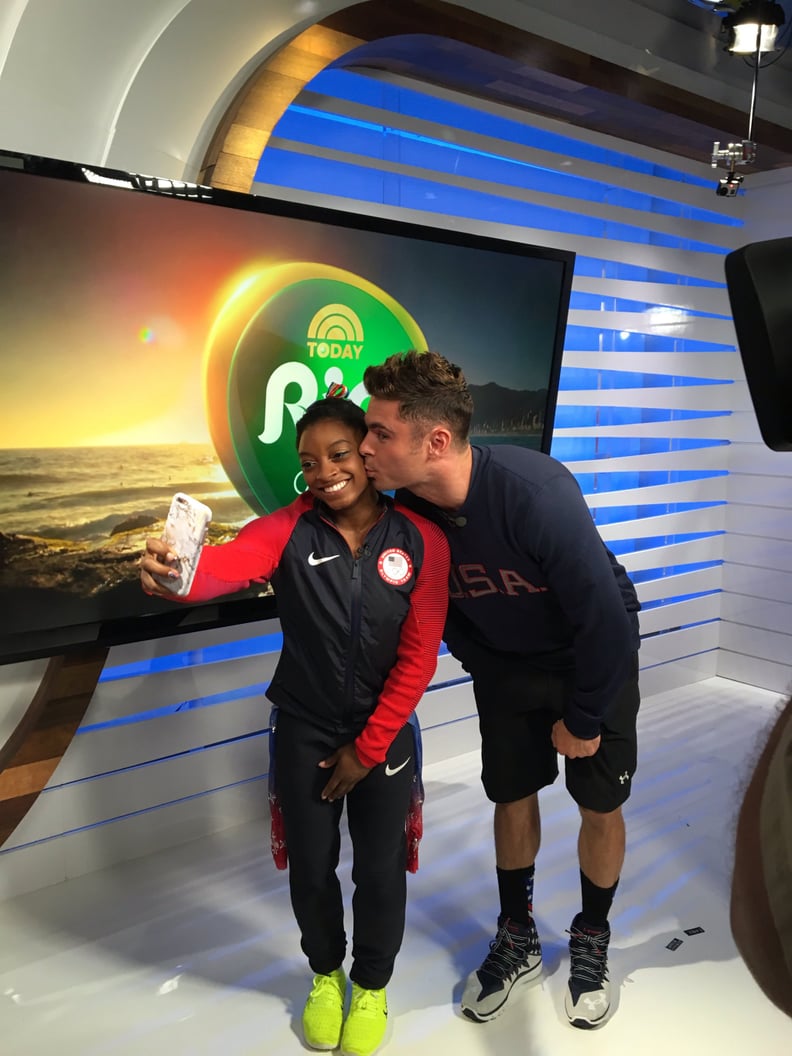 Zac Efron Giving Simone Biles the Surprise of a Lifetime
Not only did Simone Biles take home four gold medals during the Rio Olympics in August, but the pint-sized athlete — who was deemed "the greatest gymnast of all time" — also got to meet her biggest celebrity crush. Simone revealed her long-standing love for Zac Efron in an interview before the Games, even showing off the cardboard cutout of him that she kept in her bedroom. After some adorable back and forth between the two on Twitter, Zac made it his mission to show Simone how much he admired her. The actor headed to where Simone was competing that day and met up with Today show hosts Hoda Kotb and Matt Lauer, who helped orchestrate the surprise.
Simone shared a video of the two together on social media, and Zac gave her a peck on the cheek (which Simone, understandably, couldn't handle). She returned the favor in a supercute Instagram clip, and Simone's teammate Laurie Hernandez snapped a photo of her splayed on the floor after the ordeal. After the big surprise, Zac stopped by the Today show to talk about meeting Simone, saying, "I was immediately captivated by these girls. They have such heart and there was clearly something special that was going on." Needless to say, it was one of the most heartwarming things to watch this year.
09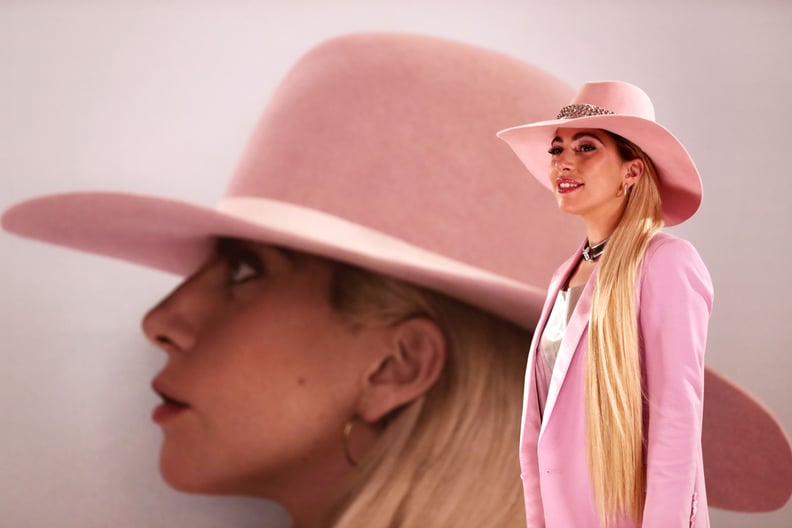 Lady Gaga's Ability to Channel Her Pain Into Joanne
Lady Gaga had one hell of a year, from winning a Golden Globe and performing at the Oscars (where she was also nominated) to the release of her highly anticipated album Joanne in October. In between the triumphs, however, the singer also went through a breakup with her fiancé, Taylor Kinney. Her album, inspired by her aunt Joanne (who died of lupus in 1974), certainly seemed like something Lady Gaga needed to get out from deep inside her soul and creative spirit — and we're so grateful.
10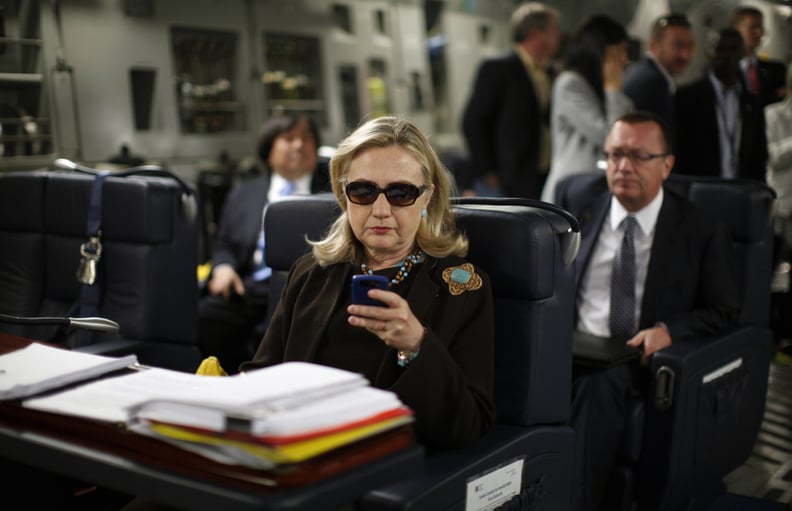 Hillary Clinton Telling Donald Trump to Delete His Twitter Account
Some may call it "The Clapback Heard 'Round the World," and we would agree. After Donald Trump posted an aggressive and negative tweet about Hillary Clinton and President Obama in June, Hillary responded the way many of us always wished she had: "Delete your account." Spoiler alert: he didn't — but we'll always have this sassy social media moment to make us smile.