Beyoncé, Jay Z, and Blue Ivy Show Up in Style For the Obamas' Last Easter Egg Roll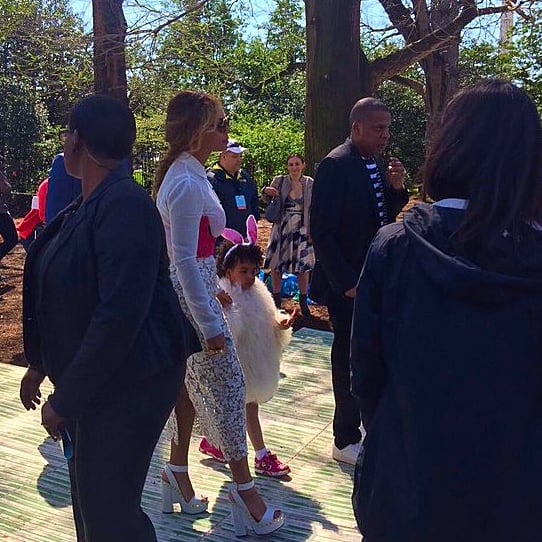 Beyoncé popped up in Washington DC on Monday for the annual White House Easter Egg Roll, the last one being hosted by her pal Barack Obama and the first lady, Michelle. The singer arrived at the White House with her husband, Jay Z, and their 4-year-old daughter, Blue Ivy, who looked holiday-appropriate in a fur coat, pink sneakers, and bunny ears.
Multiple social media users shared photos and videos of the trio making their way to the lawn accompanied by their bodyguard, an assistant, and nephew Julez Smith. When Blue approached a puddle, Beyoncé told her, "Watch your step, baby," while Jay Z helped her jump over it. They later met up with a few Sesame Street puppets (including Elmo). Keep reading to see photos from their day at the White House, then get into our theory about when Bey's next album will come out.