Beyoncé and Jay Z: A Detailed Timeline of Their Private Yet Prominent Romance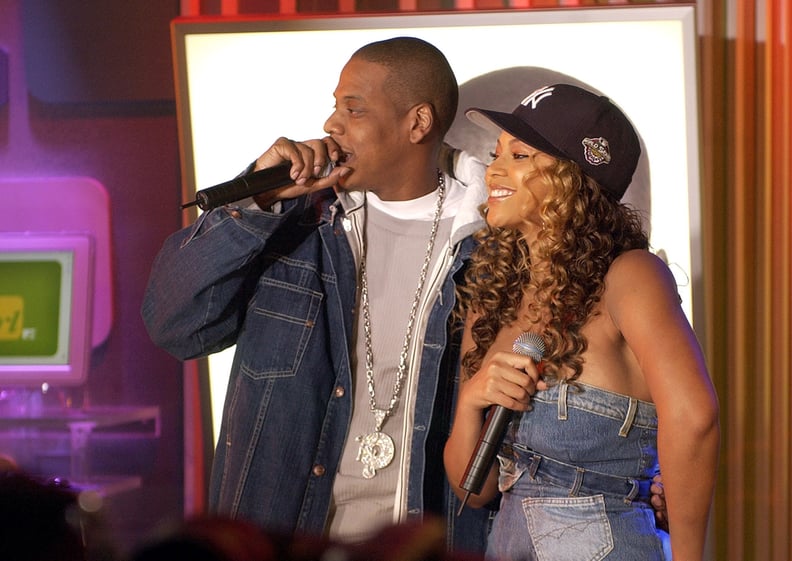 1999: Beyoncé and Jay Z met. In a 2008 interview with Seventeen magazine, Beyoncé revealed that she was 18 when she and Jay Z first met.
2000: Beyoncé and Jay Z's friendship turned romantic. The couple began dating when Beyoncé was 19. "We were friends first for a year and a half before we went on any dates," Beyoncé told Oprah in 2013. "We were on the phone for a year and a half, and that foundation is so important for a relationship. Just to have someone who you just like is so important, and someone [who] is honest."
2001: The couple appeared together on the cover of Vanity Fair's November 2001 music issue. While Jay Z and Beyoncé kept mum about the status of their relationship, Jay Z told the magazine in 2013 that they "were just beginning to try to date each other" during that time.
2002: Beyoncé was featured on Jay Z's "03 Bonnie and Clyde." She also played the Bonnie to Jay Z's Clyde in the accompanying music video, further fueling romance rumors.
2003: Beyoncé dropped "Crazy in Love" featuring Jay Z. While the couple had yet to confirm their romance, Jay Z also appeared on "That's How You Like It" on Beyoncé's Dangerously in Love album and the two hit the stage together at the MTV VMAs.
2004: Beyoncé and Jay Z made their red carpet debut. The duo attended the MTV VMAs in Miami wearing matching outfits.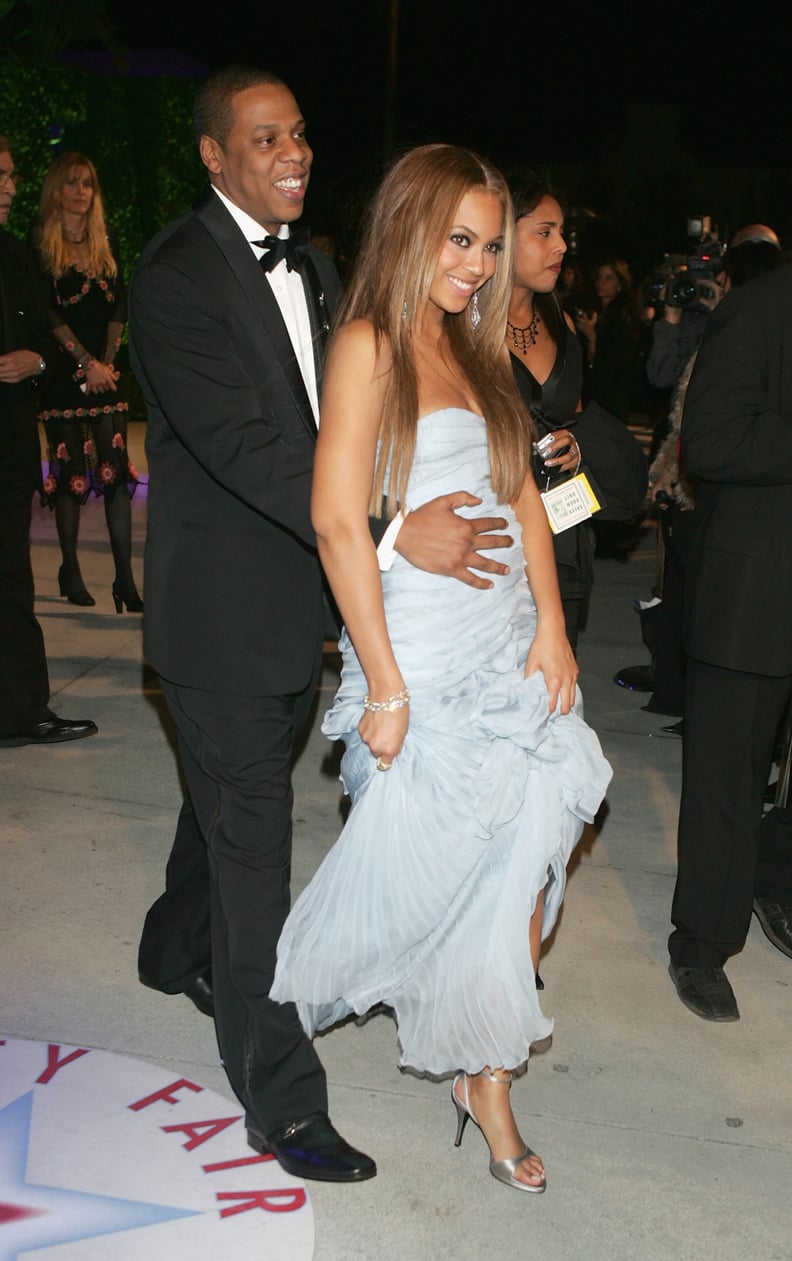 2005: Beyoncé shot down marriage rumors. Despite efforts to keep their relationship private, Jay Z and Beyoncé were photographed everywhere together and rumors swirled that they had secretly tied the knot. Beyoncé poked fun at the reports in an interview with Vanity Fair that November, saying, "I'm engaged and married at the same time?"
2006: Beyoncé released B'Day. The album includes not one but two duets with Jay Z, "Dèjá Vu" and "Upgrade U." Jay Z also released the single "Hollywood," featuring Beyoncé, which she then rereleased on the deluxe version of B'Day as "Welcome to Hollywood."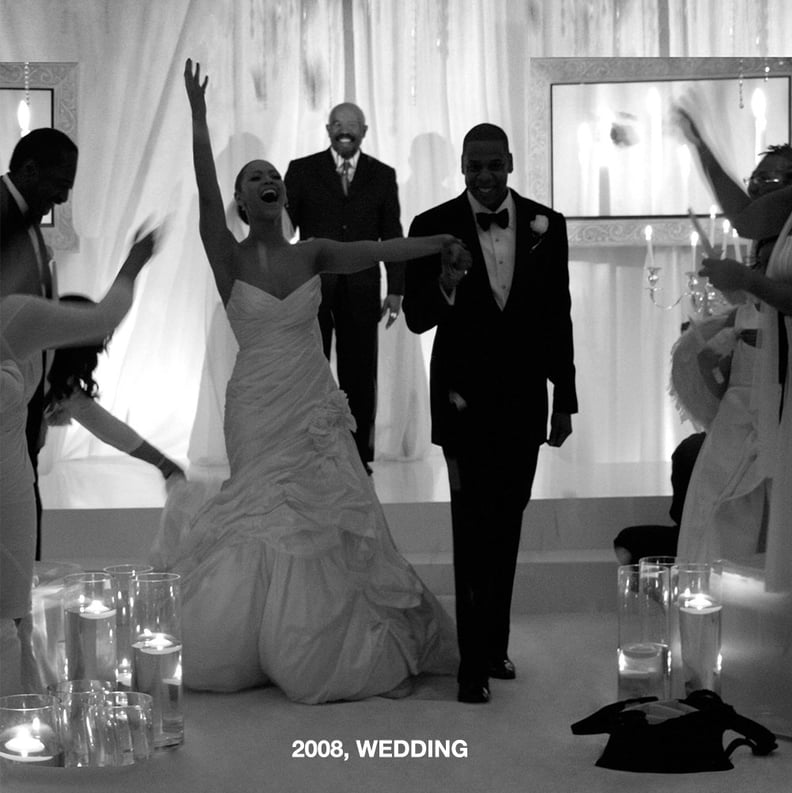 2008: Beyoncé and Jay Z got married. The music power couple tied the knot in a top-secret ceremony on April 4. Beyoncé later opened up about their relationship in an interview with Essence, saying, "We decide everything. My word is my word. What Jay and I have is real. It's not about interviews or getting the right photo op. It's real." She also revealed that she didn't want an engagement ring because "people put too much emphasis on that. It's just material and it's just silly to me."
2010: Pregnancy rumors began. Beyoncé fueled pregnancy rumors after she announced that she would be taking a break from the spotlight to focus on her family. In her 2013 HBO documentary Life Is but a Dream, she revealed that she had once been pregnant but miscarried. "About two years ago, I was pregnant for the first time," she said. "And I heard the heartbeat, which was the most beautiful music I ever heard in my life . . . Being pregnant was very much like falling in love. You are so open. You are so overjoyed. There's no words that can express having a baby growing inside of you, so of course you want to scream it out and tell everyone. [Early into the pregnancy], I flew back to New York to get my check up — and no heartbeat. Literally the week before I went to the doctor, everything was fine, but there was no heartbeat."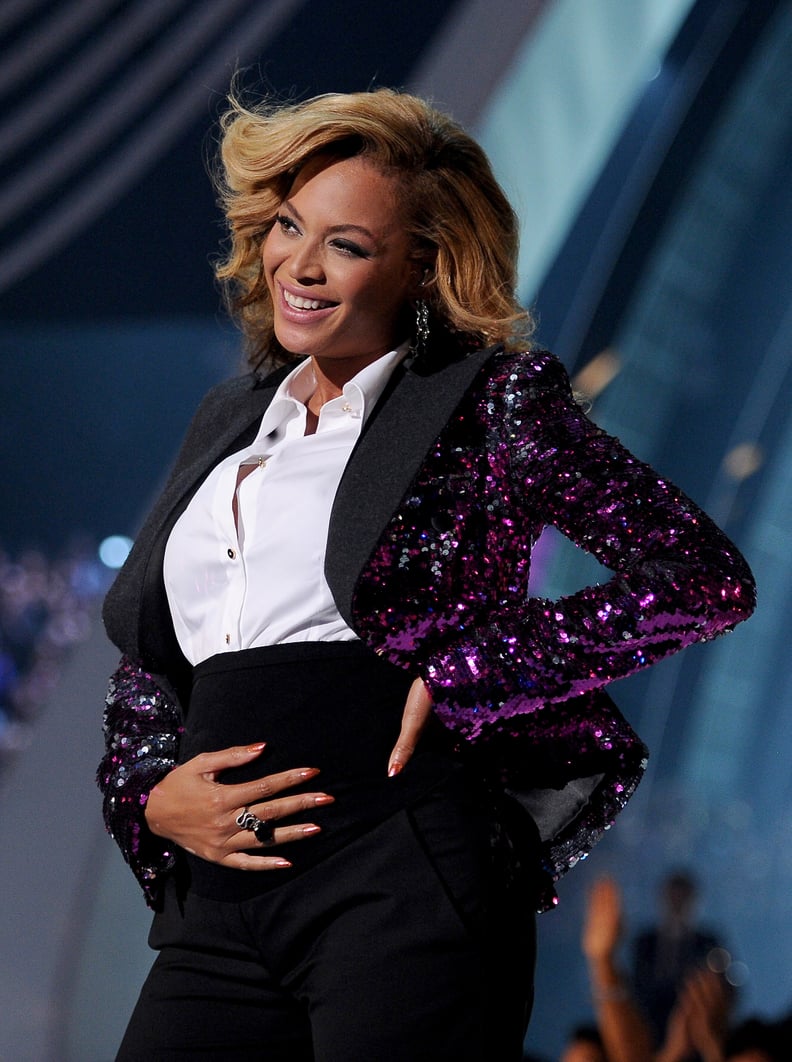 2011: Beyoncé announced her pregnancy. After first revealing her pregnancy on the red carpet at the 2011 VMAs, Beyoncé showed off her bump again during her performance of "Love on Top" when she dropped her mic and unbuttoned her jacket to rub her belly. Cameras then panned to Kanye West, who grabbed Jay Z in celebration.
2012: Beyoncé and Jay Z became parents. In January, the pair welcomed daughter Blue Ivy into the world, and the following month, Beyoncé released multiple photos of the tiny tot on her website. A handwritten note posted to HelloBlueIvyCarter read, "We welcome you to share in our joy. Thank you for respecting our privacy during this beautiful time in our lives." The note is signed "The Carter Family." That same year, Beyoncé and Jay Z also renewed their vows.
2013: Beyoncé and Jay Z released more music together. In addition to their "Part II (On the Run)" duet on Jay Z's Magna Carta Holy Grail album, Beyoncé and Jay Z also teamed up for "Drunk in Love" on her self-titled visual album. That same year, Beyoncé also gave fans a peek into her private life with her HBO documentary, Life Is but a Dream, and she kicked off her Mrs. Carter Show World Tour.
2014: Solange Knowles attacked Jay Z in an elevator. After attending the Met Gala with Solange in May, a video from TMZ was released showing Solange punching and kicking the rapper before being restrained by a bodyguard, while Beyoncé appeared to stand by without reaction before attempting to come between her husband and sister. The trio later released a statement about the now-infamous elevator incident to the Associated Press before embarking on their On the Run Tour.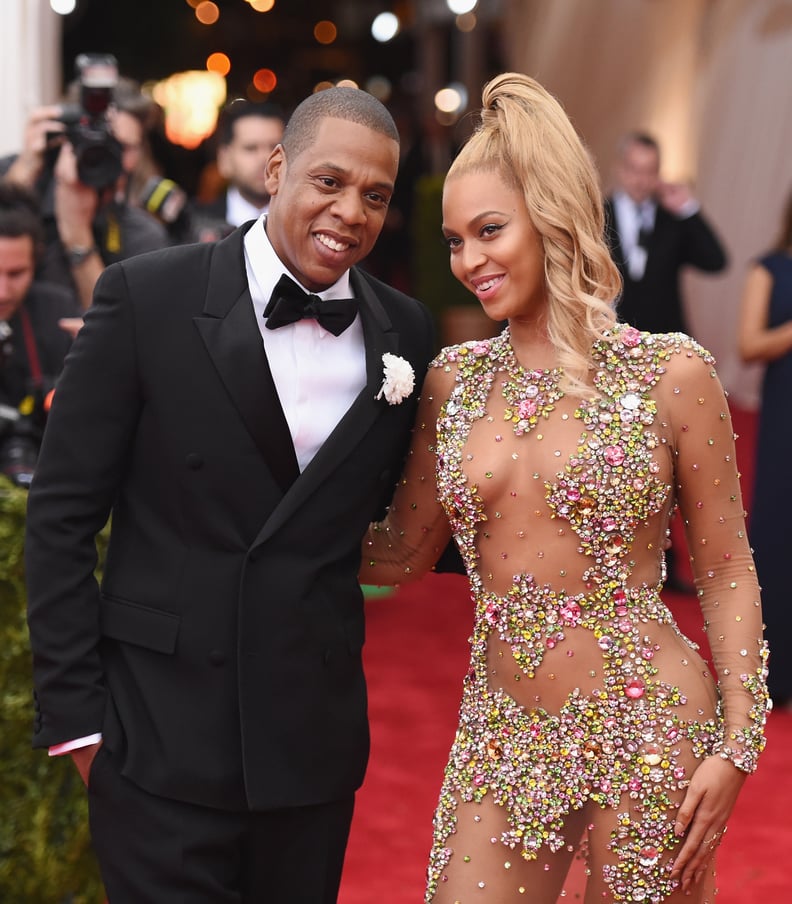 2015: Jay Z put divorce rumors to rest. In April, the rapper posted a now-deleted Instagram video of his wedding to Beyoncé amid reports that the couple was headed for divorce. The following month, Beyoncé and Jay Z returned to the Met Gala, exactly one year after the afterparty elevator incident.
2016: Beyoncé dropped Lemonade. The HBO special featured songs with lyrics that hinted at infidelity and a marriage in crisis, further fueling rumors that Beyoncé and Jay Z's marriage was on the rocks. Beyoncé's mom, Tina Lawson, eventually weighed in on the meaning of Lemonade, saying, "It could be about anyone's marriage. I think that everybody at one time or another has been betrayed and lied to and it's about the pain and it's about the healing process and it's about, 'How do you get past that and move on?'" While Beyoncé has yet to address the speculation, Jay made a statement of his own when he collaborated with Fat Joe, Infared, Rema Ma, and French Montana on the "All the Way Up" remix. In the song, he raps, "You know you made it when the fact / Your marriage made it is worth millions / Lemonade is a popular drink and it still is / Survival of the littest." Still, Beyoncé and Jay appeared to be on good terms and he even joined her on stage during her Formation World Tour.
2017: Beyoncé revealed she was pregnant with twins. In February, the superstar singer shared the exciting news to Instagram, posting a photo of herself cradling her growing baby bump. "We would like to share our love and happiness. We have been blessed two times over. We are incredibly grateful that our family will be growing by two, and we thank you for your well wishes. — The Carters," she captioned the snap. Beyoncé reportedly gave birth to a boy and a girl in June, and while Beyoncé nor Jay have officially commented on the birth, TMZ previously reported that the twins were premature and were being treated for jaundice due to elevated bilirubin levels. That same month, Jay also dropped his 13th solo album, 4:44, in which he apologized for cheating on Beyoncé. "I apologize often womanize / Took for my child to be born / See through a woman's eyes," he raps. "Took for these natural twins to believe in miracles / Took me too long for this song / I don't deserve you."