John Legend Gets a Kick Out of Luna's Adorable Grand Entrance on the SNL Stage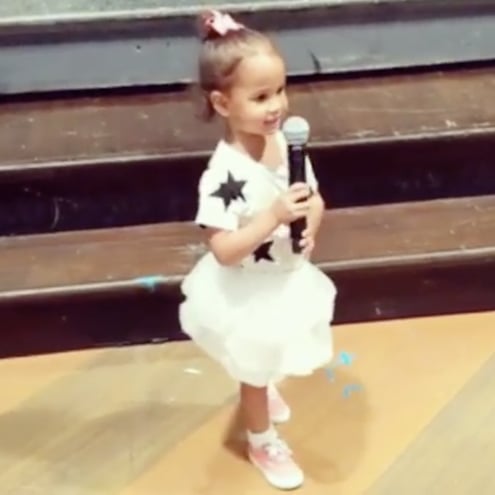 Chrissy Teigen and John Legend's daughter, Luna, sure knows how to command a stage! On Saturday, the adorable 3-year-old joined her parents on the set of Saturday Night Live, where John performed a tribute to Nipsey Hussle alongside DJ Khaled. But when the cameras weren't rolling, it was playtime for Luna as she strutted down the flight of stairs on stage in a video posted by Chrissy. She was then given a microphone before being prompted to say the show's signature phrase, "Live from New York, it's Saturday Night Live!" And of course she said it with so much spunk, John couldn't help but laugh. "An emotional moment for me," Chrissy captioned the clip. "My baby doing the dream!!"
Chrissy also tried her hand at taking over the SNL stage, looking as gorgeous as usual. But Luna just had that special "wow" factor. Then again, when your parents are John and Chrissy, you have a double dose of talent in your DNA. No doubt, Luna and her 1-year-old brother, Miles, are going to be stars!