The Complex History Between Sarah Ferguson and Queen Elizabeth II
Princess Eugenie marries her boyfriend Jack Brooksbank on Oct. 12, and the event will bring together — for the first time in decades — many members of her father Prince Andrew's side of the family, and her mother Sarah Ferguson. To say there has been a lot of water under the bridge since the announcement of Andrew and Sarah's separation in 1992 might be a teensy bit of an understatement. There have been lurid newspaper headlines, well-publicized indiscretions, and one epic lapse in judgment. Through it all, Prince Andrew and Sarah have remained best friends, and their daughter Eugenie has called them "The best divorced couple I know." However what about Andrew's family – most specifically, the queen?
It had all started off so well. Sarah's father, Major Ron Ferguson, ran the Guards Polo Club for Prince Philip, and as a young girl Sarah often found herself in the presence of the queen. She used to play tag with Prince Andrew behind the stands at polo matches, and then later, after crossing paths several times socially as young adults, Sarah and her childhood playmate Andrew started a relationship, before marrying a year later.
During her marriage, Sarah was close to the queen. Her Majesty's relationship with her other daughter-in-law, Princess Diana, was sometimes strained, but the queen and Sarah had plenty in common, and an easy chemistry. Sarah wrote in her autobiography My Story, "In private I called her mama . . . When she waved me to sit next to her in the car or at church, I felt favored and blessed."
Andrew and Sarah decided to separate in January 1992, and Sarah wrote in her autobiography that when they broke the news to the queen: "She asked me to reconsider, to be strong and go forward." However, the relationship between the two women felt the strain when the duchess was photographed with another man just five months after the separation had been announced. Sarah had taken a holiday with her new partner, financial adviser John Bryant, and paparazzi photographed them embracing. The front page story broke a few days later when Sarah was at the queen's Scottish estate Balmoral with her estranged husband, their daughters, and the rest of the Royal Family. Sarah says Andrew was supportive and understanding. The queen, however, was furious.
For a time Sarah maintained a good relationship with her mother-in-law, recalling in her autobiography of the time after her separation, "Through all the chaos of the past six months, the queen and I had stayed consistent. She still took my calls, and I still brought her grandchildren to Windsor for tea on Sundays." However, Sarah lost her HRH status and dropped off the invitation list for all royal occasions. At Christmas she stayed in a cottage on the queen's Sandringham estate with her two daughters, but while the young princesses spent most of Christmas Day in the main house with the Royal Family, the invitation was not extended to Sarah, and she stayed behind alone.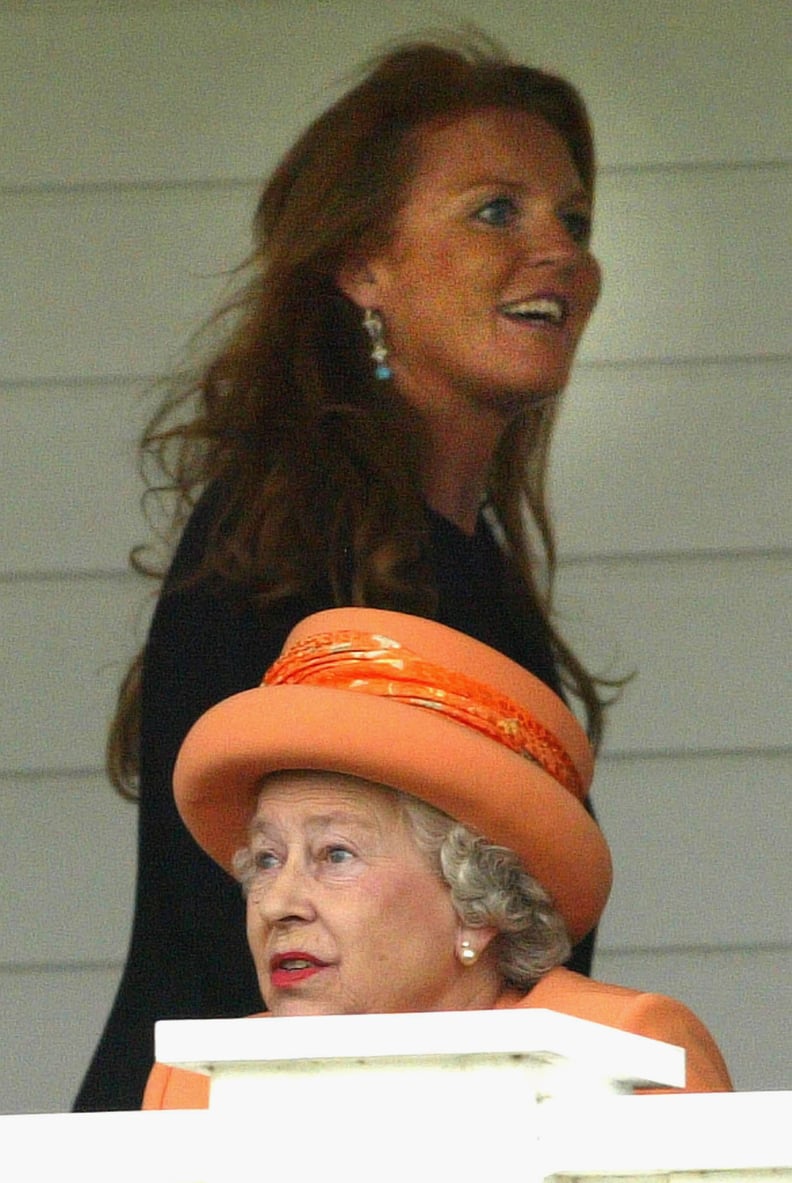 In My Story she recounted, "Beatrice said one day, 'Why are you not good enough to go up there?' I tried to explain that their granny would love for me to be with them, but I wasn't so well thought of by certain other members of the family." Andrew and Sarah went on to divorce in 1996, but they still live together at Royal Lodge in Windsor, and own a chalet together in Verbier where they vacation together every year. "We've never really left each other." Sarah stated during an Australian radio interview in 2016.
However it's a different matter with many other members of the family, especially after a tabloid sting in 2010 where Sarah apparently offered to sell access to Prince Andrew as part of a business deal. Sarah later explained in an interview with Harper's Bazaar that it was a misunderstanding: "I didn't do that, selling access . . . I said, 'If you're going to invest in my business, with that comes my family, because we're all a team together.' But the way it came across in the video, it was so horrible, because they cut it and edited it."
Andrew stood by his ex-wife, and perhaps surprisingly Sarah has slowly built a relationship with the queen once more. They have crossed paths many times at horsing events such as Ascot and the polo, and Sarah says her former mother-in-law is, "The most wonderful, forgiving, nonjudgmental person I know." In recent years Sarah has been the queen's guest at Balmoral for short vacations, along with Andrew and their daughters — always when Prince Philip is absent.
It has been reported that the queen's husband looks less favorably on his former daughter-in-law, as do Prince Charles and Prince William. So with the family weddings of Prince Harry (who seems to have taken the more pragmatic view of his grandmother and vacationed with his former aunt along with Andrew, Beatrice and Eugenie in 2013) and Princess Eugenie, this year will be the first time Sarah has come face to face with many of her former in-laws.