12 Lovely Things We Learned About George and Amal From Their Joint THR Interview
George on whether he misses being a bachelor: "I sure don't. That seems like a lifetime ago. Now my house is filled with the warm sounds of babies crying. You should see when my friends show up and see me change a diaper, the laughter that comes from them. I go, 'I know, I know.' I've given them so much sh*t for so many years, I deserve every bit of it."
George on the first time he met Amal: "I thought she was beautiful, and I thought she was funny and obviously smart. She probably thought I was old. Then she sent some pictures from when she was here, and we were writing each other, emailing, talking, mostly about what was going on in each other's lives, and over a period of time it became clear we were more than just friends."
George on taking Amal to Abbey Road Studios for their first date: "That was a good first date. Then we went for dinner. She said, 'Let's go to this place.' It was one of those places that was incredibly hip and chic. And when we came out, there were 50 paparazzi there. But she handled it like a champ. And pretty quickly, things escalated once I was in London."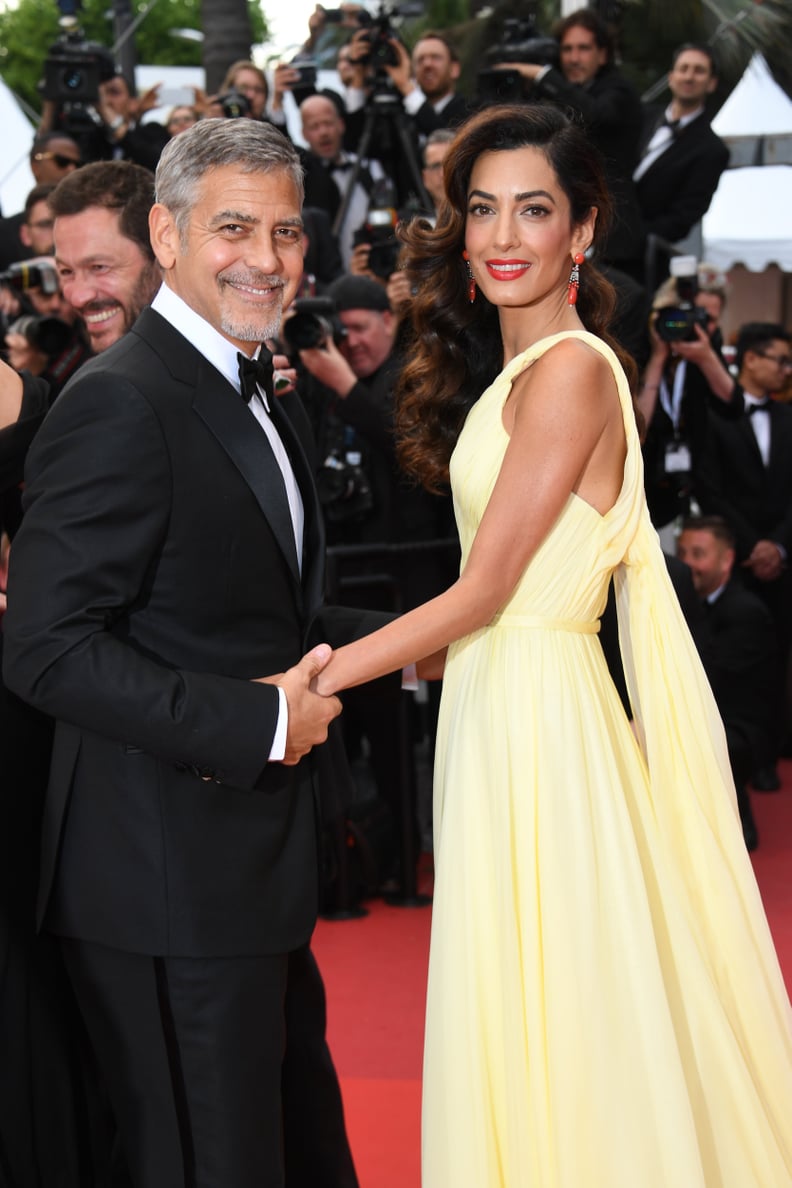 George on proposing to Amal: "I'm the cook in the family. Believe me, Amal makes reservations. I did pasta of some form, not that impressive. And then over champagne, after dinner, I told her there was a lighter to light the candle in the drawer, and she reached back and pulled out a ring. And I did all the stuff, got down on my knee and did all the things you're supposed to do. I had a playlist with my Rosemary songs on it [his late aunt was the singer Rosemary Clooney], and I was waiting for this song, 'Why Shouldn't I?' 'Why shouldn't I take a chance when romance passes by? / Why shouldn't I know of love?' It's a really good song about why can't I be in love? And it played, and she's like, 'Holy sh*t!' And she just kept staring at the ring, going, 'Oh, my god.' It was 20 minutes of me on my knee, waiting for her to say yes, because she was so shocked. She only said yes when 'Goody, Goody' came on, which isn't very romantic — it's kind of mean: 'So you met someone who set you back on your heels, goody, goody.'"
George on Amal's delayed response to his proposal: "My only doubt was if she thought maybe it was too soon. But there was no doubt that we were the right couple and that we were the right team. And we were a team from right off the bat. Immediately, we felt we were just happy, and we have been happy ever since."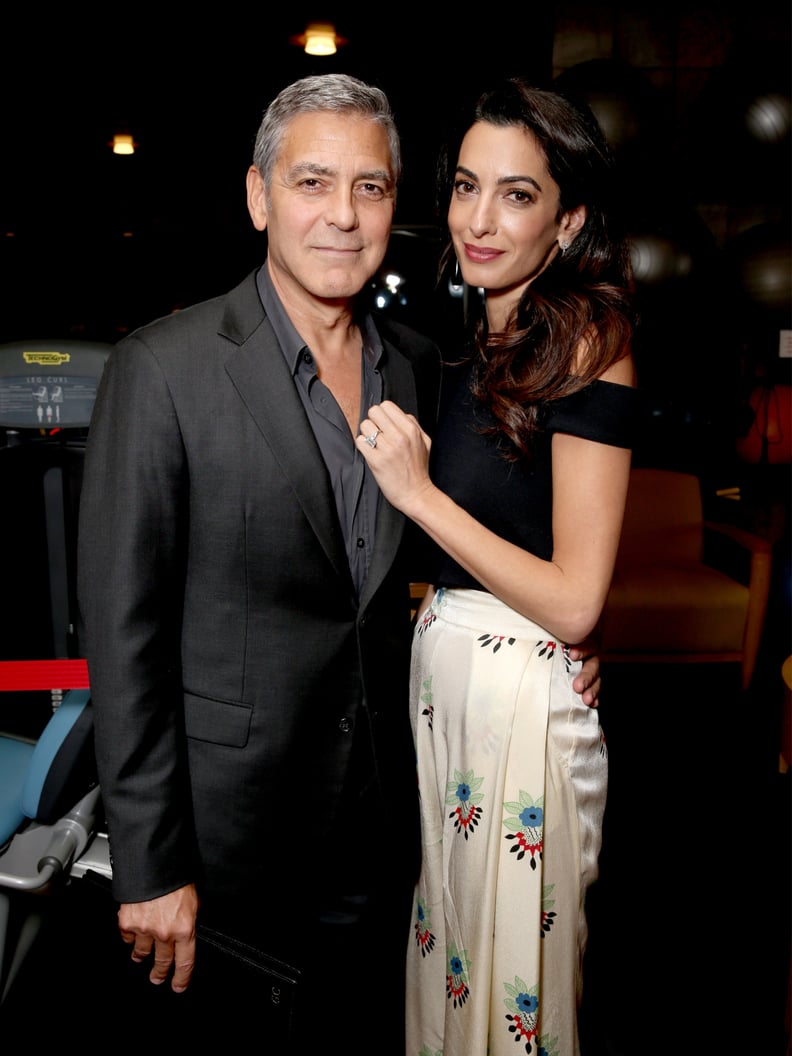 George on falling in love with Amal: "It changes you in every way that every person who's fallen madly in love changes. Suddenly, the other person's life becomes more important than your own. That's not unique to us; that's [unique to] all people who are lucky enough to find the perfect partner. I'm sorry I was 50-something when it happened, but only because I could have spent even more time with her."
George on whether he and Amal planned to have children: "It had never been part of my DNA. We didn't plan on it. We never talked about it until after we were married, which is funny. There was an assumption that we didn't want them. And then, after the wedding, Amal and I were talking and we just felt we'd gotten very lucky, both of us, and we should share whatever good luck we've got. It would seem self-centered to just have that belong to us."
George on finding out that they were having twins: "[The doctor] goes, 'Well, there's one.' And I said, 'Great.' And then he goes, 'And there's the second one.' And I was like, 'What?' We just sat there, staring at that piece of paper they give you, and I kept thinking there was a mistake."
Amal on what she loves most about George: "What a great father he is."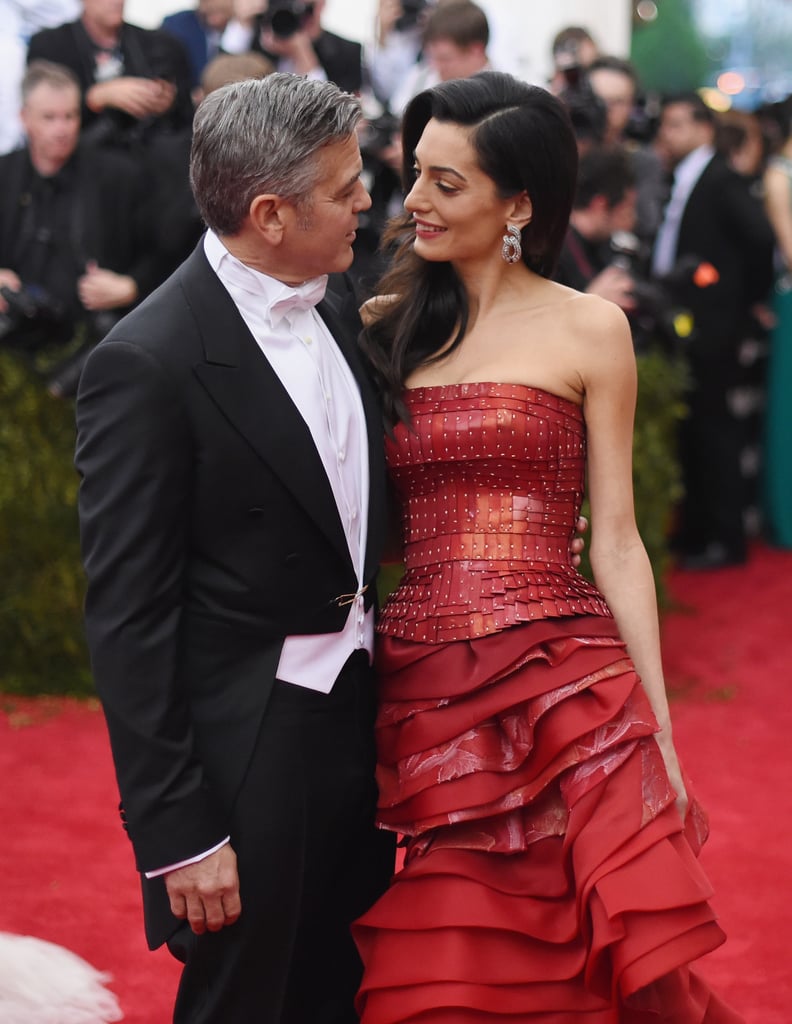 George on becoming a father: "The first thing you think is, 'I hope I don't screw this up.' I mean, look, we are all responsible for things in life, and Amal and I are responsible for each other in a way — we look out for one another and we care about one another. But you are really responsible for two kids. I want them to be happy. I want them to have a sense of humor. I want them to be interested in things. I want them to be compassionate about other people's plights. Because that's the thing, you know? You have to have some sort of empathy."
Amal on the advice she'll give to her children: "Don't be competitive."
George on Amal being his life partner: "Every single day of my life, I just feel lucky. Lucky in my career. Lucky enough to have found the perfect partner. Sometimes in life it doesn't happen on your schedule, but you find the person that you were always supposed to be with. That's how I feel, and I know that's how Amal feels."