Justin Bieber Recalls Awkward First Encounter With Hailey in Docuseries: "She Didn't Care"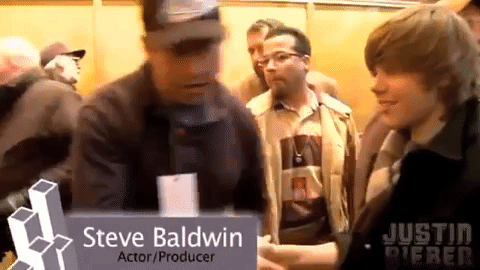 In the video, Justin is thrilled to meet Stephen, who gave him a skateboarding DVD, but the most cringeworthy moment of all comes when a high-energy Justin meets Hailey with a handshake. We all had that awkward tween stage, but these two are proof that you can find your soulmate even before growth spurts and haircuts! "She did not want to be there," Justin said about their first meeting. "For most young girls back in the day, it was like, 'Let's go see Justin Bieber. Tight.' She got there and her eyes were closed . . . She didn't care at all."
Of course, the two eventually fell in love. After dating on and off since 2015, Justin and Hailey tied the knot in September 2018. A year later, they exchanged "I dos" for the second time in front of family and friends in South Carolina. "It all happened really fast and kind of all at once," Hailey said about her relationship with Justin. "Him and I've known each other for so long that there was a part of it that didn't feel scary but it was such a big life decision that — it was so much emotion all at one time."
"He's the first person I ever had real feelings for," she added. "When things went south for a little bit and we went our separate ways, I just knew that no matter what the outcome was going to be, I knew that he was going to be somebody I loved for the rest of my life."