Jason Sudeikis Says Fatherhood Made It Possible For Him to Bring Ted Lasso to the Screen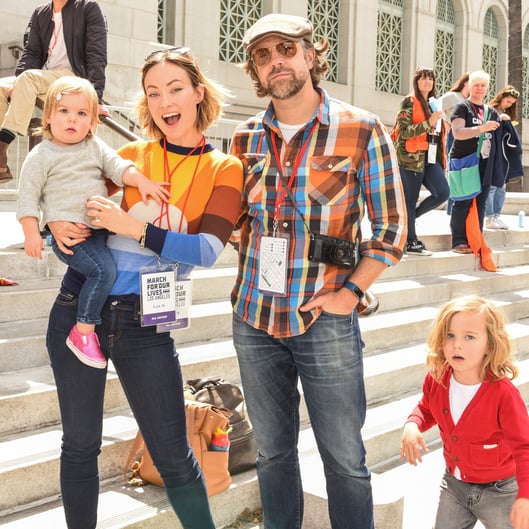 For exes Olivia Wilde and Jason Sudeikis, their kids are most important. The former couple announced their split in November 2020 after nine years together and seven years engaged. Wilde and Sudeikis's children have remained their focus over the course of their relationship and split, with a source telling Us Weekly in July 2021 that the couple are "doing their best at giving their kids a normal life. The kids bring them back together since they are and always will be their number one priority."
In a March 7 interview with Entertainment Tonight at the season three premiere of "Ted Lasso," Sudeikis opened up about how he and Wilde are prioritizing the kids. When asked if his kids know how hard he works, he admitted that they might not "know how hard," but "they know how often." But that has given Sudeikis the opportunity to show them what a healthy work environment looks like. "They see how much [the cast] hang out, and laugh, and enjoy each other's company," he continued. "That any of us get the opportunity to find a job where you have so much fun doing it, and if that's the example that myself and Olivia, provide for them, then I'm happy about that."
Sudeikis went on to explain that being a parent helps him understand his character Ted Lasso better. "I don't think I ever could have portrayed a parent, me personally, effectively in a way that I would have believed until becoming one," he said. "I don't think I'm a good enough actor to do that kind of make-believe without having that kind of love that enters your life when you have kids."
Wilde and Sudeikis's co-parenting hasn't been all smooth sailing, however. In April 2022, the pair's breakup made headlines again when Wilde was served custody papers during her presentation at CinemaCon. Wilde later addressed the event in an August 2022 interview with Variety. "The only people who suffered were my kids, because they'll have to see that, and they shouldn't ever have to know that happened," she said. "For me, it was appalling, but the victims were an 8 and 5 year-old, and that's really sad. I chose to become an actress. I willingly walked into the spotlight. But it's not something my children have asked for. And when my kids are dragged into it, it's deeply painful." During the interview, Wilde also referred to her kids as her "best friends," saying she makes breakfast for them every morning. "They are my world," she said.
Read through to learn more about Wilde and Sudeikis's two children, Otis and Daisy.
Otis Alexander Sudeikis
Born on April 21, 2014, Otis is the oldest of Wilde and Sudeikis's two kids. In 2013, Wilde originally announced his due date, May 4, 2014, with a nod to Star Wars Day, but Otis was ready to come early, and Wilde's s water actually broke while at Webster Hall in New York City!
On Otis's fourth birthday, Wilde wrote on Instagram: "Four years ago today we were at a @jonbatiste concert at Webster Hall in Manhattan, and this little one decided he wanted to come out and join the dance party. My water broke somewhere up on the balcony. So next time you're there, think of us. (We obviously stayed til the end of the show. Cuz that's how we do.)"
Wilde has mentioned that she plans to raise both of her kids without forcing gender norms on them, but especially emphasizes this for Otis, who she mentioned in 2018 thought of himself as the Disney character Moana. (Who wouldn't want to be Moana?)
Daisy Josephine Sudeikis
Daisy, who was born on Oct. 11, 2016, came on a very special day — International Day of the Girl. When announcing her daughter's birth on Instagram, Wilde wrote: "There goes the neighborhood. Daisy Josephine Sudeikis. Born, like a boss, on #internationaldayofthegirl."
On Daisy's fourth birthday, Wilde shared a gallery of photos of her daughter, writing: "My best friend turns four today! Daisy girl, you were born on #internationaldayofthegirl and it's been a party every day since. Strong, smart, funnnnnnny, kind, and curious. What a dream you are. Thank you for teaching me how to always see the light. Happy birthday!"
Wilde has previously said that Daisy is Sudeikis's twin, but their looks aren't the only thing the father-daughter duo have in common: they have the same initials! Jason, whose actual first name is Daniel, and Daisy both sport the monogram, DJS.
More Cute Photos of Olivia Wilde and Jason Sudeikis's Kids