Jane Fonda and Lily Tomlin share one of Hollywood's oldest friendships. The duo first met in 1977, and their connection soon turned into an onscreen collaboration in the seminal feminist comedy "9 to 5." The pair have remained very close friends through the years and decided to work together again in Netflix's long-running hit comedy series "Grace and Frankie," which ended in 2022 after seven seasons.
"We've been friends ever since," Tomlin told the Washington Post [1] in 2017 of their first meeting in 1977, backstage at her one-woman show. "We're friends because I just love her. I know Jane has my back whenever she can."
In the same interview, Fonda added that she left Hollywood when she was 50 and came back at 65, and ageism is alive and well — but she and Tomlin fight it together. "And one of the things that Lily and I are proud of — and want to continue with — is showing that you may be old, you may be in your third act, but you can still be vital and sexual and funny . . . that life isn't over. Even when I was younger, I wanted to give a cultural face to old age," she said. Fonda also said she wants to see more "good, multidimensional, complex women — of any age, but especially older women" on television.
Fonda and Tomlin have since continued to collaborate on screen. In 2023, they starred in two movies together [2]: "80 For Brady" [3] in February and "Moving On" in March.
Ahead, revisit some of the biggest moments from their friendship!
1980: Lily Tomlin and Jane Fonda Star in "9 to 5" With Dolly Parton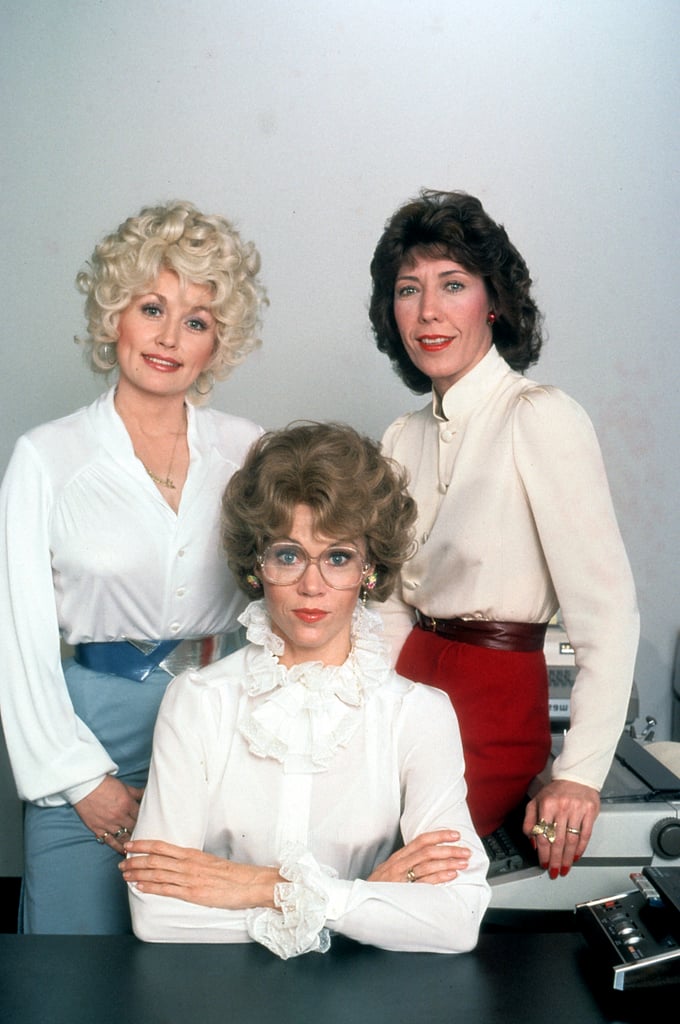 The pair first met backstage at Tomlin's one-woman comedy show "Appearing Nitely," which she was performing in Los Angeles, and they instantly connected. Fonda had been already working on the idea for "9 to 5," but it was a much darker movie before she met Tomlin. "I fell in love," Fonda told CBS News [5] in 2022 about watching Tomlin perform. "I mean, I was blown away. And when I left the theater that night I said to myself, 'I'm not making a movie about secretaries unless Lily Tomlin is in it.'"
Tomlin almost quit the movie, however. She told CBS News in the same interview, "I said, 'You have to let me out of the movie, you don't have to pay me anything.' I thought I was just awful. I said, 'I'm just gonna ruin the movie.' And then I saw the dailies from the second day — 'cause he couldn't draw up the papers quickly enough — and so I thought, 'Well, I'm pretty good, it's okay now. I think I'll just keep this part!'"
1981: Jane Fonda Cameos in Lily Tomlin's TV Special "Lily: Sold Out"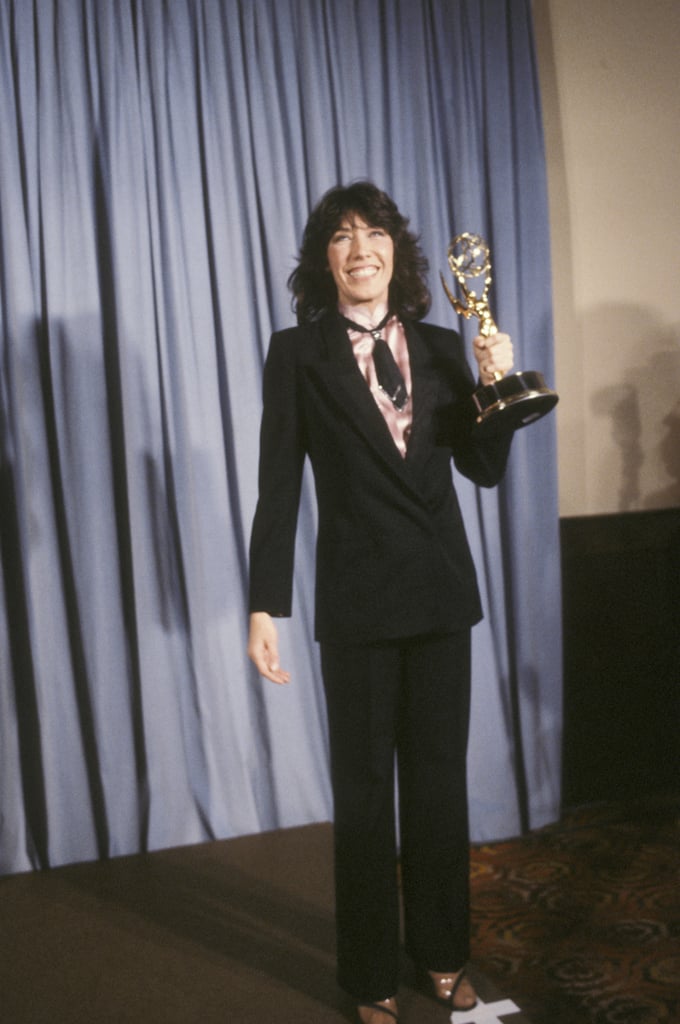 In 1981, Tomlin starred in "Lily: Sold Out," a TV movie in which she played herself, touring her one-woman show throughout the country. In it, she wonders if she should turn her comedy into something less specific and more crowd-pleasing. Fonda and Parton both cameoed in the special, which won Tomlin an Emmy. Fun fact: Tomlin is an Oscar away from an EGOT [6].
1986: Jane Fonda Supports Lily Tomlin at "The Search For Signs of Intelligent Life in the Universe"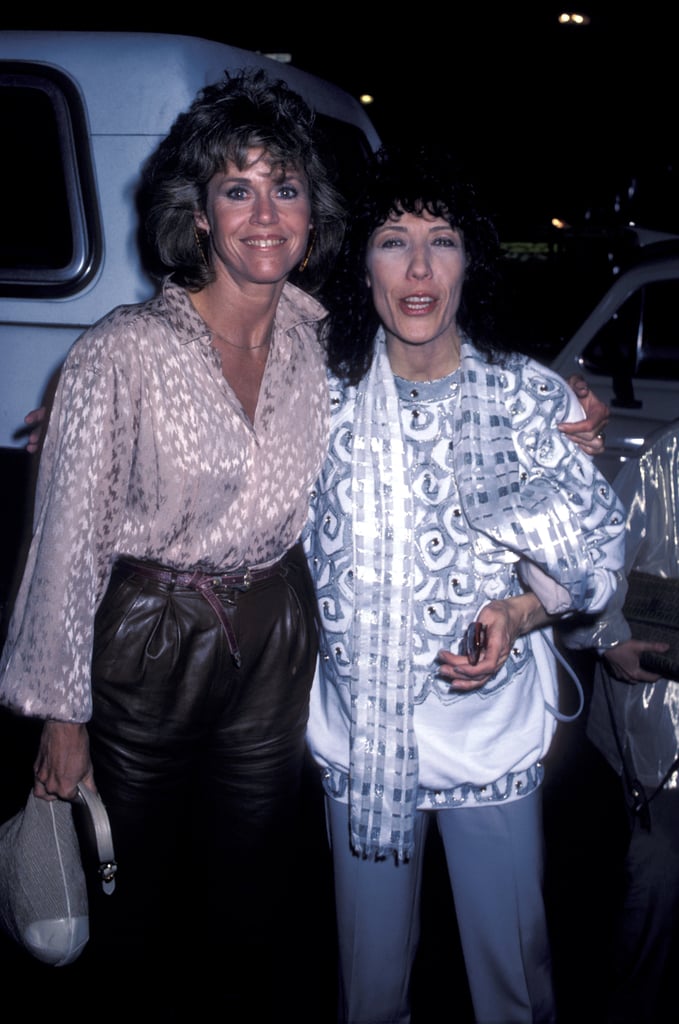 One of Tomlin's most iconic roles was her starring part in the stage show "The Search For Signs of Intelligent Life in the Universe" in 1985. She played 13 roles in the show and won a Tony Award for her performance. Fonda supported her friend at a June 1986 performance of the show.
2001: Lily Tomlin Supports Jane Fonda at the Film Society of Lincoln Center Gala Tribute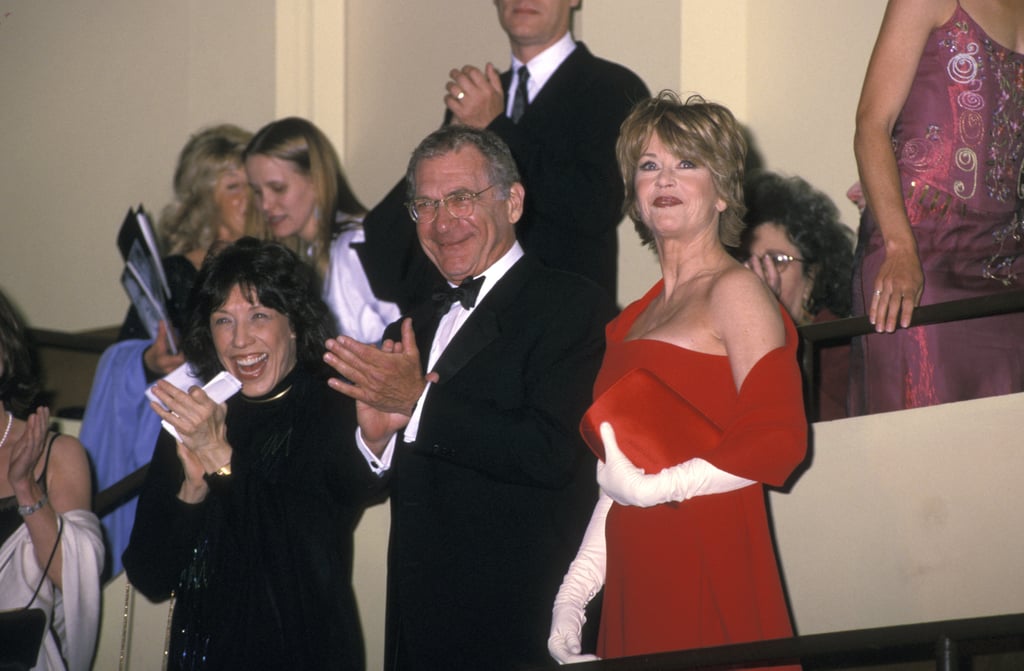 In May 2001, the Film Society of Lincoln Center hosted a gala tribute for Fonda and her film career. Tomlin sat right near her friend at the event.
2003: Jane Fonda and Dolly Parton Support Lily Tomlin at the Mark Twain Prize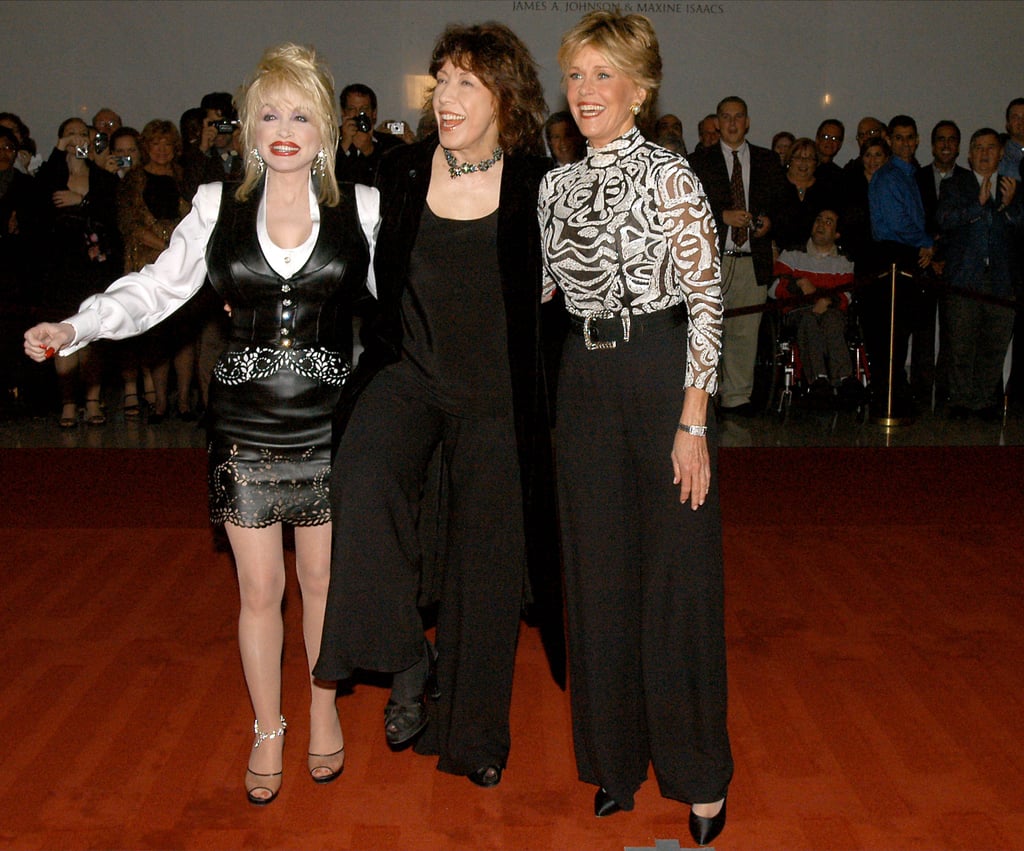 In 2003, Tomlin's achievements in comedy were recognized with the Mark Twain Prize for American Humor. Fonda and Parton were both in attendance at the event to support their dear friend.
2006: Jane Fonda, Lily Tomlin, and Dolly Parton Reunite For the 25th Anniversary of "9 to 5"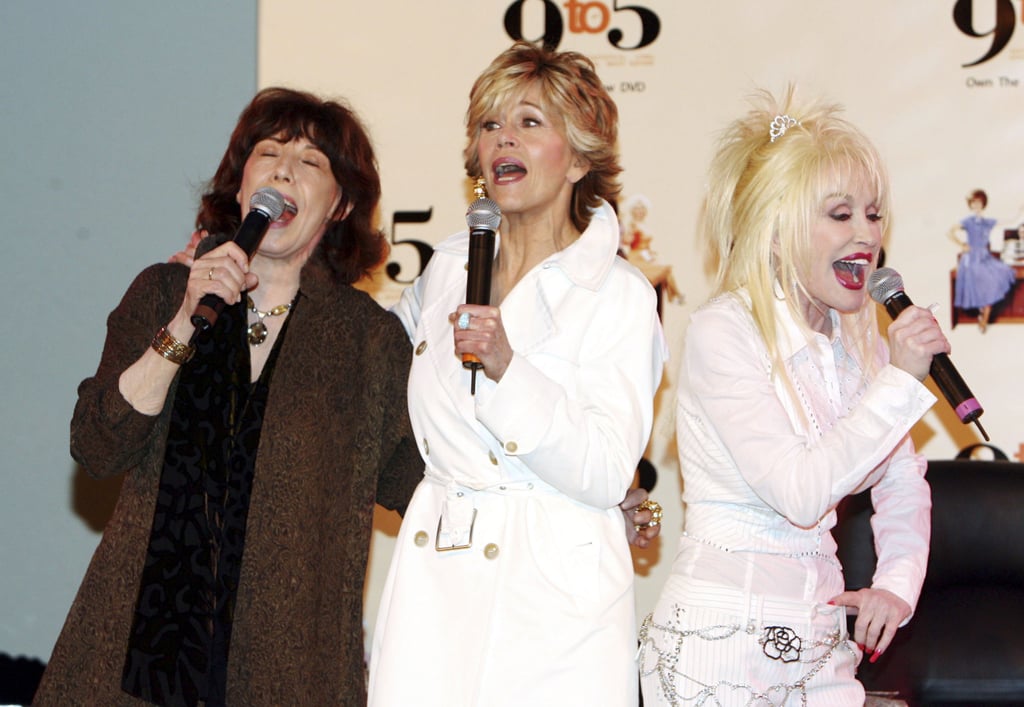 Fonda, Tomlin, and Parton celebrated 25 years of "9 to 5" with a cast reunion in March 2006. The trio were snapped singing the title song together. Three years later, the musical adaptation of the film premiered on Broadway.
2014: Jane Fonda Honors Lily Tomlin at the Kennedy Center Honors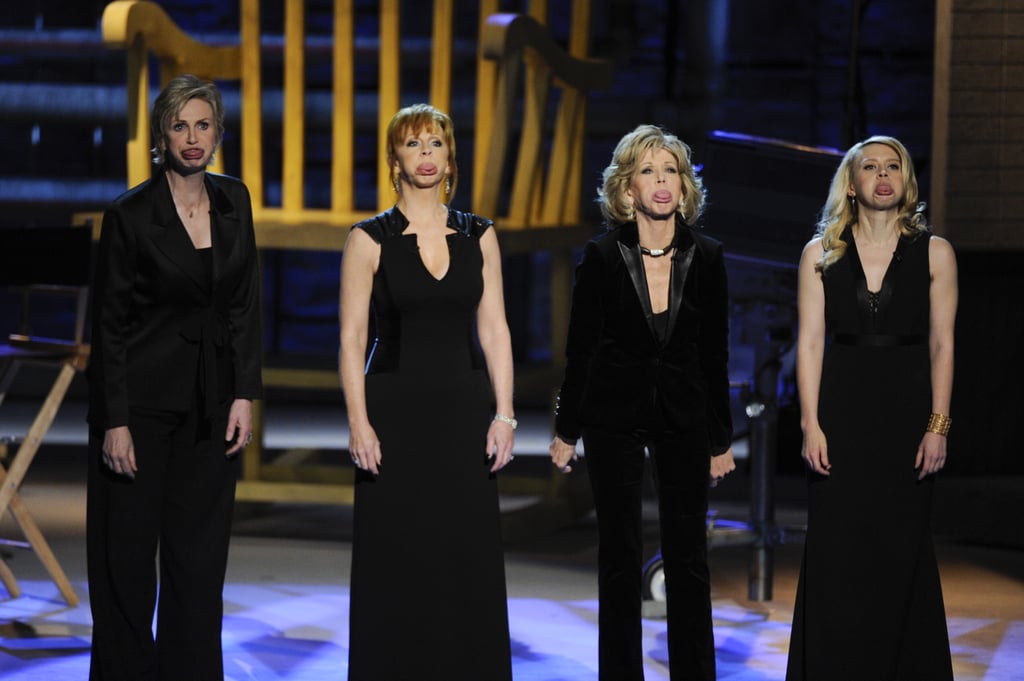 Tomlin was awarded a Kennedy Center Honor in 2014, and Fonda was part of the group that celebrated her during the show. She was joined by Jane Lynch [7], Reba McEntire, and Kate McKinnon.
2015 to 2022: Jane Fonda and Lily Tomlin Star in "Grace and Frankie"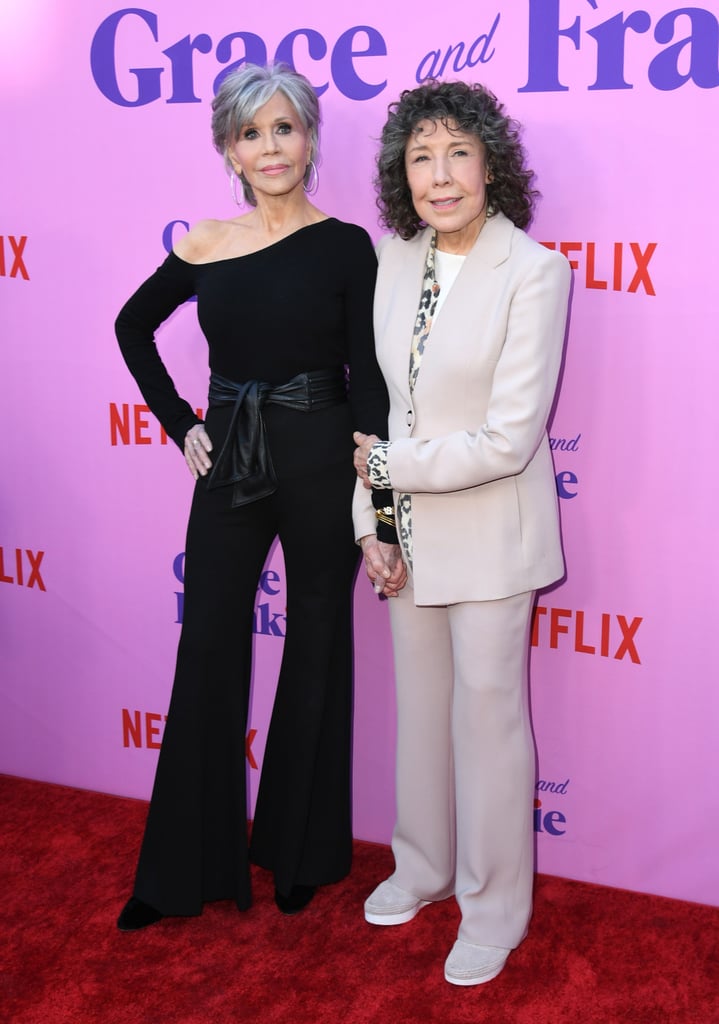 Netflix's "Grace and Frankie," which premiered in 2015, starred Fonda and Tomlin as the titular frenemies turned besties. The pair become friends after their husbands, Robert (Martin Sheen) and Sol (Sam Waterston), reveal that they've been secretly in love for years. The hit series ran for seven seasons, and Parton cameoed as an angel in the series finale in 2022.
Reflecting on the series's impact during a November 2022 SAG Awards panel, Fonda said, "I definitely think our show has played a very important role there — and made the idea of getting older less scary," per Gold Derby [8]. "What I hope and what I think is partly true is [we've made] people less afraid of getting old. So many women have said to both Lily and me how much hope the series has given them."
2017: Jane Fonda and Lily Tomlin Reunite With Dolly Parton at the Emmy Awards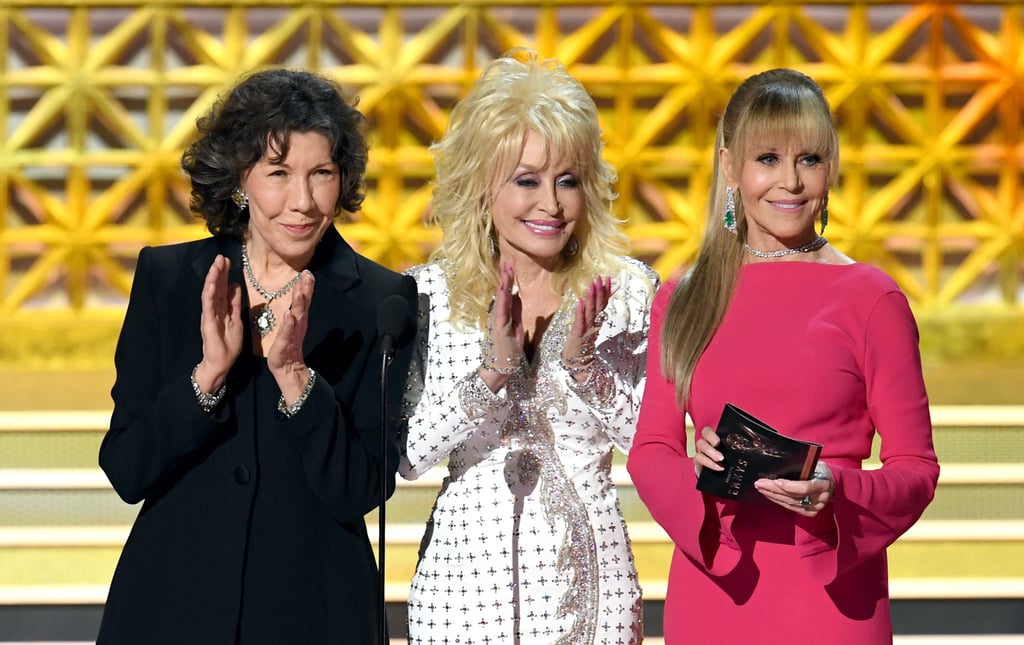 At the 2017 Emmy Awards, Fonda and Tomlin reunited with Parton to give out the award for best supporting actor in a limited series. "Back in 1980 in that movie, we refused to be controlled by a sexist, egotistical, lying, hypocritical bigot," Fonda said at the time, with Tomlin adding, "And in 2017, we still refuse to be controlled by a sexist, egotistical, lying, hypocritical bigot" — alluding to then-President Donald Trump [9], per Entertainment Weekly [10].
2019: Lily Tomlin Is Arrested While Protesting Climate Change With Jane Fonda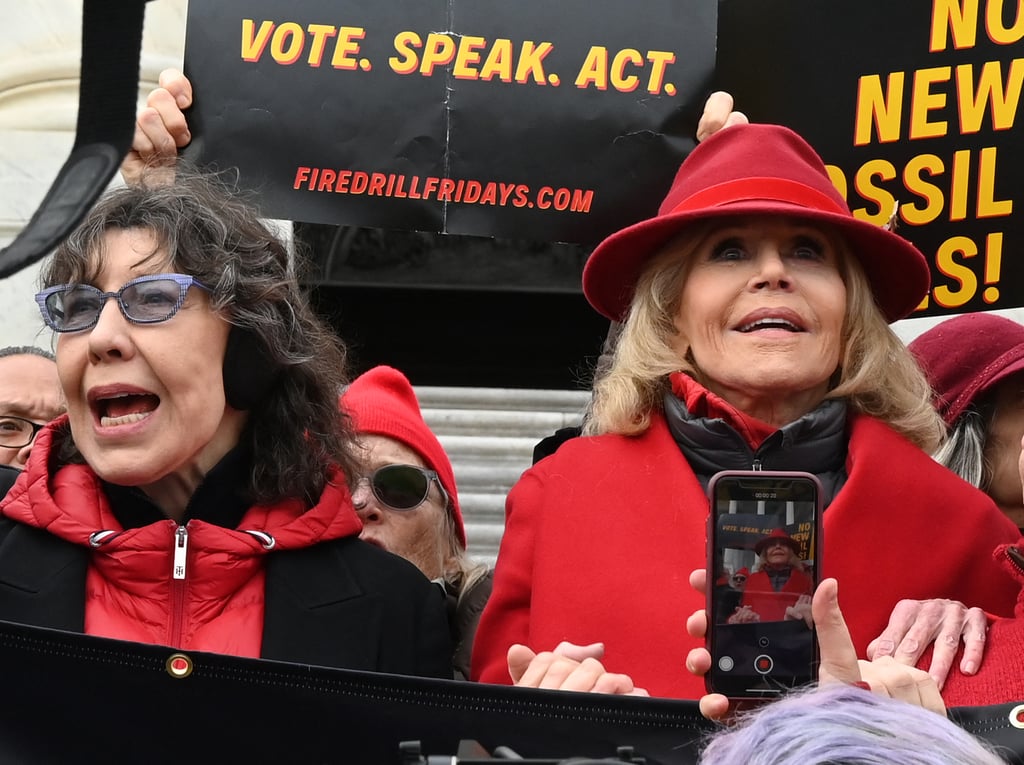 In October 2019, Fonda began leading a series of protests in DC called "Fire Drill Fridays," meant to call attention to the climate crisis. Tomlin joined her for a Dec. 27 protest, where she was arrested, as reported by USA Today [11]. A week earlier, Fonda had been arrested for a fifth time at the protest, per the "Fire Drill Fridays" Twitter account [12]. Their "Grace and Frankie" costars Sam Waterston and Martin Sheen both took part in the weekly protests as well, and Joaquin Phoenix [13] joined a protest in January 2020. During the pandemic, Fonda moved the protest to virtual events.
2023: Lily Tomlin and Jane Fonda Star in 2 Movies Together
This is a banner year for Tomlin and Fonda fans, since the pair reunited on screen in two movies. The first was February's "80 For Brady," where they play Tom Brady-obsessed Patriots fans intent on watching him in the Super Bowl. In the second, March's "Moving On," [14] they play friends intent on killing a friend's widower and getting revenge.
In a February interview with CBS Sunday Morning [15], Fonda reflected on how she cultivates good friendships. "What you have to do is, you have to be intentional," she advised. She also added that when she met "80 For Brady" castmate Sally Field [16], she knew she wanted to befriend her right away, so she did. Field and Tomlin both admitted they can be antisocial, so Fonda's perseverance was needed. "I don't really like people that much," Tomlin said. "I try to avoid them. But those who are intentional, you just can't get rid of them."