Since Kim Kardashian [1] and Pete Davidson [2] were linked back in October 2021 [3], the two have taken the internet by storm — even with the end of their romance [4]. The relationship between Kardashian and Davidson definitely left some scratching their heads at first, but the two quickly became one of the most talked-about celebrity couples. Unfortunately, that reportedly came to an end in August, when multiple outlets confirmed their split due to demanding schedules and trying to make a long-distance romance work.
In the past, the "Saturday Night Live [5]" comedian had been linked with Ariana Grande [6], Kate Beckinsale [7], and Margaret Qualley [8], while Kardashian is most known for her marriage to Kanye West [9].
The pair's unlikely romance came months after Kardashian filed for divorce from West [10] in February 2021. While Kardashian and Davidson arguably come from different worlds, their connection was seemingly strong, and the two had been living their best lives as a couple for nine months (even though Kardashian only made things Instagram official [11] in March). From their onscreen kiss on "SNL" to the beef with West [12], here's a complete timeline of Kardashian and Davidson's officially short-lived relationship.
Sept. 13, 2021: Kim Kardashian and Pete Davidson Meet at the Met Gala
Contrary to popular belief, Kardashian and Davidson's first interaction wasn't during their October 2021 "Saturday Night Live [14]" episode. On an episode of Dear Media's "Not Skinny but Not Fat" podcast [15] — which released on April 12 — Kardashian clarified that the couple initially met a month before at the 2021 Met Gala, where Davidson approached her to discuss her hosting gig. After giving her some advice, the comedian tried to offer Kardashian his number, but her all-black ensemble that covered her head to toe [16] got in the way of her phone. However, they eventually reconnected shortly after.
Oct. 5, 2021: Kim Kardashian and Pete Davidson Kiss on "Saturday Night Live"
Kardashian and Davidson's first public appearance together was back in October 2021 when she hosted "Saturday Night Live [17]." Romance rumors sparked almost immediately after the two shared a kiss during an "Aladdin"-themed skit where Kardashian played Princess Jasmine and Davidson was Aladdin. During the sketch, the two held hands and playfully flirted with one another as they performed their lines.
"It was a stage kiss, but it was still a little zing," she said on Dear Media's "Not Skinny but Not Fat" podcast [18]. "It wasn't anything, like a super crazy feeling, but I was just like, 'Hmm.' And then I was like, 'Wow, I really haven't kissed anyone else in 10 years, so maybe I'm just being stupid and it's just nothing.'" But a few days afterward, she thought, "Hmm, there is some BDE action."
On the June 2 episode of "The Kardashians," the reality-TV star shared more details about their kiss. "I did 'SNL,' and when we kissed in scene, it was just a vibe," Kardashian recalled. "So a few days later, I called the producer at 'SNL' and I was like, 'Hey, do you have Pete's number?' And they were like, 'Yeah!'" Curious about all the "BDE" rumors [19], Kardashian ended up texting him. "I was just basically DTF," she added.
After she and Davidson began dating, Kardashian got a text from Megan Fox [20] asking if they were really together. "Megan Fox texted me and was like, 'Is this sh*t for real? Because he asked me for your number months ago and I was like, 'Dude, you have a better shot of like me and MGK [Machine Gun Kelly] getting eaten by crocodiles than you ever getting her number. Like, never going to happen, do not ask us,'" Kardashian said.
Oct. 31, 2021: Kim Kardashian and Pete Davidson Seen Holding Hands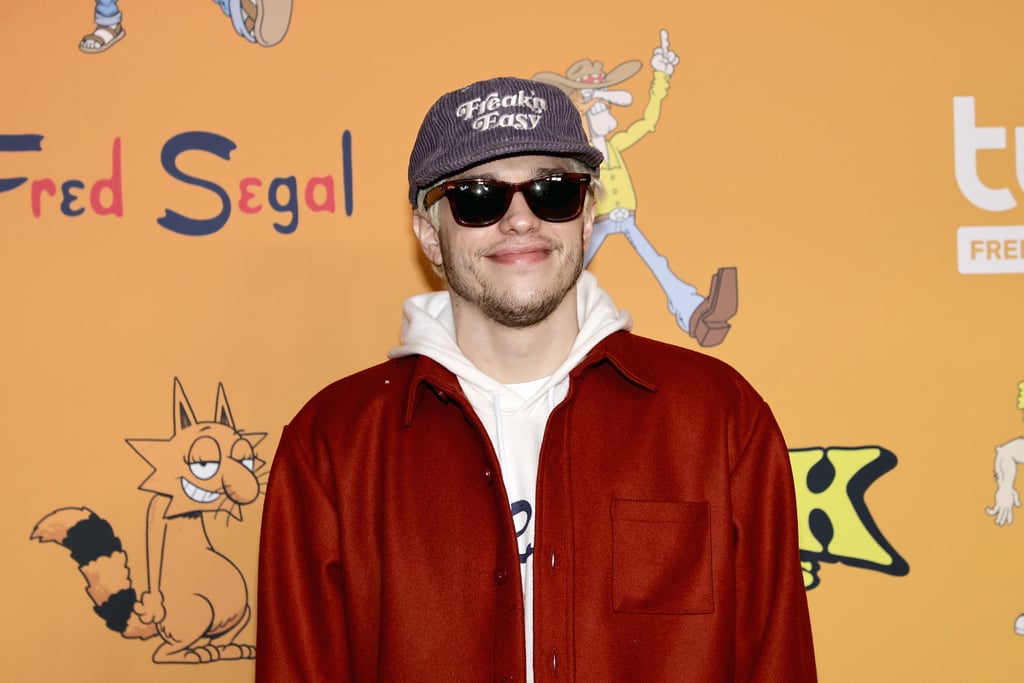 Later in October 2021, Kardashian and Davidson once again made headlines after being seen together in public. The two hung out at Knott's Scary Farm along with Kardashian's sister Kourtney Kardashian [21] and her fiancé, Travis Barker [22]. During their spooky outing, Kardashian and Davidson were seen holding hands while on a ride, stirring more speculation of their rumored romance. At the time, a source told People [23] that the two were "just friends hanging out."
Nov. 16, 2021: Kim Kardashian Celebrates Pete Davidson's Birthday
Sure, friends can celebrate birthdays together, but when you bring your mom along for the celebration, it seems like something more, right? On Nov. 17, 2021, rapper Flavor Flav shared a photo on Instagram of himself with Davidson, Kardashian, and Kardashian family matriarch Kris Jenner [24].
The group were together to celebrate Davidson's 28th birthday, which the rapper said was a birthday gift from Kardashian. He told Entertainment Tonight [25], "One thing that I could say is Pete Davidson loves himself some Flavor Flav. . . . So Kim said, 'OK, well, for your birthday, you are going to have Flavor Flav.' She sent for me and that's how I ended up there." That's a pretty special birthday arrangement for "just friends," but we digress.
December 2021: Kim Kardashian and Pete Davidson Date in Public
Throughout December 2021, Kardashian and Davidson were seen in public several times on romantic dates. On many occasions, the two were spotted in Davidson's hometown of Staten Island [26], and on one occasion, they dined at Angelina's Ristorante and saw a movie together, per a report from CBS 8 [27].
On Dec. 21, 2021, TMZ reported [28] that Kardashian and Davidson went to breakfast together at a hotel in Beverly Hills, with Davidson later driving Kardashian's car to shop around for jewelry. At the time, a source told Us Weekly [29], "They're clearly not hiding their romance. . . . It seems like they want to just be able to do things any normal couple would do and have fun together."
January 2022: Kim Kardashian and Pete Davidson Vacation in the Bahamas
Kardashian and Davidson kicked off the new year with a relationship milestone. The two went on their first vacation together to the Bahamas [30] in January and were seen getting close and cuddly while walking down the dock after their arrival, according to People [31].
Kardashian posted pictures of her vacation with Davidson after their trip, and while most featured gorgeous beaches and bikini selfies, many people speculated that Davidson's shadow could be seen in one of the pictures, but you be the judge!
February 2022: Kim Kardashian and Pete Davidson's Drama With Kanye West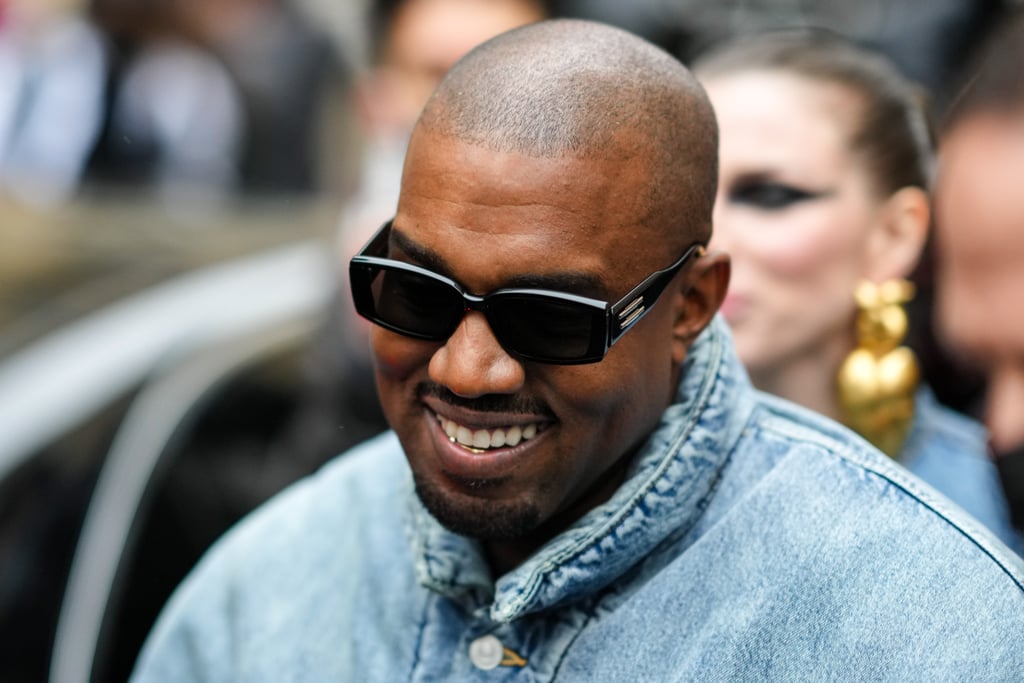 While Kardashian and Davidson's relationship blossomed, her ex-husband, West, started a frenzy online about their status as a couple. In February, Us Weekly reported [32] that the rapper shared a series of text-message screenshots on Instagram, seemingly with Kardashian, in which she said, "U are creating a dangerous and scary environment and someone will hurt Pete and this will all be your fault." He responded in the since-deleted screenshot, "I will always do everything to protect you and our family forever. And I listened to you and told everyone to make sure nothing physical happens to Skete."
The same month, Billboard reported [33] that West also released a list of people he had beef with (which has since been deleted) on Instagram, and did not hold back about his ex-wife and her new beau. The list was extensive and named people from Barack Obama to the entire cast of "SNL," but it also included Davidson, to whom West refers to as "Skete." The caption read, in part, "... of course Skete and any and all corny sh*t in general Can somebody from Chicago let these people know what Skete meant when we was growing up It's up for everybody!!!!!"
March 11, 2022: Kim Kardashian and Pete Davidson Make It Instagram Official
The drama with West did not affect the trajectory of Kardashian and Davidson's relationship, and on March 11, Kardashian made their relationship Instagram official [34] with a confirmation that they were a couple. The post's caption read, "Whose car are we gonna take?!" and included two cute pictures of the pair.
She also posted some PDA-filled photos of the two on April 11 with the caption [35] "late nite snack," alongside pictures from a dinner date.
On March 13, reported text messages between Davidson and West [36] were leaked online, and they were messy. Davidson had remained silent after West's several internet attacks on him, but according to a report by "Today [37]," the comedian stood his ground about his relationship with Kardashian, first telling the rapper to "calm down" and applauding Kardashian's parenting, which West openly criticized on social media. A heated exchange followed between the two, with Davidson encouraging West to have a sit-down talk with him to squash their beef "man to man." West reportedly went on to mock Davidson's mental health and invited him to his Sunday Service instead. Phew.
March 16, 2022: Kim Kardashian Gushes About Pete Davidson on "The Ellen Show"
Kardashian appeared on "The Ellen DeGeneres Show [38]" on March 16 and talked about her relationship with Davidson. Speaking about her new boyfriend, the "Keeping Up With the Kardashians [39]" star told DeGeneres, "It feels good. . . . I think it's just in life, like no matter what it is . . . I encourage my friends and the people that I love just to be happy, and I went for it."
She also went on to reveal that Davidson had "a few tattoos" of her, saying, "He wanted to do something that was really different. First tattoo he got, I was like, 'Oh, so cute. Thank you, oh my God,' you know?"
April 30, 2022: Kim Kardashian and Pete Davidson Make Their Red Carpet Debut
Davidson and Kardashian made their first joint red carpet appearance [40] at the White House Correspondents' Dinner. Davidson suited up for the event, while Kardashian dazzled in a silver dress.
May 2, 2022: Kim Kardashian and Pete Davidson Return to the Place Where They First Met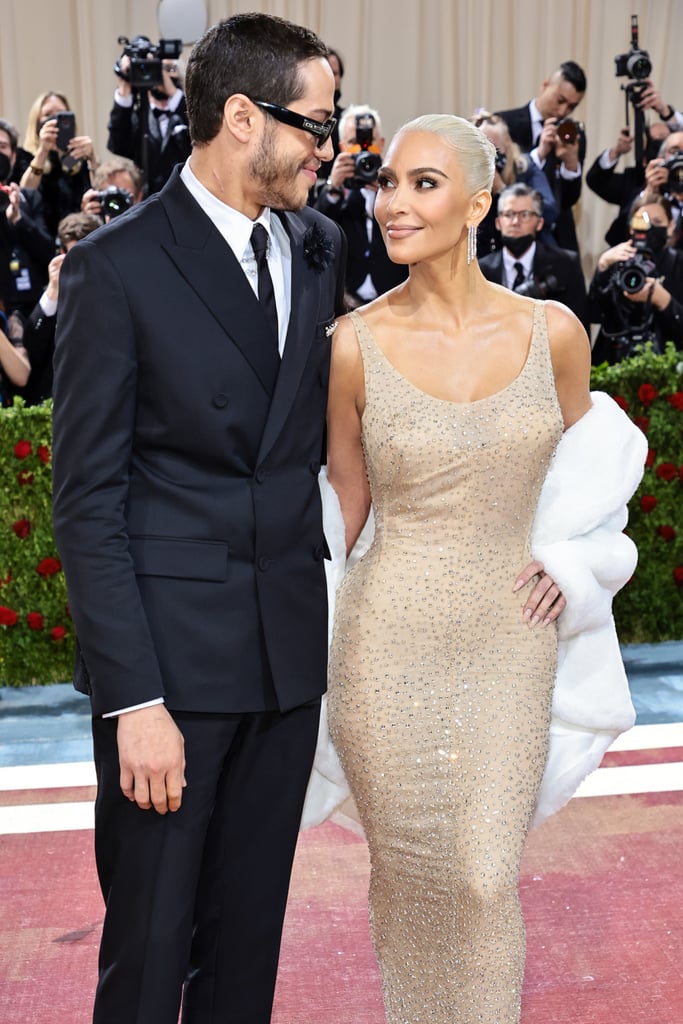 A year later, the couple stepped out together [41] at the Met Gala. Kardashian wore Marilyn Monroe's famous "Happy Birthday, Mr. President" dress [42], while the comedian looked handsome in a black suit with sunglasses.
Aug. 5, 2022: Kim Kardashian and Pete Davidson Split
On Aug. 5, a source told E! News [43] that Davidson and Kardashian decided to end their romance. People [44] then reported similarly. The source told E! News that Kardashian and Davidson have "love and respect for each other," but doing long distance amid "demanding schedules" made maintaining their relationship difficult. Both outlets reported that the break up happened the week of Aug. 5.
The source also told E! News that Kardashian is still going forward with her divorce from West.
Kim Kardashian and Pete Davidson Photos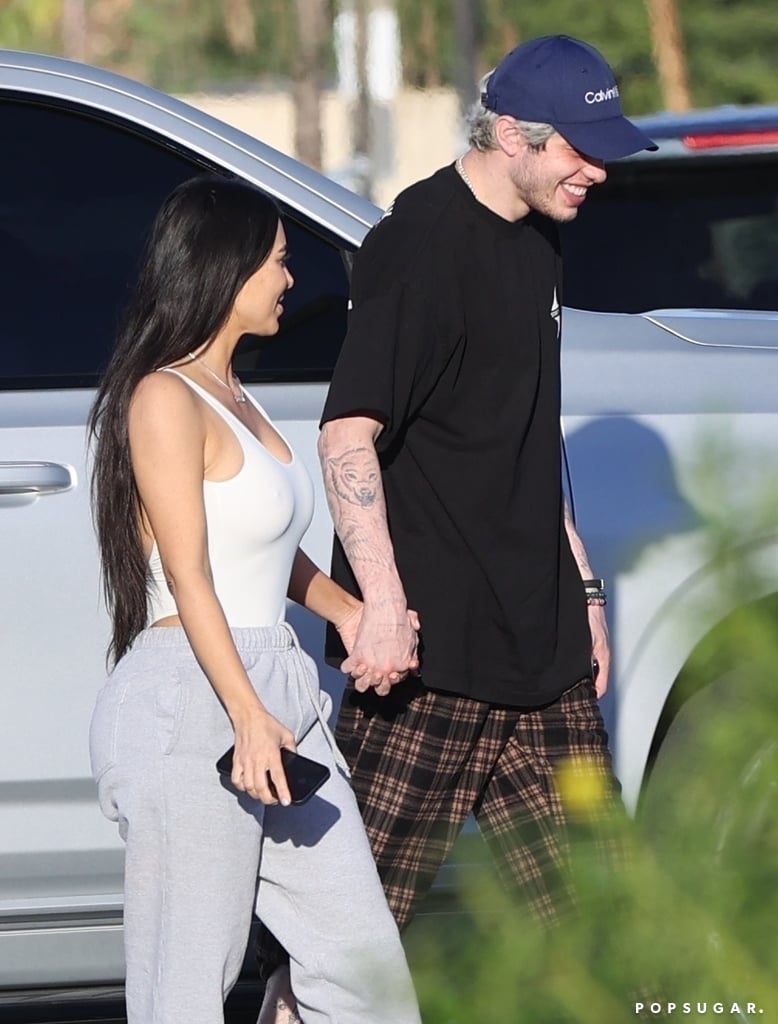 In November 2021, Davidson and Kardashian held hands in Palm Springs, CA.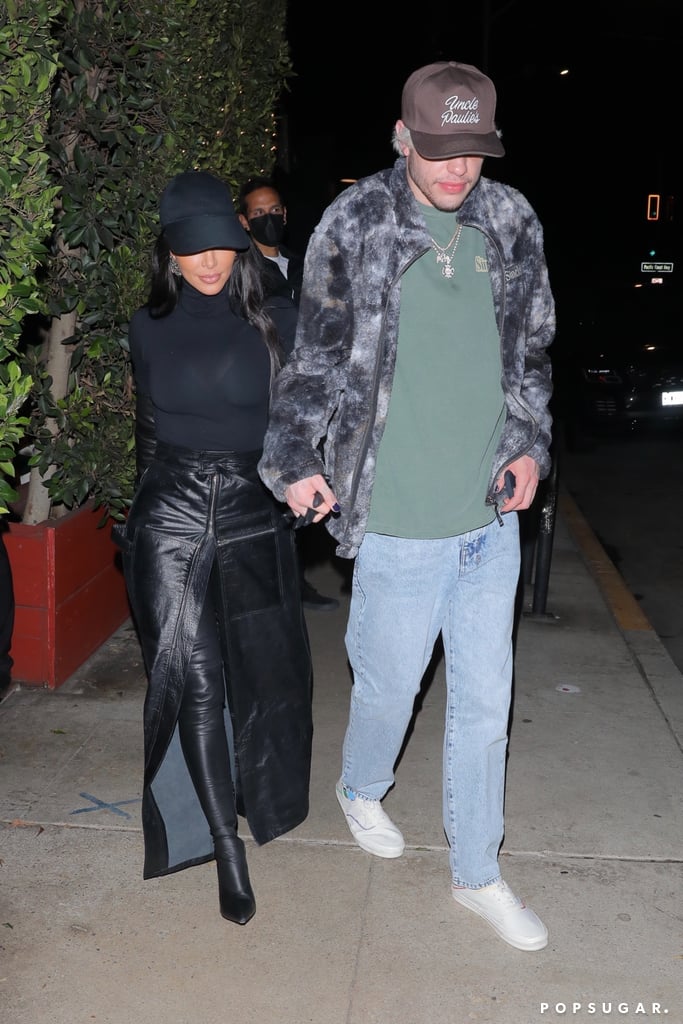 The couple went out on a dinner date in November 2021.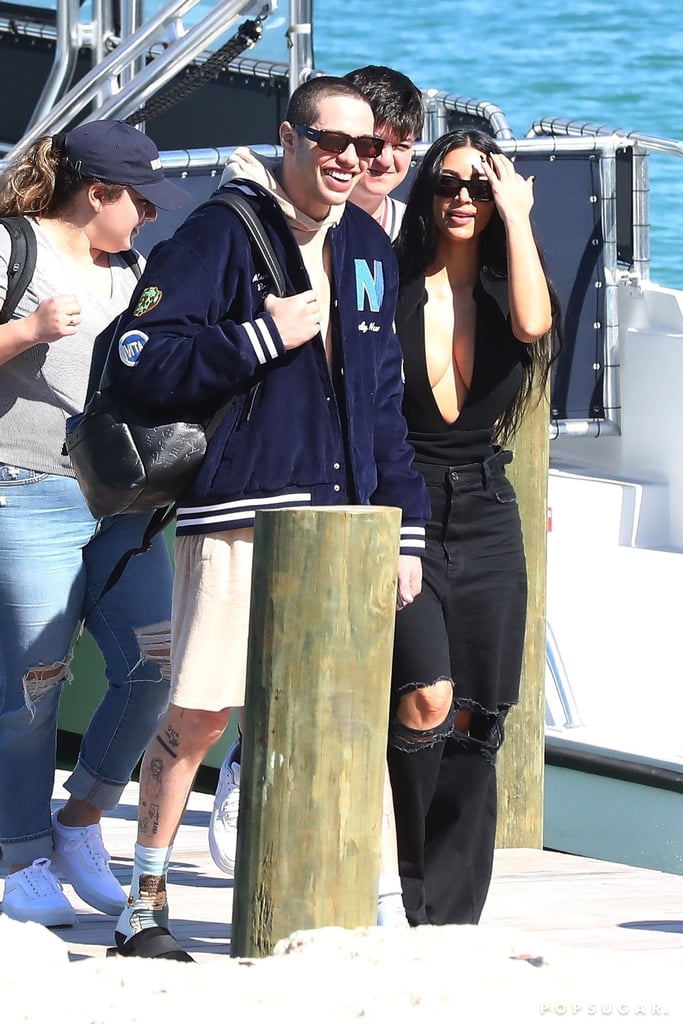 Kardashian and Davidson vacationed in the Bahamas in January 2022.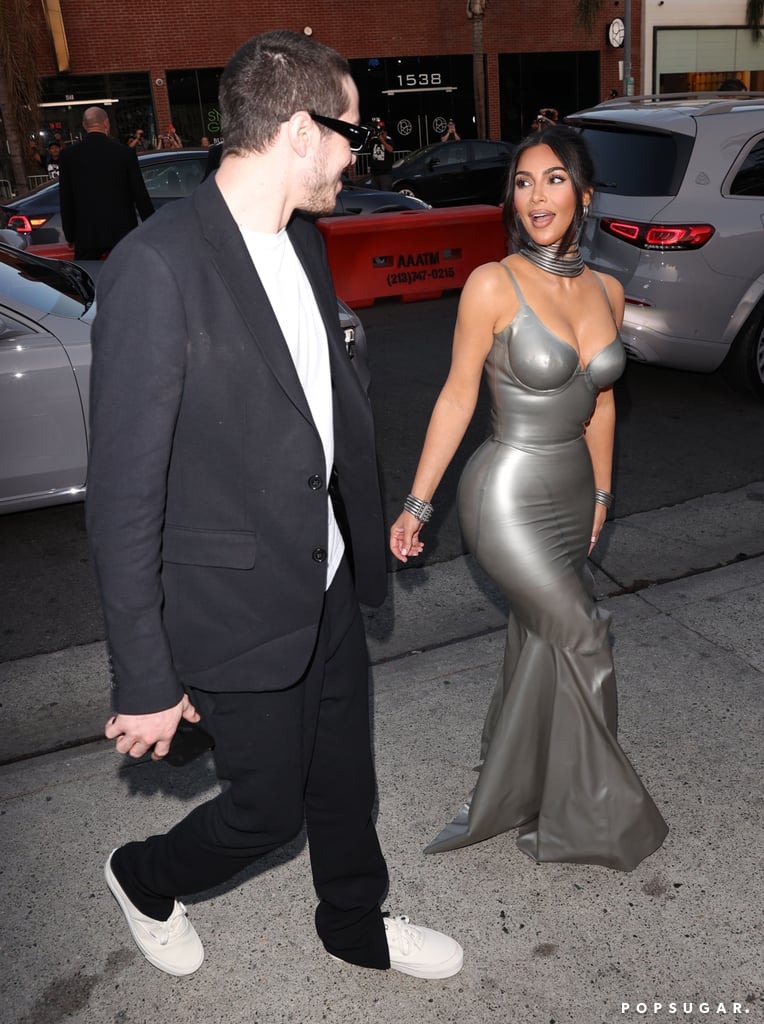 Kardashian and Davidson held hands at the "Kardashians" LA premiere in April 2022.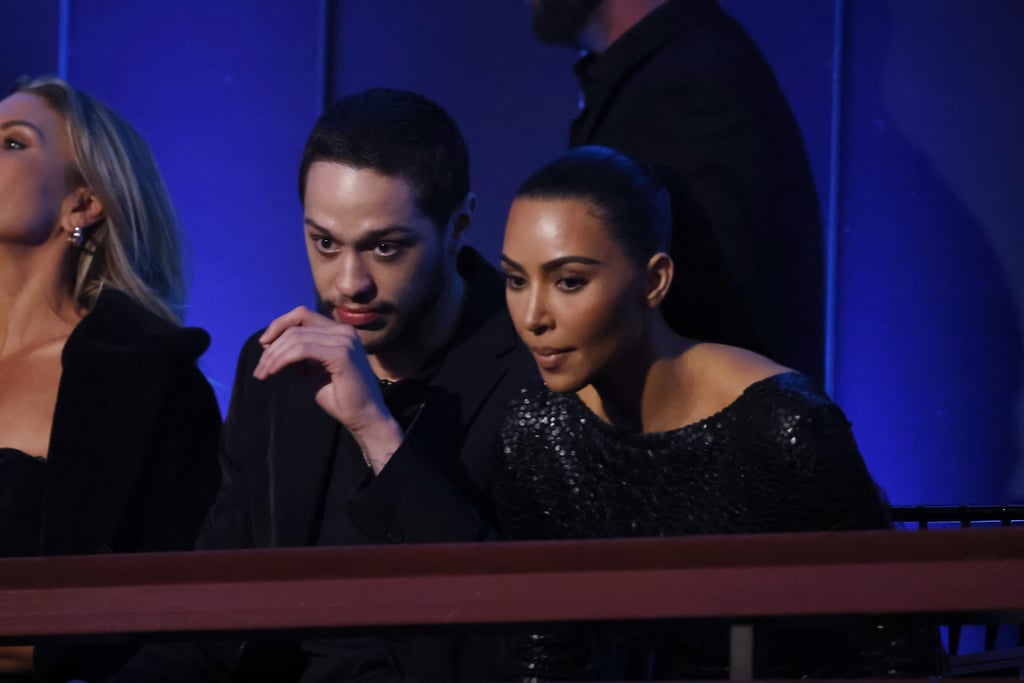 In April 2022, the duo attended the Mark Twain Prize ceremony.