Seeing Ashley Stubbs appear in the Westworld season two premiere was a welcome sight. The head of security's fate was left up in the air at the end of season one, and it's nice to see he's there to help Bernard figure out what the heck is going on. Also, it's always nice to see a Hemsworth on the large or small screen — that's right, Luke Hemsworth is one of the famous Hemsworth brothers.
Luke is actually the oldest Hemsworth brother, though he has not quite become as famous as his younger brothers just yet. But the Aussie family is super tight. In fact, baby brother Liam was Luke's date for the Westworld season two premiere in Los Angeles earlier this week. It was actually a bit of a Hunger Games reunion for Liam because Jeffrey Wright, who plays Bernard on Westworld, played Beetee in the Hunger Games movies.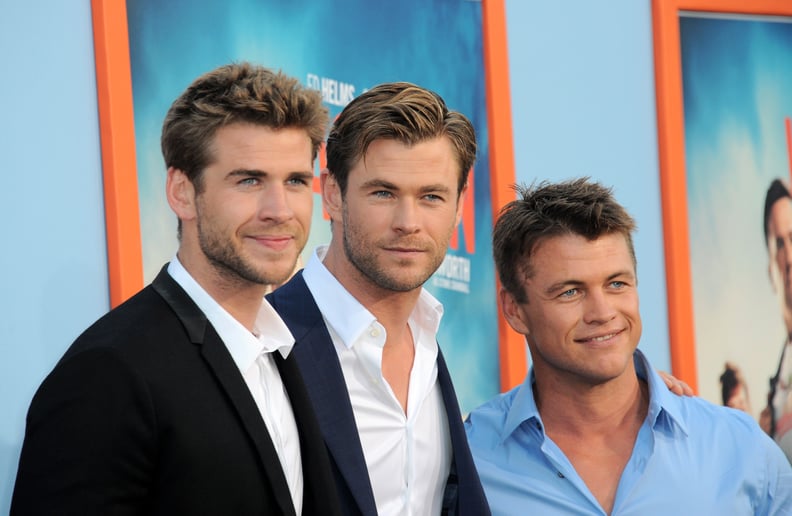 In a 2016 interview on Jimmy Kimmel Live, Luke shared an adorable anecdote about how they were raised kind of willy-nilly in rural Australia, picking up their friends on motorbikes with no helmet and riding around in the middle of nowhere. He also says that even though he's the shortest Hemsworth, he's still the toughest one because he's the oldest.
"[My brothers] are really tall, but they're actually quite soft, and they cry a lot. I take great joy in making them cry," said Luke with a laugh.
As for Westworld season two, we don't know much about what's going on just yet, but Hemsworth did tease in a recent interview with Comicbook.com that his character might be a ray of hope for the humans in the series.
"I played him with a lot of empathy. Because I found it more interesting, you know?" says Hemsworth. "Because I feel like every other human in the park is a complete asshole, so there's got to be a ray of sunshine here somewhere and some hope for our species. Hopefully, Stubbs is that hope."