8 Facts About Maisie Williams That Will Make You See Her in a Whole New Light
Arya Stark is a bona-fide badass, and so is the lady who plays her, English actress Maisie Williams. Despite her ascension to superstardom at just 12 years old, when she first auditioned to play sword-wielding, patriarchy-crushing avenger Arya on Game of Thrones, you might not know all that much about the relatively private, newly pink-haired actress. You'll see her in plenty of upcoming projects over the next couple of years once HBO airs the final season of Game of Thrones, but in the meantime, here are a couple of interesting facts we bet you never knew about the now-21-year-old star.
Maisie began performing in school plays as a young girl, but her first passion was actually dance. She began taking formal lessons at the age of 10 at Susan Hill's School of Dance, though her parents couldn't afford to send her to a performing arts school. After performing in a talent show in Paris at her dance teacher's urging (and making up a skit during an improvised acting workshop about throwing a bowling ball at her brother), she landed her first agent.
Her first audition was for a role in Nanny McPhee and the Big Bang, but she didn't land the part because she looked too young, though she did make it down to the final two. "At the time I was really disappointed," she explained in an interview with FanSided, "but I now realize that I did well to get that far."
Her family grew up with 13 dogs, so it's no surprise how much she loves her own rescue dog, Sonny, whom she rescued from the Bristol Dogs and Cats Home.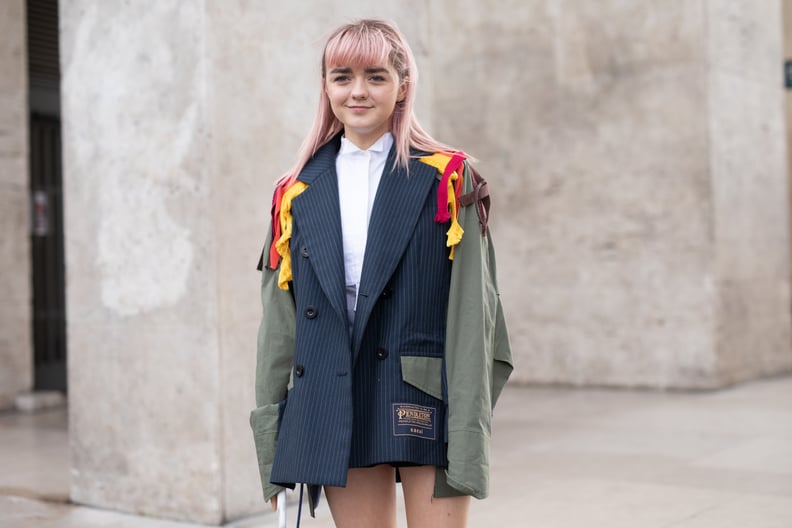 She almost didn't attend the Game of Thrones audition because the audition date interfered with a class trip to a local pig farm, but luckily, her mom convinced her to go. "Who doesn't want to go to a pig farm when you're 12 years old?" she jokingly asked BBC.
Her main objective for attending the audition: finally being able to afford a new laptop. "My stepdad, Gary, just looked at me and said: 'I think there'll be enough for a couple of laptops, Maisie,'" she told The Guardian. "Suddenly I could pay for my own dancing lessons and school trips, all those things my mum had always paid for. I was able to help out."
Her mother, Hilary, was a university course administrator who gave up her job to support her daughter on set, and her mom has been criticized for letting Maisie drop out of school before her GCSEs to focus on the show. "I hate when people say that I'm uneducated," she told The Irish Times. "I've been given this amazing opportunity. I'd probably be working in an office now. I've got my toe in the door and I am not moving my foot. And I'm not sorry." In addition to working with a tutor on the Game of Thrones set, Maisie has also spent time studying performing arts at Bath Dance College.
Maisie is a staunch advocate for women's rights, something encouraged by her mother's battle with breast cancer, as well as her own experiences with cyberbullying. "She has survived many, many times," she said of her mother in an interview with People. "Survived relationships, survived breast cancer and constantly is just trying to do more to help other people." Maisie even allows her mom close access to her Twitter account to help her cope with cyberbullying.
One of her biggest role models for someone who manages to balance her personal and professional life is Lena Headey, who plays Cersei Lannister on Game of Thrones. "She's a fantastic actress but she doesn't live in the limelight," she told The Guardian. "I never see headlines about her. I think she's just cracked it — I don't want to be on the pages of Hello! magazine."