"Law & Order: Special Victims Unit" may not be a romantic show, but it is where Mariska Hargitay [1] and Peter Hermann [2] fell in love!
Hargitay and Hermann met on the set of "SVU" in 2001, when the "Younger [3]" actor guest starred as defense attorney Trevor Langan. After three years of dating, the couple married in August 2004 at a Santa Barbara chapel at a 200-guest wedding [4]. They now reside in New York with their three adorable children [5] — sons August and Andrew and daughter Amaya.
Hargitay, who plays the lead character Olivia Benson on the long-running show, recalled the first time she met Hermann on the set during an interview with Drew Barrymore [6]. "I was nervous, and I heard [Hermann] was German, and I didn't know what to do, so I said — this is so embarrassing — I said, 'So you're a kraut.' And he goes like this, 'That's funny.'"
That first sweet — and funny — moment led to 18 years and counting of marriage — which Hargitay celebrated with a sweet Instagram tribute on Aug. 29. Over the last decade, the pair have experienced many beautiful relationship milestones, from welcoming their children to celebrating Hargitay's 500th episode on "Law & Order: SVU," and everything in between. And because we love them so much, we've broken down each of this aspirational couple's major relationship moments ahead.
November 2001: Mariska Hargitay and Peter Hermann Meet on Set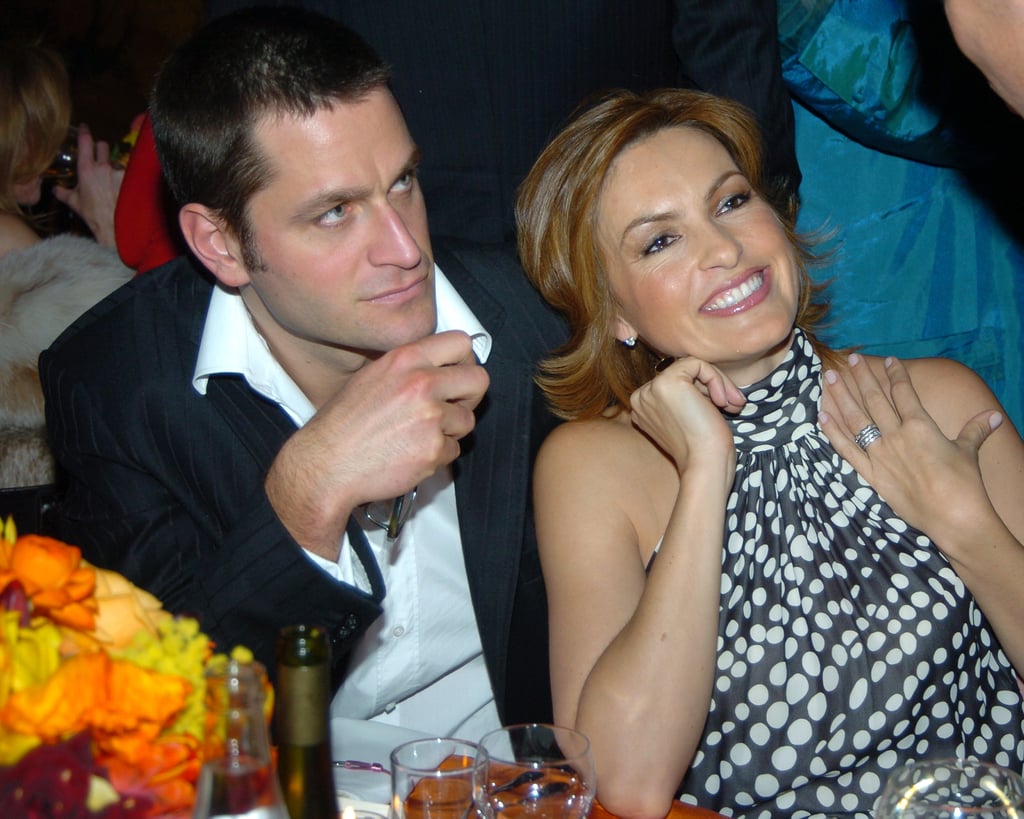 Hargitay first met Hermann in 2001 when he was cast in the recurring guest-starring role of Trevor Langan on "Law & Order: SVU." After filming wrapped, and following a conversation about religion, Hermann asked Hargitay on a church date. Hargitay told InStyle [8] that date was when she knew Hermann was the one. "I thought, 'That's my husband.'"
Aug. 28, 2004: Mariska Hargitay and Peter Hermann Tie the Knot

After three years of dating, Hargitay and Hermann said "I do" at a Santa Barbara chapel in August 2004. "I recited my vows so loudly, you could have heard them in Oregon, but Mariska's were quiet and small," Hermann shared with InStyle [9]. The "Younger" star later revealed in a 2019 interview with People [10] that he knew he wanted to marry Hargitay while at her 40th birthday party in January 2004.
"I actually saw Mariska with all of the people that she loved around her. It was like seeing this person who was now in the soil, that she was just dying to be planted in it. Right?" Hermann told People. "Which was this abundance of people and this abundance of love and I thought, 'I want to be part of that soil.' And that was the moment when I had not just parted the soil, but to be a lot of the soil. I think I got a look at what she is like when she is planted, when she is in the soil she's designed to be planted in. And I wanted to be that soil. Something like that!"
June 28, 2006: Mariska Hargitay and Peter Hermann Welcome Their First Child, August

After two years of marriage, the pair officially became parents! Hargitay and Hermann welcomed their son August via an emergency c-section on June 28, 2006. "Nobody wanted to be pregnant more than me," Hargitay told People [11] in 2007. "From the minute I found out, I was wearing full-on maternity pants."
April 2011: Mariska Hargitay and Peter Hermann Adopt Their Daughter, Amaya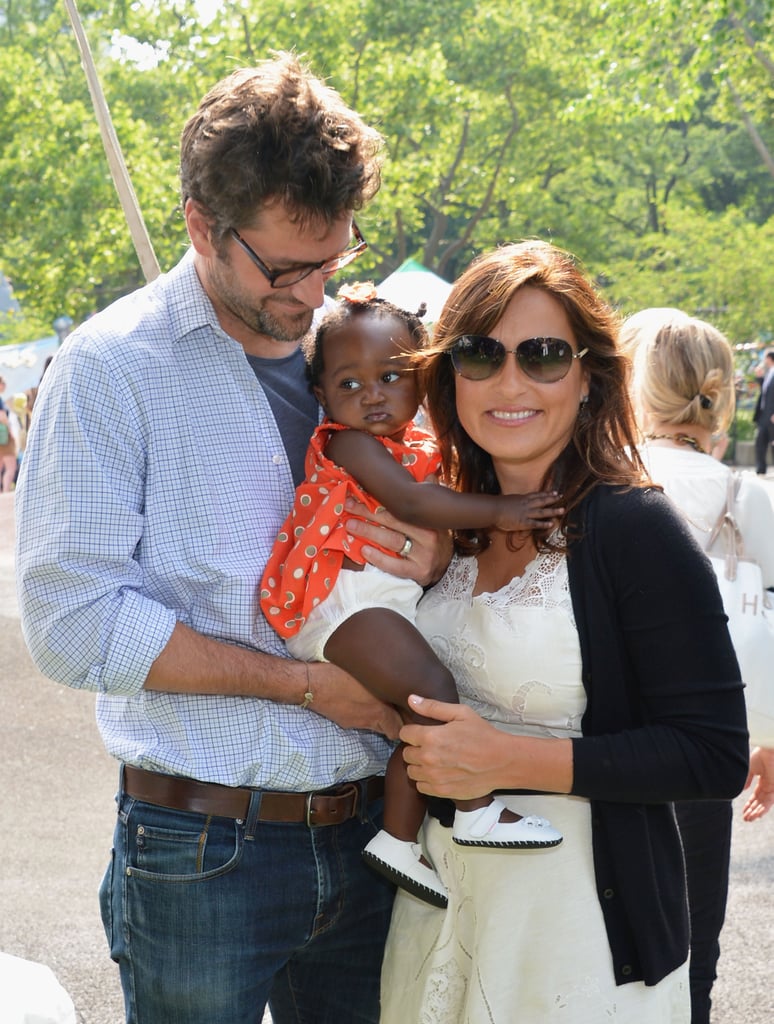 The couple officially adopted their daughter, Amaya, in April 2011. In an interview with People [12] that year, Hargitay revealed the pair was contemplating both international and domestic adoption and were ultimately just happy that they were able to welcome Amaya into their family. "From the minute she was born, she was just surprisingly alert and so full of love," shared Hargitay.
October 2011: Mariska Hargitay and Peter Hermann Adopt Their Son Andrew

Hargitay and Hermann adopted their son Andrew in October 2011, just months after adopting their daughter Amaya. In an interview with Good Housekeeping [13], the actress revealed the pair named Andrew after a close friend they'd lost earlier that year. She also shared that their oldest son, August, was beyond excited to be a big brother!
February 2018: Mariska Hargitay and Peter Hermann Promote Hermann's Book

Hermann released a children's book titled "If The 'S' In Moose Comes Loose," and his wife didn't hesitate to celebrate the moment. She gushed about his accomplishment in an Instagram post [14], calling him "My brilliant AUTHOR husband."
In an interview with Entertainment Tonight [15] that year, Hargitay and Hermann were asked if their children had watched either of their shows. Hermann shared that the kids were too young, but explained that that's one of the reasons he wrote his book.
"Why do you think I wrote it?" he said. "You can't watch the shows, but here is a really funny book that you get to watch!'" On a more sentimental note, Hargitay added, "It's hard to explain, but the point is for the kids to see the book and also to see their names in the dedication."
March 20, 2018: Mariska Hargitay and Peter Hermann Talk About Their Relationship

Hargitay and Hermann are a fairly private couple, but in March 2018, the couple opened up about their relationship in a joint interview with Entertainment Tonight [16]. When asked how they'd kept their relationship strong for over a decade, Herman explained, "There is no secret." He added, "It's fundamentals — kindness, listen well, and fight fair." The "Younger" star even referenced a lesson from their son's basketball coach, saying that relationships — like sports — require work on the foundation and fundamentals to thrive.
April 9, 2018: Peter Hermann Supports Mariska Hargitay at Her Documentary Screening

Hermann supported Hargitay [17] at a New York City screening of "I Am Evidence," a documentary about survivors whose rape kits went untested for years navigating the legal system produced by the "Law & Order: SVU" star. The pair coordinated their outfits, wearing all black and an "I Am Evidence" t-shirt under their blazers. The couple's close friend Debra Messing [18] ("Will & Grace") was also in attendance.
June 6, 2018: Mariska Hargitay Gushes About Peter Hermann

In a 2018 interview with Us [19], the decorated actress had sweet words about her husband. "I have an incredible support system with my husband," said Hargitay. "He's an actor, so he also understands." She stressed the importance of Hermann's support given her busy filming schedule, and praised him for helping her find a balance between work and home.
June 14, 2019: Peter Hermann Shares Never-Heard-Before Anecdotes About His Marriage

In an interview for People in 2019 [20], the couple credited laughter with keeping their relationship healthy. "It's the way we find our way back to each other," shared Hermann. His better half also shared a sweet anecdote about the early days of their relationship. "We got married and we knew that it was going to be good and I think we both knew, sort of, what we found. We sort of knew that we found the right one."
March 2, 2020: Mariska Hargitay and Peter Hermann Attend a Couples Choice Gala

Another rare red carpet appearance for the Hollywood pair! Hargitay and Hermann enjoyed a fancy New York City date night at the Atlantic Theater Company's 25th Anniversary Couples Choice Gala in March 2020. Other stars in attendance included Ted Danson ("The Good Place"), Rose Byrne ("Bridesmaids", "Neighbors"), and Hargitay's "Law & Order: SVU" co-star Christine Lahti.
August 2020: Mariska Hargitay and Peter Hermann Celebrate Their 16th Wedding Anniversary
Hargitay celebrated her and Hermann's 16th wedding [21] anniversary with a throwback photo on Instagram [22]. "Thank you for all your beautiful wishes for our 16th wedding anniversary," the actress wrote. "In this time of so much uncertainty, this sure feels good. #Sweet16."
July 2, 2021: Mariska Hargitay and Peter Hermann Attend a "Black Widow" Screening
The couple attended a Hamptons screening of "Black Widow," starring Scarlett Johansson [23], together in June 2021. And although the Marvel film is an action-thriller, most of the commotion happened for the couple after the showing — Hargitay fell and broke her ankle while leaving! A source told Page Six [24] that Hermann was by her side the entire time, including with her in the ambulance as they rushed to Southampton Hospital.
Oct. 21, 2021: Mariska Hargitay Celebrates 500 "Law & Order: SVU" Episodes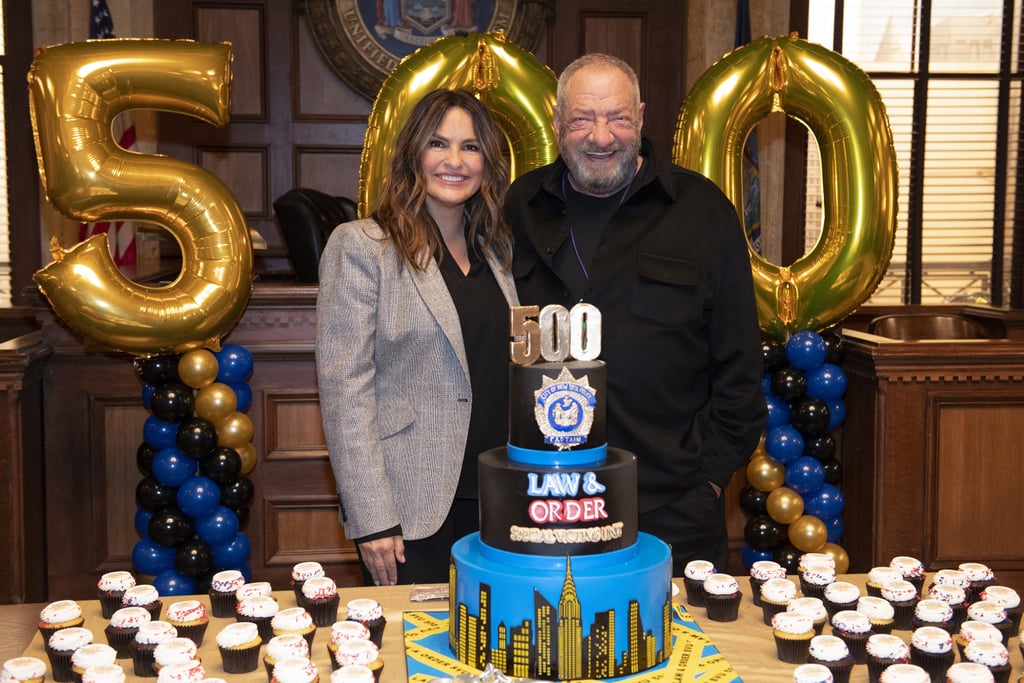 When Hargitay celebrated her 500th episode as Olivia Benson on "Law & Order: SVU," Hermann congratulated her publicly. "You're at 500 episodes tonight," he wrote on Twitter [25]. "You astonish me. We met in episode 54. Best 447 episodes of my life. Congratulations, you beautiful life force. I love you. #SVU."
Nov. 9, 2021: Mariska Hargitay Accepts the Women of the Year Award With Peter Hermann's Support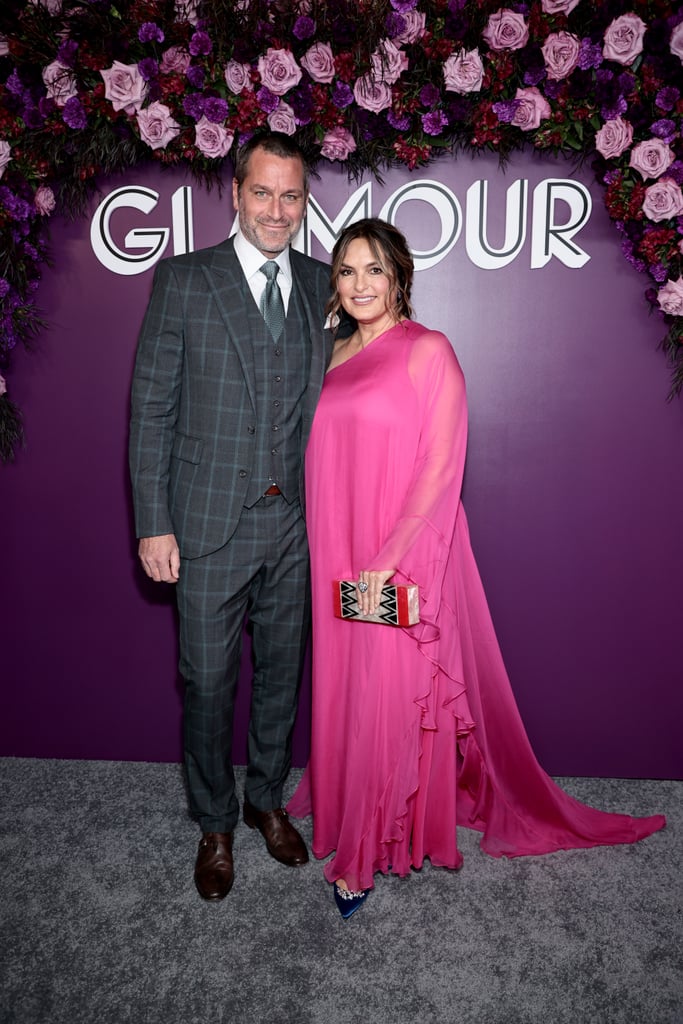 The couple rarely attends red carpet events, but Hermann attended the 2021 Glamour Women of the Year Awards in support of his wife! Hargitay was among the handful of 2021 inductees, an honor she shared with fellow celebrity Megan Thee Stallion. During her feature interview with Glamour, she spoke about her legendary role as Olivia Benson in "Law & Order: SVU." "My personality is very different from Olivia Benson," she said [26]. "I like to laugh…. I like to make my kids laugh. And comedy has a real currency in our household."
Aug. 29, 2022: Mariska Hargitay and Peter Hermann Celebrate Their 18th Wedding Anniversary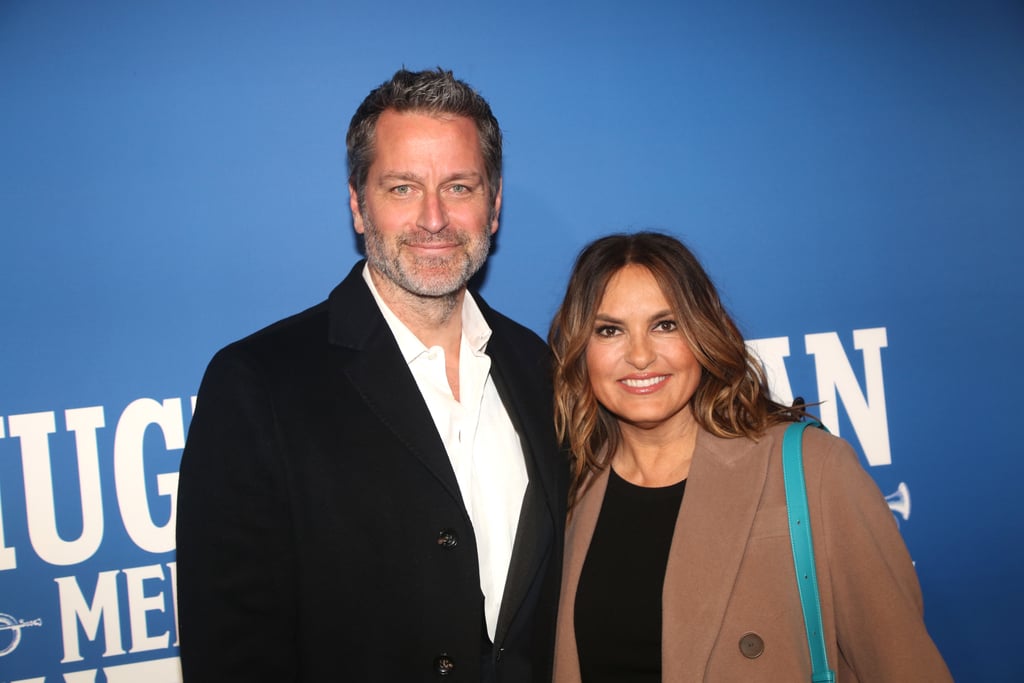 In honor of their 18th wedding [27] anniversary, Hargitay shared an old black-and-white photo on Instagram [28] of the couple all smiles at their ceremony. "Eighteen years. Grateful. In love. Together," she wrote in a caption. In her post, the "Law & Order: SVU" star also included a more current black-and-white photo of the couple cozied up on a boat.