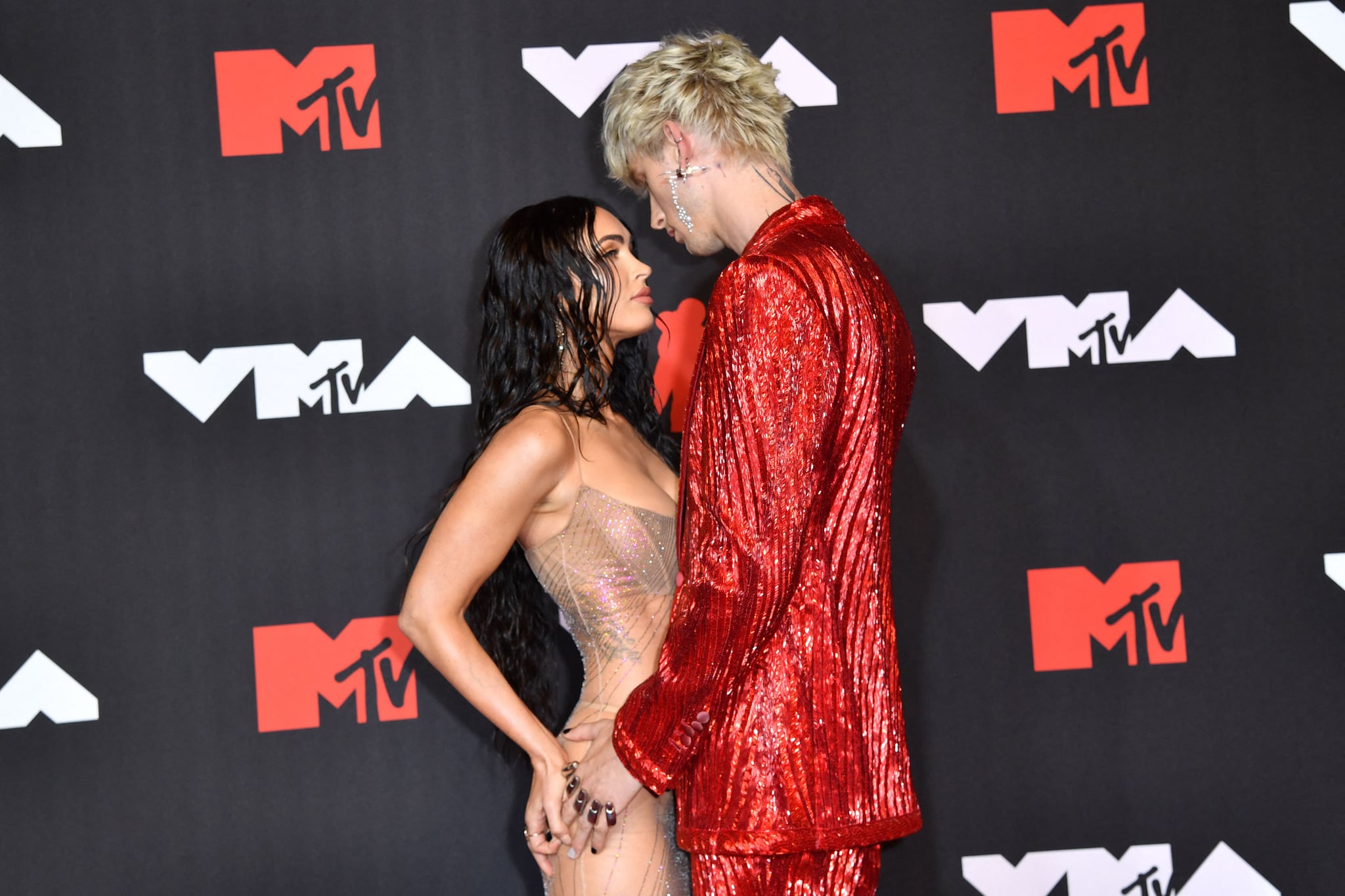 Megan Fox is opening up about her relationship with Machine Gun Kelly. But first, she wants to get one thing out of the way: yes, they occasionally drink each other's blood. In a candid interview for the April 2022 issue of Glamour [1], the actor spoke about her career, family, and whirlwind romance, elaborating on the headline-making detail she slipped into her engagement announcement.
Kelly proposed to Fox [2] in January with a magnetic two-stone engagement ring [3] after a year and a half of dating. "Just as in every lifetime before this one, and as in every lifetime that will follow it, I said yes," Fox wrote at the time, adding, "And then we drank each other's blood." When asked to clarify, Fox confirmed they did drink each other's blood, although not the "goblets" people might imagine. "It's just a few drops," she said. "But yes, we do consume each other's blood on occasion for ritual purposes only."
"We do consume each other's blood on occasion."
Fox described her approach to the ritual as methodical. "I read tarot cards and I'm into astrology and I'm doing all these metaphysical practices and meditations. And I do rituals on new moons and full moons, and all these things. And so, when I do it, it's a passage or it is used for a reason," she said. Kelly, on the other hand: "He's much more haphazard and hectic and chaotic, where he's willing to just cut his chest open with broken glass and be like, 'Take my soul.'"
Fox has a similar spiritual perspective on her first time meeting Kelly [4] while filming "Midnight in the Switchgrass" in 2020. Kelly was apparently about to pull out of the movie until several members of his inner circle reminded him he would be working with Fox, who says she felt strangely called to do the movie. In fact, when Fox first heard Kelly had been cast, she looked him up and thought, "Oh, I'm going to be in so much trouble."
Fox said Kelly is a manifestation of her "exact physical type," as well as her twin flame, like Pamela Anderson and Tommy Lee or Kurt Cobain and Courtney Love. "I think when you find people that come together whose souls have known each other, who have travelled here to do this again, there's something undeniable about that," she said.
The couple haven't set a date yet for their upcoming nuptials [5], but a few things are certain: the decor will have gothic flourishes, and Pete Davidson will be a groomsman [6].