The Surprising Places the Queen and Prince Philip Have Spent Their Wedding Anniversaries
Seventy years of marriage is no small feat, but after four children, eight grandchildren, five (soon six) great-grandchildren, and 65 years of duty, the queen and Prince Philip celebrated their platinum wedding anniversary on Nov. 20. Those 70 years of marriage mean not just a lifetime of devotion, but a whole lot of anniversaries, and looking back gives some fascinating insights into what was happening in the royal couple's lives at the time.
Some years they were required to show their faces at big public events that were beamed around the world, and other times they have been able to escape the spotlight and celebrate their romance in private. From an airport hanger in the far north of Scotland to a tiny Indian village, from a glittering ball in Ghana to shuttling through the English countryside on the royal train, there have been many different ways the pair have marked their wedding day, including formal luncheons, religious services at Westminster Abbey, and romantic getaways, while twice the queen was pregnant and once she was nursing a 6-day-old Prince Charles. Keep reading to see all the unique ways they've celebrated the big day.
1948
The then-Princess Elizabeth and her husband Prince Philip celebrated their first wedding anniversary with their 6-day-old son Prince Charles. Despite their status and family wealth, the couple faced similar circumstances to many other newlyweds, and while they were waiting for their new home to be refurbished, they were staying with family — although, in their case, family was the king and queen, and their temporary apartment was in Buckingham Palace.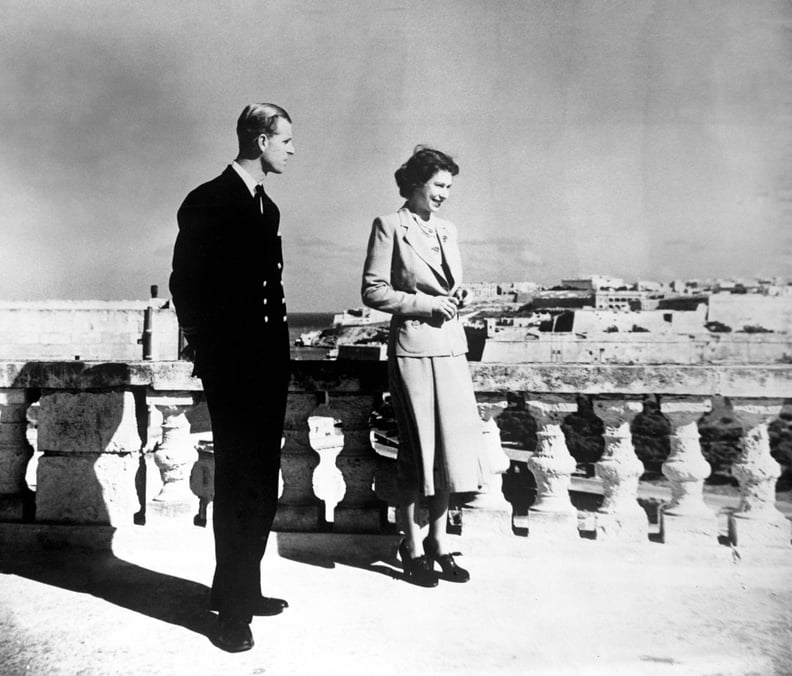 1949
Prince Philip was serving with the Royal Navy, and at the time of their second wedding anniversary, he was stationed on the Mediterranean island of Malta. Although the princess had been undertaking royal duties in the run-up, on the day of their anniversary, she flew to be by his side and they stayed at the beautiful Villa Guardamangia overlooking Marsamxett Harbor. Princess Anne was born nine months later.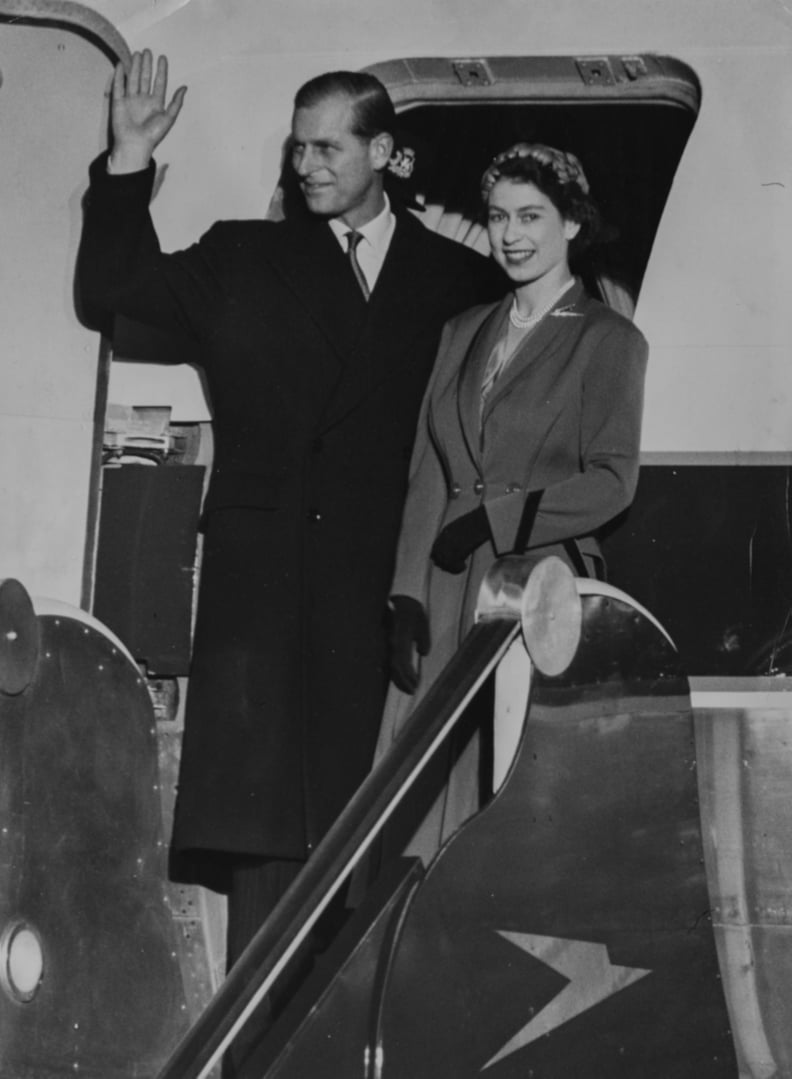 1953
It was only the couple's fifth anniversary, but so much had changed since their wedding day. Not only had they become parents twice over, but the the princess was now queen, and after an anniversary party was thrown by her mother, Elizabeth and Philip set off on a mammoth six-month royal tour of the Commonwealth.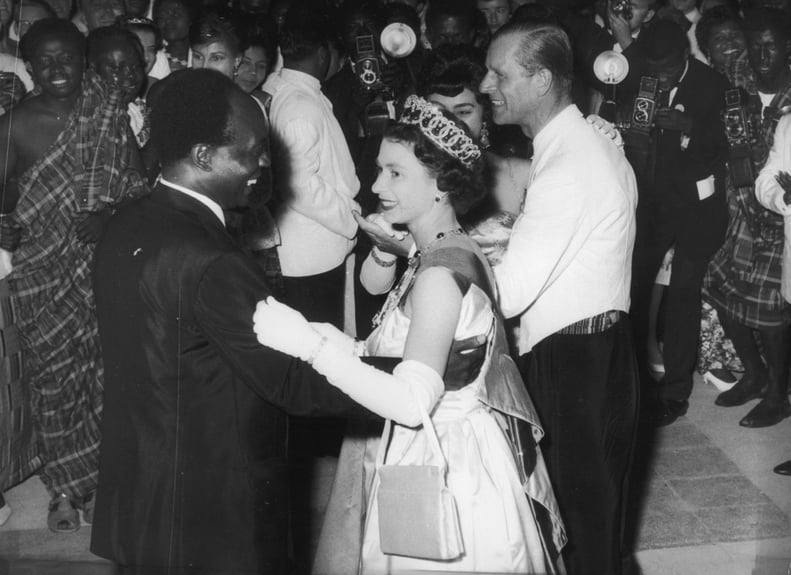 1961
The queen and Prince Philip were supposed to visit the African nation Ghana in 1959, but it needed to be postponed because she was entering the third trimester of her pregnancy with Prince Andrew. When the royal couple finally visited in the Fall of 1961, their 14th wedding anniversary fell on they day of a farewell ball held at State House in Accra, where the queen danced with President Kwame Nkrumah.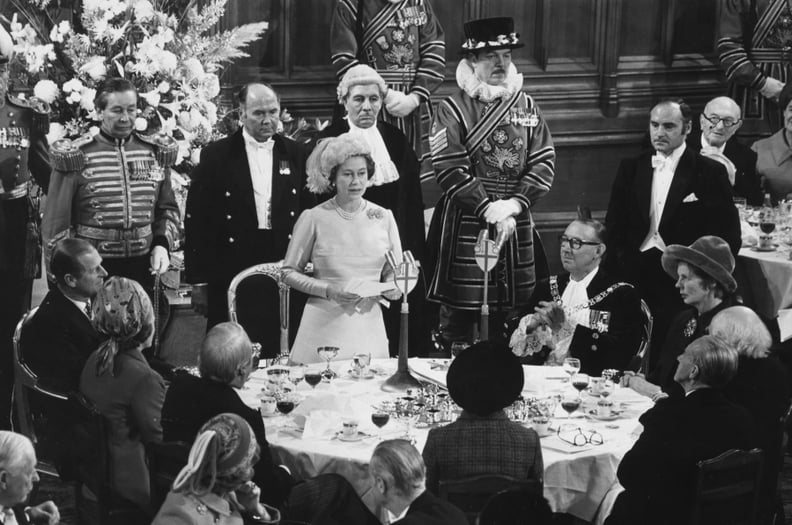 1972
The queen and Prince Philip's silver wedding anniversary was marked with a jam-packed schedule of very public engagements. First came a service of thanksgiving at Westminster Abbey, which is where the couple had exchanged their wedding vows 25 years earlier. They then moved on to a luncheon thrown by the City of London in the Guildhall that was attended by Prime Minister Edward Heath as well as the Lord Mayor of London and the Archbishop of Canterbury, at which the queen gave a speech. Then, in the evening, the couple attended a lavish party at Buckingham Palace, where the queen accessorized her silver gown with a crown and lashings of priceless diamonds.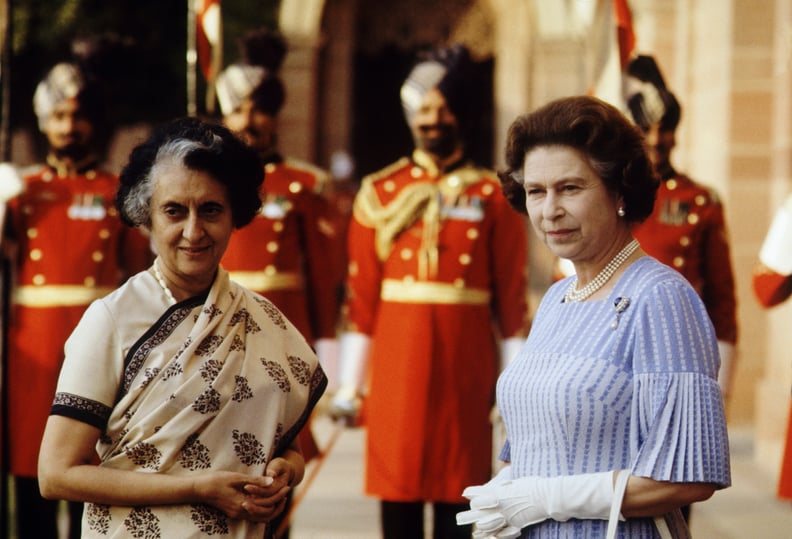 1983
The day of the couple's 35th wedding anniversary fell in the middle of a state visit to India, and they spent it in a tiny village called Devar Yamjal.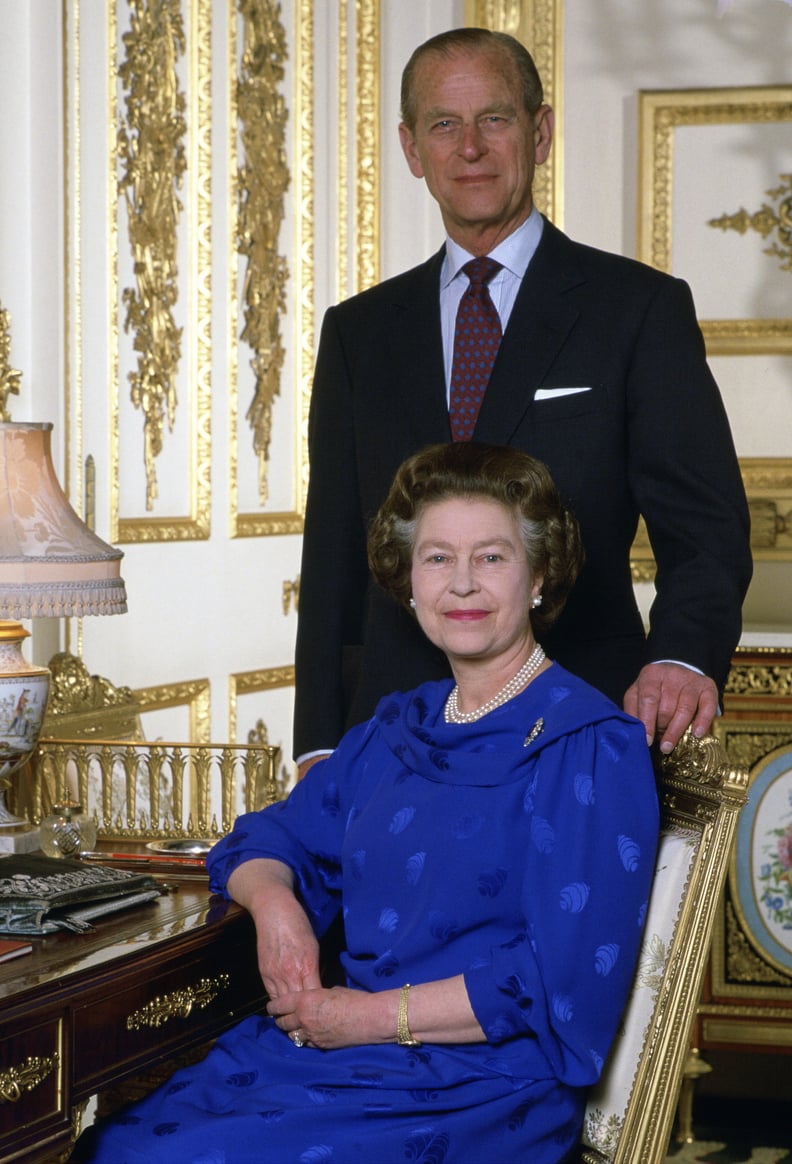 1987
While most of the queen and Prince Philip's key anniversaries have been marked with church services and glamorous parties, their ruby celebration (40 years) was low-key and private. They released an official portrait which was taken in their drawing room at Windsor Castle and spent the day privately at the country estate of some old friends just outside London.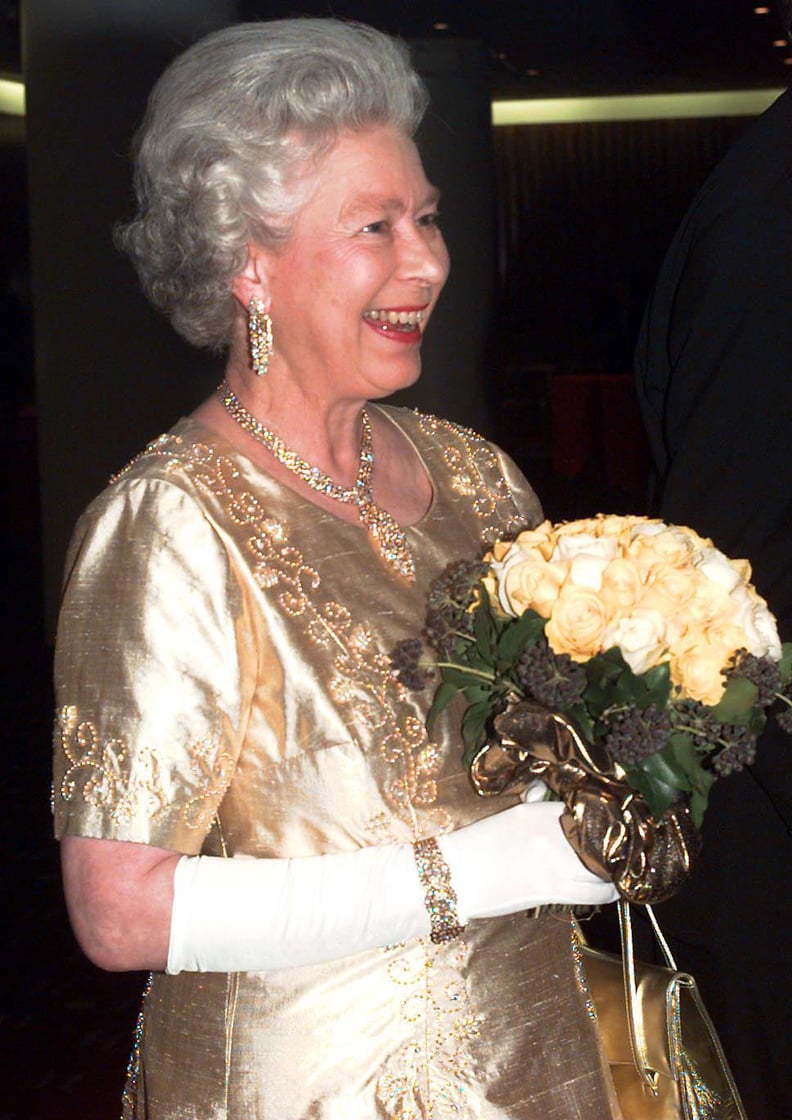 1997
As befitting 50 years of married life, the couple's golden wedding anniversary was appropriately big, bold, and blinged out. The night before, there was a Royal Gala Concert where the queen dressed in gold silk from head to toe and dripped with golden jewelry.
On the morning of their big day, they attended a service of thanksgiving at Westminster Abbey and were joined by the largest gathering of royalty since the queen's coronation back in 1953 (including seven kings, 10 queens, 26 princes, and 27 princesses), as well as 10 other couples who had married on the exact same date as the queen and Prince Philip.
Afterward, the royal couple attended a drinks reception at Number 10 Downing Street with Prime Minister Tony Blair before moving on to a "people's lunch," which was attended by individuals from all walks of life — on the queen's table were a policewoman and a worker from a car plant. The queen gave a speech where she paid tribute to the global changes that had taken place in the 50 years since she married, musing, "What a remarkable 50 years they have been. Think what we would have missed if we had never heard the Beatles or seen Margot Fonteyn dance, never have watched television, used a mobile phone or surfed the net. Or, to be honest, listened to other people talk about surfing the net." To round off the day, the couple attended a private party at Windsor Castle with their friends and family.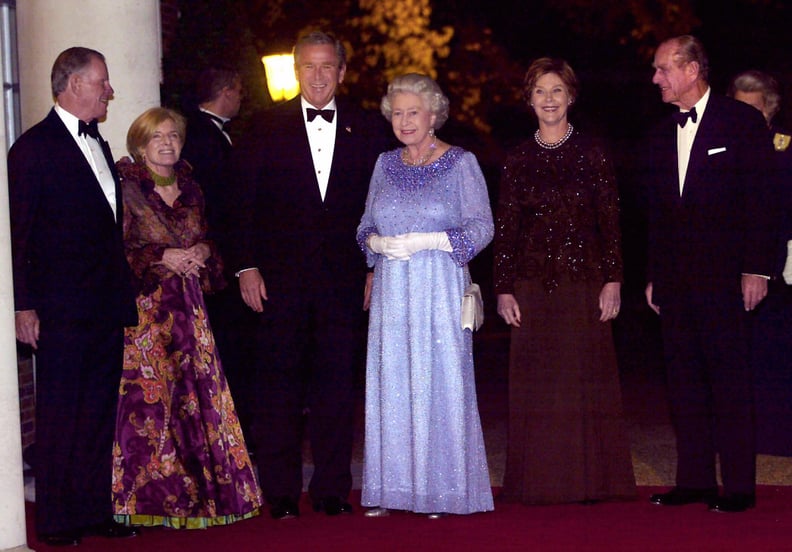 2003
On their 56th wedding anniversary, it was all about the work, as they were slap bang in the middle of a state visit from US president George W. Bush. The queen and Philip accompanied the president and First Lady Laura Bush to a banquet hosted by the US ambassador at his London home.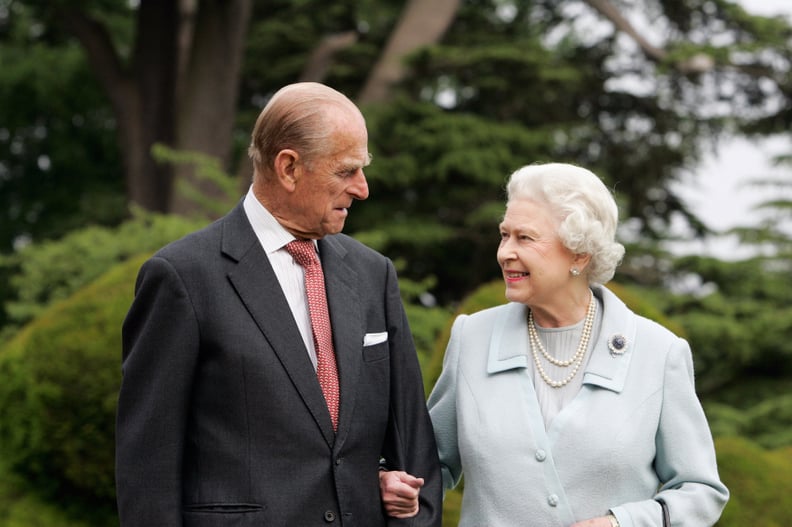 2007
Marking an amazing 60 years, the queen and Prince Philip returned to the English estate of Broadlands, where they spent their honeymoon, in order to pose for a set of commemorative photographs. Two days before their anniversary, Prince Charles hosted a special family celebration dinner at his home Clarence House, and the day before their anniversary, there was a service of thanksgiving at Westminster Abbey. Once again, 10 couples attended who shared the exact same wedding day and five choristers sang who had also been in the choir at the royal wedding back in 1947. Prince William gave a reading, and Dame Judi Dench read the poem Diamond Wedding, which had been written especially for the occasion by Poet Laureate Andrew Motion.
The celebrations were all held before the queen and Prince Philip's actual anniversary because on the day itself, the couple, who never take overseas vacations, went on a little mini break. They returned to Malta, where they had spent carefree time as newlyweds.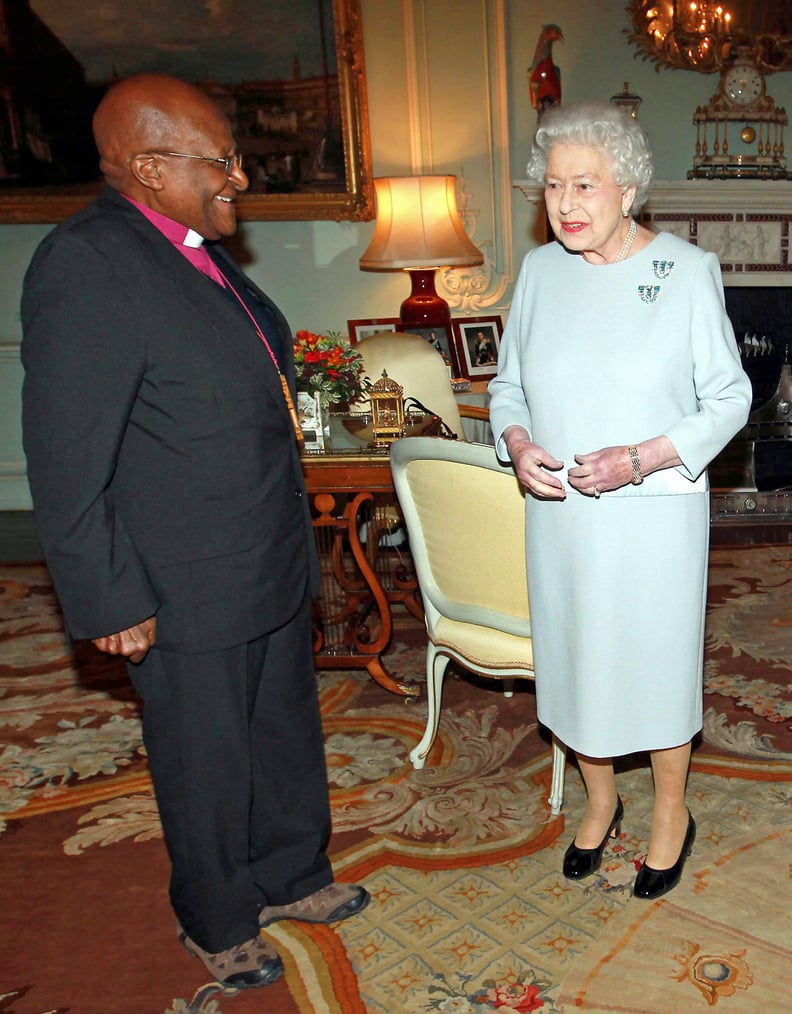 2013
On the occasion of the queen's 66th wedding anniversary, it was all about the day job, and her majesty hosted South African Reverend Desmond Tutu at Buckingham Palace.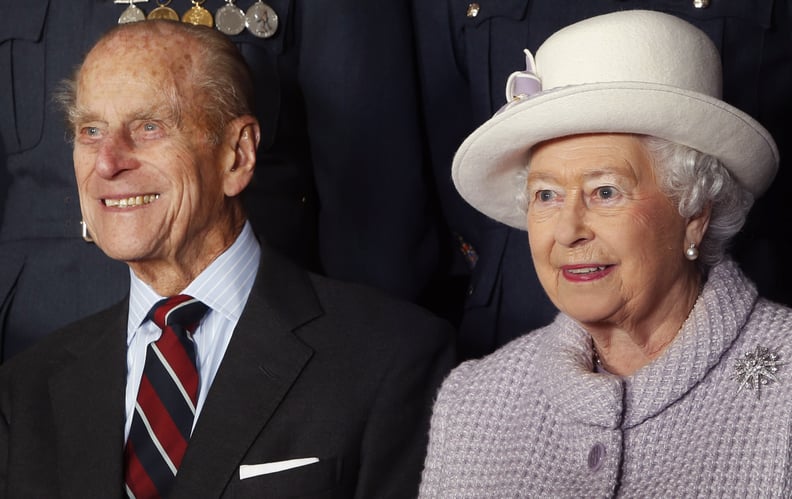 2014
The queen and Prince Philip saw in their 67th wedding anniversary aboard the royal train as they headed from London to an official engagement at the tip of northern Scotland. At the little fishing town of Lossiemouth, they were greeted by a parade inside an aircraft hangar and treated to a flyover from two Typhoons and a Tornado jet.