Robin Wright Touts the Benefits of Divorce and Zumba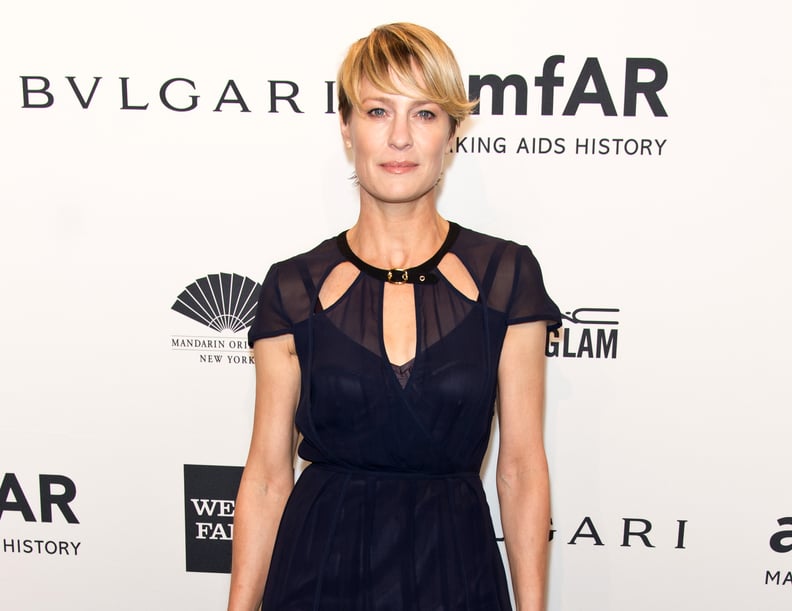 Robin Wright gave a revealing interview to the UK's Telegraph this week, sharing details on everything from her divorce from Sean Penn to her relationship with fiancé Ben Foster. The normally private House of Cards star also expressed excitement over her "surreal" Golden Globe Award win in January, saying, "I got into the business of acting in order to move and touch people, and I think the award means that I'm succeeding at that."
After finding fame in the '80s and '90s with roles in The Princess Bride and Forrest Gump, Robin stepped out of the spotlight in order to focus on being a wife — to fellow actor Sean Penn — and mother to their two kids, Dylan and Hopper. Robin and Sean were together for 20 years before their final split in 2010, and in her Telegraph sit-down, Robin called the breakup "devastating," adding, "Divorce in and of itself, and with children, is devastating. Worse than that. One of the reasons why we got back together and broke up so much was trying to keep the family together. If you've got kids, it's a family, and you try again, and you try again. We did that for a long time."
Keep reading for more candid quotes from Robin Wright's Telegraph interview.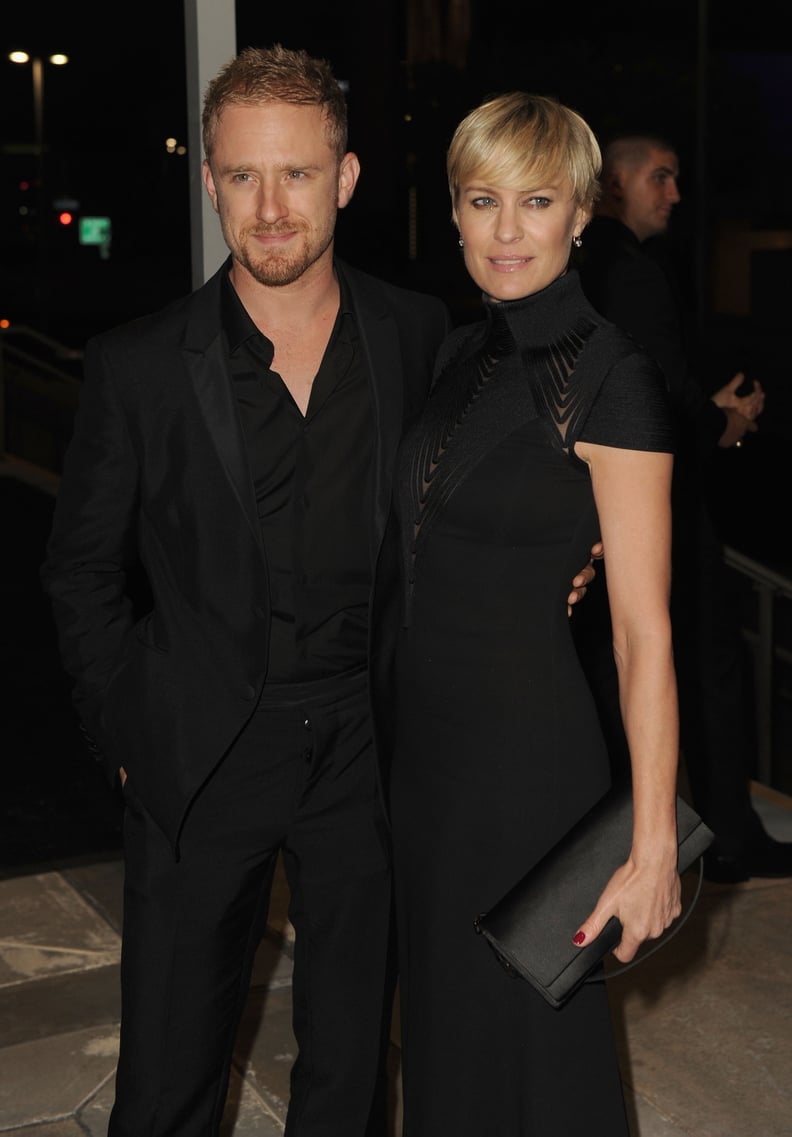 On her relationship with 33-year-old actor Ben Foster: "Ben and I have a connection between us that just feels right. I don't know any other word for it. It's surreal. [The proposal was] such a shock. But we felt married anyway. We've been together ever since the first date."
On their first date at a poetry recital: "I'd never, ever been asked out on a date before. Never. I was frickin' married my whole life, and even before that I hadn't been asked out."
On the couple's matching tattoos (Robin has a small letter "B" on the third finger of her left hand: "Ben has an 'R' tattoo in the same place. I've been so antitattoos my whole life. But doing this felt right because we're not that traditional."
On winning the Golden Globe for best actress in a television drama series: "I am still in shock. I didn't prepare a speech, because I truly thought, 'There's no f*cking way. There's no way I'm going to be up there.' Even when I heard my name, my first instinct was, 'They've got it wrong.'"
On her role as Claire Underwood on the Netflix drama House of Cards: "I don't see Claire as cruel. I see her as calculating. She's a businesswoman. If you get in her way, or you mess up, or you're late for work, you're out. Sorry. That's just the way that CEOs run their companies. That's why they're successful."
On working with Kevin Spacey on the show: "We just have so much fun together. Sometimes we have to take breaks because we are giggling so much, and the makeup gals have to dry my tears and redo the makeup."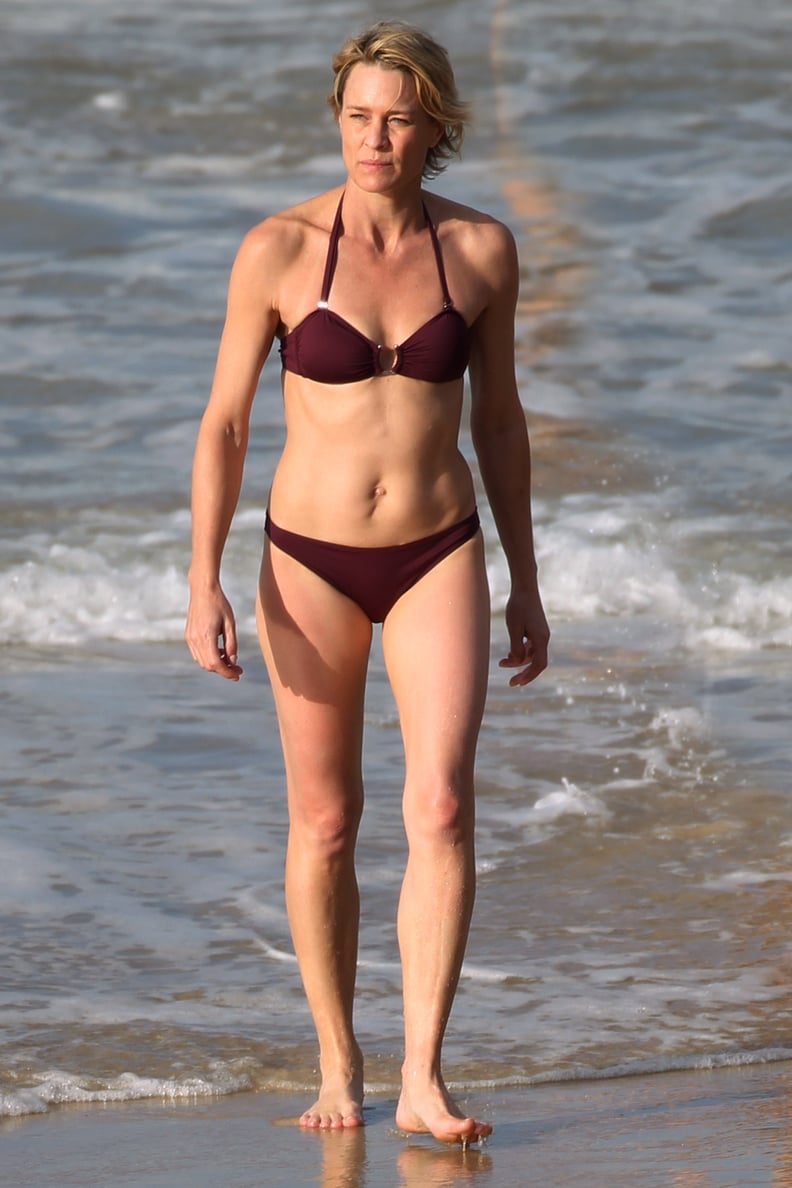 On staying fit: "Oh my God, Zumba is the greatest invention ever for women. I like to exercise, though I do nothing consistently because I get bored and impatient. With Zumba, you're dancing, you're moving your hips. So much fun."
On Botox: "You bet. Everybody f*cking does it. I suppose I can't say 'everybody' because I don't know for sure, but come on. . . . It's just the tiniest sprinkle of Botox twice a year. Perhaps it's not wise to put that in a magazine? But I ain't hiding anything."