Divorce Is Messy, but Royal Divorces Are Even Messier — Here's Why
Divorce is a fact of life. Sometimes, marriages just don't work out, and in modern times, couples are generally able to split when they realize that, to pursue happiness elsewhere. But if you're a member of the royal family, it's a little more complicated than that. Royal divorces often present their own set of challenges, both in terms of royal precedence and tension between the church and civil decisions.
To begin with, royal divorce is a pretty new thing. When Princess Margaret divorced her husband, Antony Armstrong-Jones, the Earl of Snowdon, in 1978, it was the first divorce for a senior member of the royal family since Princess Victoria, a granddaughter of Queen Victoria, got a divorce from her first husband, Ernest Louis, in 1901. In the years since, however, royal divorces have slowly become more commonplace. In fact, three of the queen's four children divorced their first spouses: Prince Charles and Diana Spencer in 1996, Prince Andrew and Sarah Ferguson in 1996, and Princess Anne and Mark Phillips in 1992.
Royal divorce, in its fundamentals, is no different than civilian divorce: the parties agree to divorce, make a settlement, and sign papers. Since the royal family (and the sovereign in particular) is so closely affiliated with the Church of England, however, royal divorces are a bit more of a scandal. The Church of England does not approve of divorce, nor does it generally look kindly on remarriage when one's former spouse is still alive. This is why, for instance, Princess Margaret's divorce nearly cost her many of her royal privileges.
There is no official rule that requires the monarch to approve of royal divorces as she must approve of marriages, but as the head of the family, the queen has generally been involved in some way when members of her family have gotten divorced. Most notably, she wrote letters that ordered Charles and Diana to divorce after their separation turned into an ongoing series of scandals and media leaks.
The negotiation of titles for divorced ex-royals is also a matter that involves the queen. After Charles and Diana's divorce, for instance, the queen was willing to allow Diana to maintain the style of "Her Royal Highness," as she had during her marriage. Charles reportedly refused, which led to the compromise: Diana would be styled "Diana, Princess of Wales," but would not receive the precedence of an HRH. A similar settlement was reached when Andrew and Fergie finalized their divorce: she no longer had an HRH title, but was styled "Sarah, Duchess of York" and continues to use that title to this day. A divorced royal who kept their title in this way, however, would lose that title should they remarry.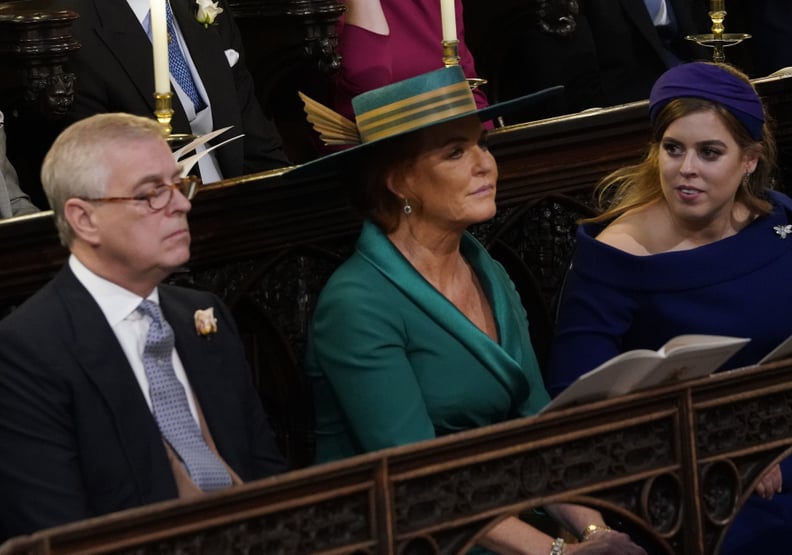 Remarriage itself is a tricky topic connected to royal divorces. Again, because of the disapproval of the Church of England, remarriages of divorced royals walk a delicate line. When Princess Anne married her second husband, Timothy Laurence, in 1992, she chose to be married in the Church of Scotland instead, a sister denomination that does not view marriage as a binding sacrament and thus permits remarriage. The queen was able to attend this service, since it did not require her to set aside her role as head of the Church of England.
Charles's remarriage to Camilla Parker Bowles, however, was technically a civil ceremony, followed by a "blessing," and the queen did not attend the civil ceremony (only the less formal blessing). The rules against divorced people marrying into the royal family — as viewers of The Crown know, the rule that doomed Princess Margaret's romance with Peter Townsend — is no longer a stumbling block, and the welcome that Meghan Markle got is proof of that.
Royal couples who divorce are definitely more common than they used to be, but the process still requires some careful planning to address issues of religion and public perception alike.