Timothée Chalamet's Love For Best Friend Saoirse Ronan Knows No Bounds: "She Is Like a Superhero"
At only 24 years old, Timothée Chalamet has reached a level of superstardom typically reserved for boy bands with starring roles in Call Me By Your Name, The King, Little Women, and the upcoming Dune. In the cover story for GQ's November issue, Timothée discussed his meteoric rise to fame, along with some lovely anecdotes about and from his costar/friend, Saoirse Ronan. If hearing him talk about his adorable friendship with Saoirse isn't enough for fans, the notoriously private Timothée briefly spoke about his romance with ex-Lily-Rose Depp and those paparazzi photos of them kissing in Capri, Italy last year. Plus, most of Timothée's interview took place at a secluded cabin in Woodstock, so just imagine you're there while reading the quotes ahead.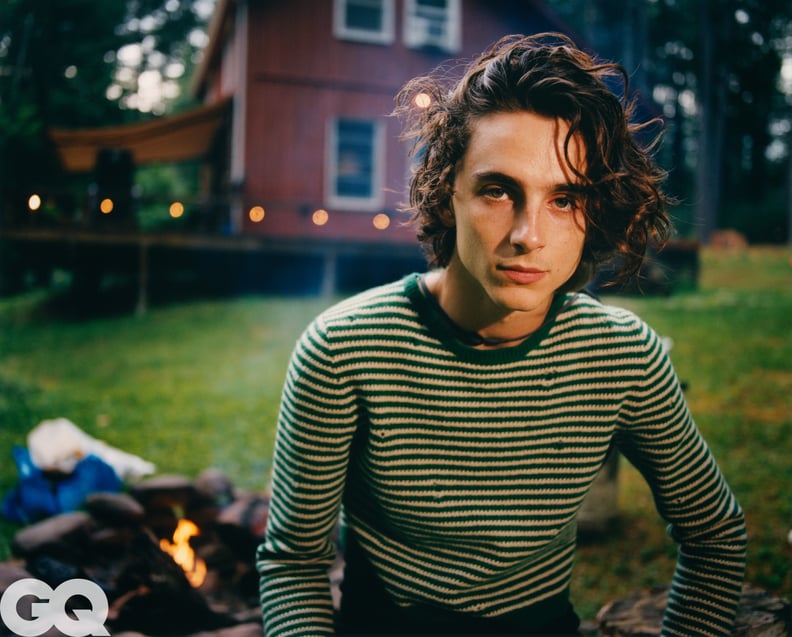 Timothée on his friendship with Saoirse: "She is like a superhero when it comes to this sort of thing, going through it so healthy — with the asterisk being excellent work across the board and four Oscar nominations. I think her, like, DNA of self is really morally right. Saoirse's one of my best friends in the world — at least I think we're best friends. And she's never judged me for . . . the Coachella of it all."
Saoirse on her friendship with Timothée: "I'm very used to answering questions about Timothée's hair from 15-year-old girls . . . We've weirdly gone through this together for the last few years. We've both become more accessible . . . I know that ultimately what he wants is to be good at his job. And that will always steer him on the right path. I've always let him know, and he's always let me know, we can talk to each other, and we do. He has good people around him, and I'm one of them, and Greta as well — we all kind of look out for one another."
Timothée on his the infamous boat pics with Lily-Rose: "I went to bed that night thinking that was one of the best days of my life. I was on this boat all day with someone I really loved, and closing my eyes, I was like, indisputably, 'That was great.' And then waking up to all these pictures, and feeling embarrassed, and looking like a real nob? All pale? And then people are like: 'This is a P.R. stunt.' A P.R. stunt?! Do you think I'd want to look like that in front of all of you?!"
Zendaya on working with Timothée: "He really is so much fun to be around. We have very similar humor, and we can keep a joke going for a long time, but when the cameras start rolling and it's time to work, you can see it's game time, and he just taps into this brilliant intensity. It's awesome to witness."