Your Guide to Acting Properly Around Queen Elizabeth II
Not everyone gets a chance to meet the British royal family, so if you ever find yourself in the same room as Queen Elizabeth II, it's good to know how you should behave. While no one, including British subjects, are dictated by law to act a certain way around the royal family, most people adhere to royal protocol, which is a set of social rules that were set up to organize how the family interacts with members of the public. Keep reading to make sure that you'll know what to do if you ever get your chance to shake hands with the queen, and don't forget to check out the many famous faces that have met the royal family.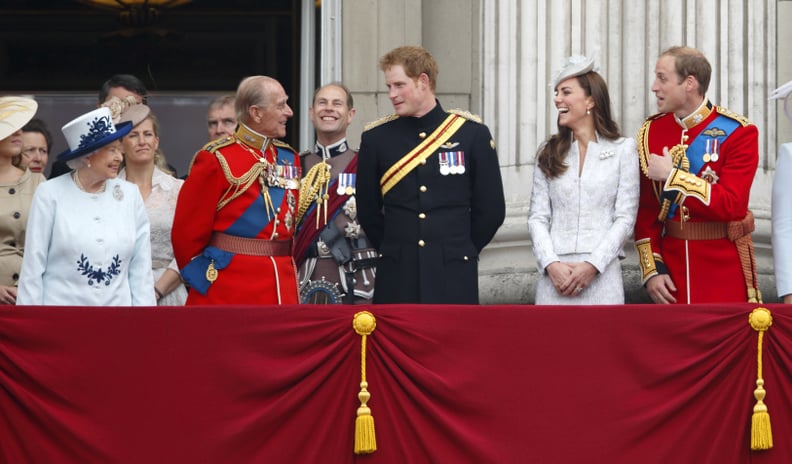 What Should I Call Them?
The Queen: When you first greet the queen you should refer to her as "Your Majesty," and then call her "ma'am" from then on.
Other royals: If a royal has "HRH" or "His/Her Royal Highness" honorifics before their name, they should be referred to as "Your Royal Highness" when you first greet them and then either "sir" or "ma'am" moving forward. This applies to most high-profile royals like the Duke and Duchess of Cambridge, Prince Philip, Prince Charles, and Prince Harry.
By law, the HRH honorific only applies to daughters and sons of the sovereign and all legitimate male grandchildren. That means that royals like Zara Phillips and Princesses Beatrice and Eugenie do not necessarily need to be addressed by the "Royal Highness" title. However, they typically are referred to by HRH, including on the royals' official websites, so, to play it safe, you can call them "Your Royal Highness" if you want to be super traditional.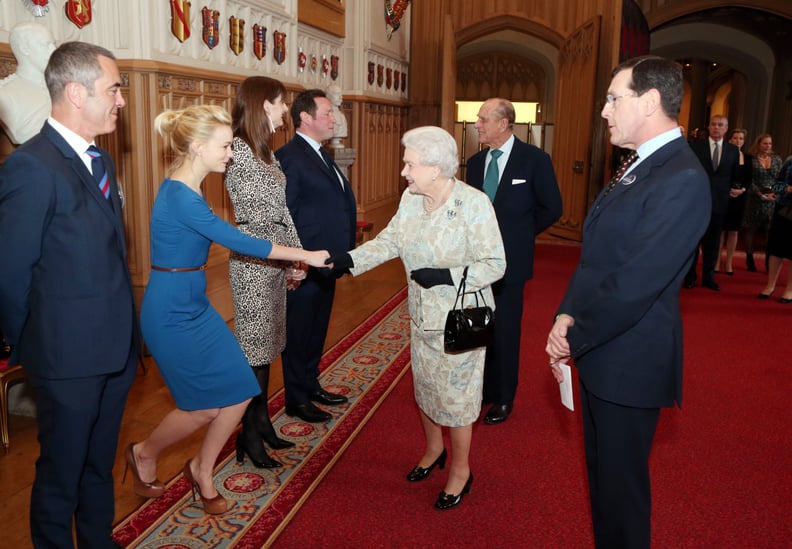 Should I Curtsy or Bow?
No one, including British subjects, are obligated by law to curtsy or bow to the queen. However, British subjects who want to keep with tradition and/or show respect to the royals may either curtsy or bow to them. A good rule of thumb is to keep it short and sweet, with a small, not-too-deep curtsy from women and a short bow (from the head only) from gentlemen. If you are a member of one of the Commonwealth realms (ex: Australia, Canada, Jamaica, etc.) you can also greet the queen with a curtsy or a bow. However, Americans should not feel obligated to curtsy or bow as they are not subjects of the queen. There are some Americans who feel the need to show respect to the queen with slight curtsy for women and a small, head-only bow for men, but it is completely unnecessary in terms of protocol. Trust us, no member of the royal family will be expecting any American to do anything other than shake their hand.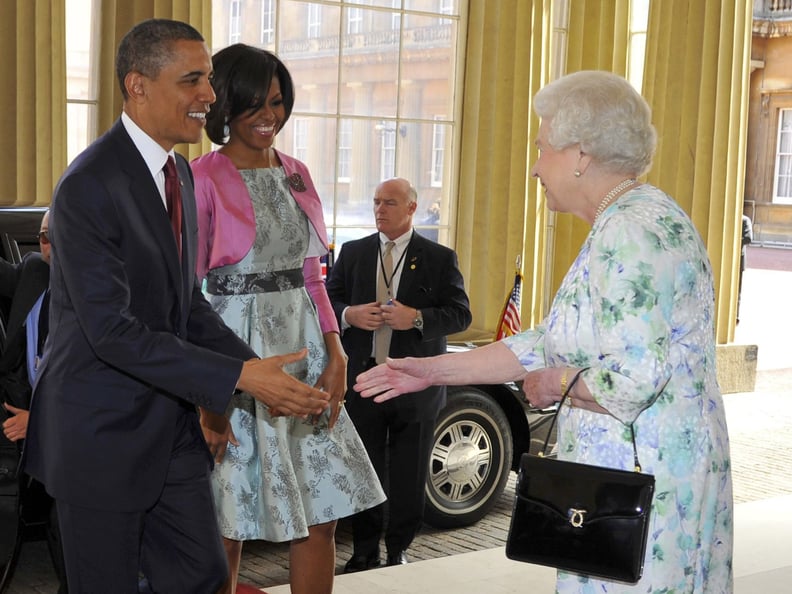 About That Handshake . . .
No matter what country you are from, you shouldn't offer your hand to the queen to shake. Instead, you should wait for her to offer her hand to you, and then you should give her a very brief (and not too firm) shake. Aside from this handshake, there should be no touching of the queen at all — remember when everyone freaked out about First Lady Michelle Obama placing her hand on the queen's back? By the way, this goes for all members of the royal family, so save that hug that you've been dying to give to Kate Middleton for a different time.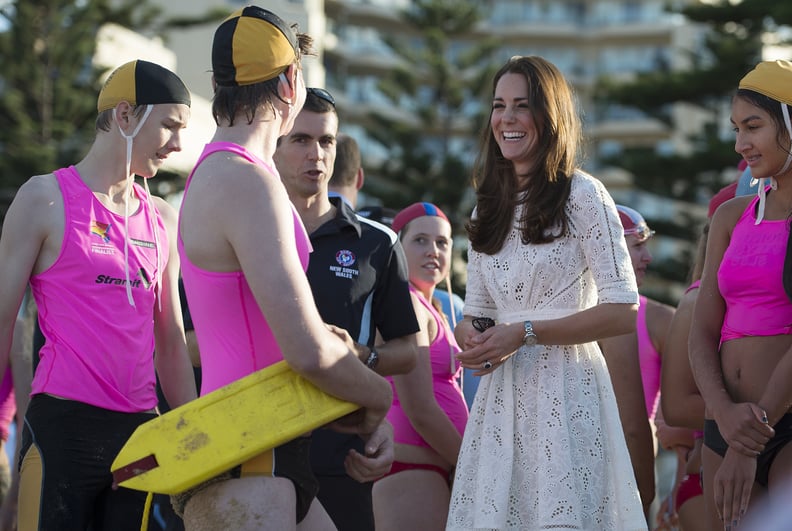 OK, So What Do We Talk About?
A good rule of thumb is to treat any member of the royal family as you would if you were meeting your significant other's parents for the first time: avoid controversial topics, keep saucy jokes to yourself, smile and be pleasant, and don't dominate the conversation. People who meet the queen and high-ranking members of the royal family are usually told beforehand that they shouldn't ask the royals direct questions and instead let them guide the conversation. Keep in mind that the royals know protocol better than anyone else, so, if you are in a pinch about what to say, just follow their lead. And, while it may be a natural response, don't say "It's nice to meet you" to the queen — trust us, she knows it's nice to meet her!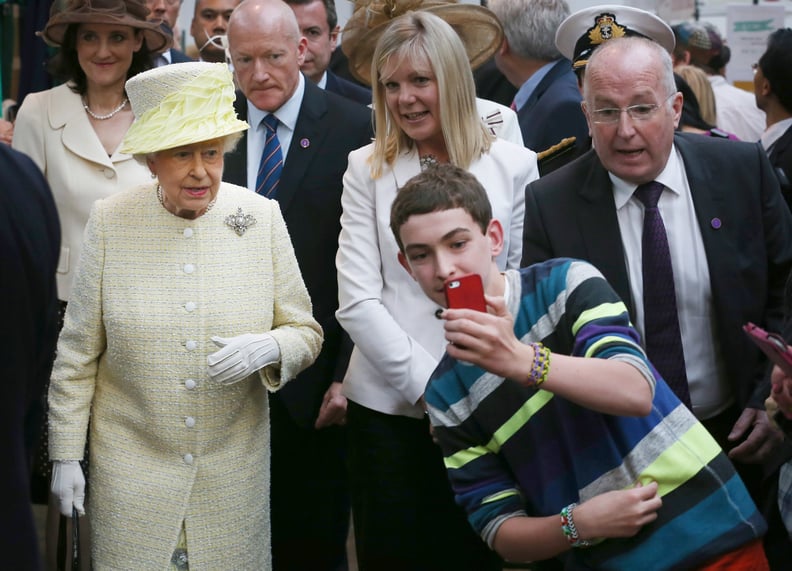 Can I Ask For a Selfie?