Everyone Missed the Real Point of Kanye West's VMAs Speech
Kanye West was the video vanguard recipient at this year's MTV Music Video Awards. In light of Beyoncé's transcendent performance from last year and Kanye's legacy of avant garde performance art, we expected no less than another showstopping performance. What we got instead, though, was an impassioned speech about the current state of affairs in the entertainment industry. As we've all discussed the moment in question, there's been a noted focus on Kanye's rambling, his excessive use of the word "bro," and the declaration of his presidential candidacy in 2020. But buried underneath the exploitation of that Taylor Swift thing, and even further below the jokes about First Lady Kim Kardashian and what Kanye smoked to "take the edge off," there was something of substance: a glimpse of the kind of candor we never thought we'd see on national television at an award show.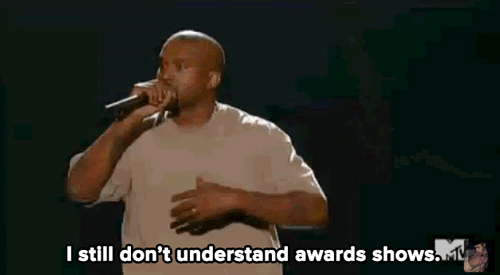 Kanye West's direct mention of award shows brings us to the meat of his central point; he only used his 2009 incident with Taylor Swift to highlight it. First, he explained why he did it. He went through his intention to protect the artistry he believed in. He admitted that, in defending one artist, he might have cast a shadow on another. But his point was clear: he wasn't blaming Taylor Swift. He wasn't even necessarily blaming the networks or the voters. He was shining his light on the very institution of the award show — a tradition established almost a century ago that hasn't changed much since.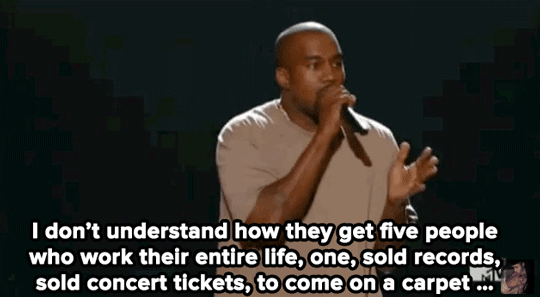 The winner isn't the issue in award shows. The issue is that, in granting one lucky artist the title of "winner," an award simultaneously declares each other contender a "loser." It's the fact that these kinds of events pit artists against each other in the first place. It's the practice of picking however many pieces of personal, beautiful, expressive art, holding them up with a magnifying glass, and declaring one of them the "best," and the others "not as great."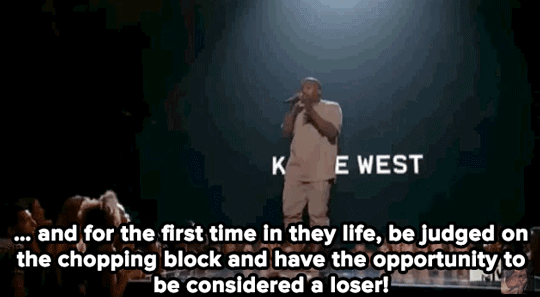 Kanye indicated that Taylor Swift's victory over Beyoncé wasn't the only time he'd seen this. He recalled how, in 2007, Justin Timberlake and Cee Lo Green were poised to win Grammys, and both of them lost. How, even among all the success and praise they received for their work, one missed accolade told them it wasn't enough. These artists could have record-breaking albums, they could have sold-out arena tours, and they could still be considered a failure in one aspect of their art.
And isn't that, at times, the problem with celebrity culture in and of itself? Even outside of award shows, feuds are declared, shade is speculated on, and It girls are glorified while strugglers are unceremoniously cast aside. One artist becomes more "problematic" than another. Constant celebrity labels include the sluttiest, the coolest, the most beautiful, the most ageless, and we don't even think twice about it. But Kanye West does, it seems.