Did Taylor Swift Shade Some of Her Famous Friends in the "LWYMMD" Video?
Taylor's group of high-profile girlfriends — her "squad," if you will — has gotten a lot of attention and criticism over the years; many have brought up the fact that they all look similar (something the singer alluded to in the "LWYMMD" video) and question whether Taylor's seemingly revolving door of friendships is even real. Taylor addressed the backlash in a 2016 Vogue interview, calling the accusations "hurtful" and adding, "When we're all friends in fifteen years and raising our kids together, maybe somebody will look back and go, 'That was kind of ridiculous what we said about Taylor and her friends.'"
In one of the scenes of her "LWYMMD" video, Taylor is seen wearing the outfit from her 2009 "You Belong With Me" video — thick-rimmed glasses, plaid pajama pants, and an oversize "Junior Jewels" t-shirt scrawled with the names of her high school BFFs — only this time, the tee is emblazoned with the names of Taylor's real-life friends, and it's the missing monikers that are very telling.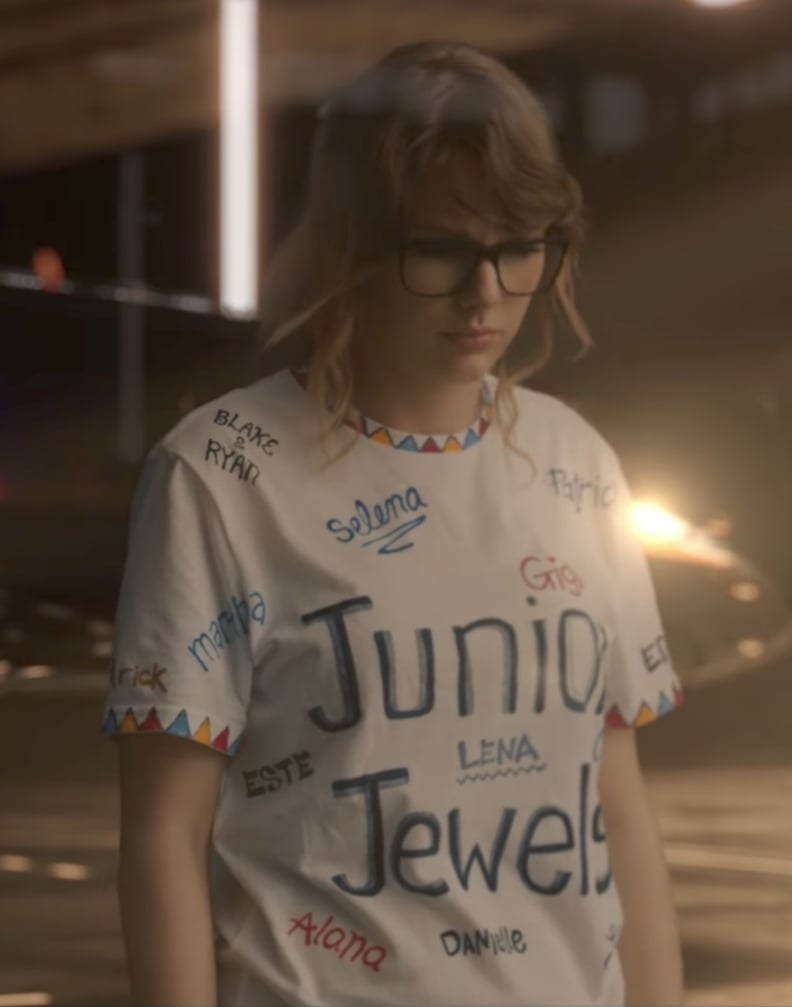 Here are the names that are written on Taylor's t-shirt:
Lena: Taylor and Lena Dunham are close friends, and Lena's boyfriend, Jack Antonoff, produced 1989 as well as "Look What You Made Me Do."
Danielle, Este, and Alana: The Haim sisters are regularly spotted at Taylor's Fourth of July parties.
Selena: Taylor has been BFFs with Selena Gomez for years, and despite past rifts, it seems the two are still close.
Gigi: Gigi Hadid and Taylor have been friends for a while, and she collaborated with Gigi's boyfriend, Zayn Malik, on the 2016 hit "I Don't Wanna Live Forever."
Ed: Ed Sheeran is obviously a huge fan of Taylor's, and the friends have gone to bat for each other in the media more than a few times.
Blake & Ryan: The names of Blake Lively and Ryan Reynolds are written on Taylor's right shoulder. Blake is close friends with Taylor, and Ryan was famously spotted looking less than enthused at her 2016 Fourth of July bash.
Patrick: Oddly enough, this is likely Patrick Stewart — yes, the Patrick Stewart, who asked to be a part of Taylor's squad in 2015.
Lily: Victoria's Secret Angel Lily Aldridge is another model member of Taylor's friend group.
Todrick: Singer and dancer Todrick Hall was also standing tall next to Taylor during a dance break in the video.
Abigail: Abigail Anderson, Taylor's childhood BFF and the inspiration behind her hit "Fifteen," also had a spot on the shirt.
Claire: Claire Kislinger is another of Taylor's longtime pals.
Martha: Model Martha Hunt was featured in Taylor's "Bad Blood" video and has been spotted with Taylor on multiple occasions.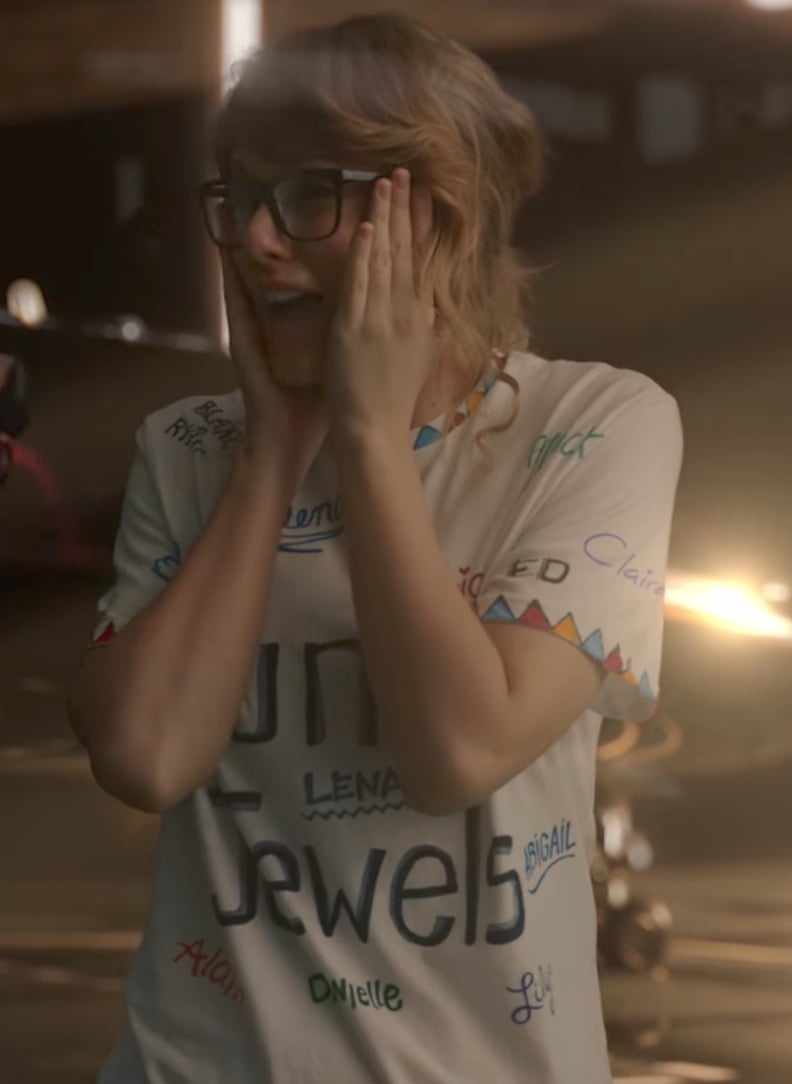 And here are the names that are strangely missing: